Intelsat still has some work ahead of it to convince bondholders to accept a share-for-share merger deal with Softbank-backed upstart OneWeb, and to see Softbank invest $1.7 billion for a 39.9% stake of the combined entity. But Intelsat's excitement about the prospect of blanketing the earth in Ku capacity from its own GEO satellites and OneWeb's planned low-latency LEO network – and leveraging both – is palpable.
"When you combine OneWeb, Intelsat and the participation of Softbank, what happens is the product set accelerates, revenue opportunities accelerate and the balance sheet is repaired to the point where it makes much more sense," says Intelsat senior VP sales and marketing Kurt Riegelman.
While the deal is meaningful to multiple markets, make no mistake about it – the tie-up intends to be a force to be reckoned with in aero, and envisages supporting not only cabin connectivity but also cracking into the cockpit communications and safety services space where Inmarsat and Iridium enjoy a duopoly.
Iridium has long said it doesn't see OneWeb as a near-term threat, noting from experience that the best-laid satellite plans often move to the right. And in the near-term, "they've got a really good point," says Intelsat's Riegelman. "It takes a long time to get certified [for safety services]. I would remind them that they are the second one to get it, and Inmarsat used to feel they had a monopoly and if you just take that case and project it forward, and once a true LEO system is up and operating with the types of kit and apertures and throughput we're looking at, I think it will be compelling.
"As you shift to, bigger and bigger data – all the measuring points on an engine, for instance – that will outstrip [Iridium bandwidth]."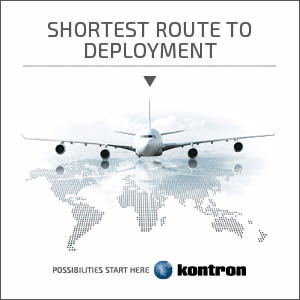 Over time, the requirement for bandwidth, even for the cockpit, will require "a pretty darn big pipe on that plane all of the time", he stresses. But just how the hardware will take shape – whether, for instance, a single antenna system would operate seamlessly over GEO and LEO satellites to support cabin connectivity on the one hand and segregated cockpit communications on the other – or if multiple systems would be required for such will be determined in cooperation with partners, and security will be a paramount consideration. That's "not something we'll be doing by ourselves. We'll drive that thinking and flesh that out with people we work with every day", says Riegelman.
There are a multitude of partners and would-be partners to consider in aero alone. Rockwell Collins holds a memorandum of understanding with OneWeb to exclusively develop and provide terminals for OneWeb's aviation service. Intelsat has its own relationships with flat panel antenna firms Phasor (for the business aviation sector) and Kymeta (though unlike Kymeta's relationship with Inmarsat for aero, Intelsat's arrangement covers connected cars). And of course, Gogo last year began promising that its 2Ku solution will ultimately leverage a shared Epic GEO/OneWeb LEO network as part of a deal with Intelsat, which itself allied with OneWeb a year earlier for complementary solutions. Panasonic Avionics could explore similar opportunities for its own Ku-band antenna system.
Intelsat is "continuing to work with both" Phasor and Kymeta, notes Riegelman, and recently acquired an equity stake in the latter firm. "We see clear spaces and places for both companies where we'll need that technology and fold that into the solution set so nobody here is backing off of any of that."
As for Gogo, and other inflight connectivity service providers in the Ku space, Intelsat believes their discussions will airlines will get easier, as the value proposition for Ku – versus Ka – will be enhanced. Says Riegelman:
Our vision and our discussion is when we completed our deal with Gogo, maybe a year ago, we did talk about how OneWeb was a part of that deal. And what I would tell you is that yes, we sit and talk and present a Ku roadmap that is widebeam today, Epic [HTS], and then right into OneWeb. This is the roadmap that will allow us to A) cover the world in a much more aggressive, thicker manner when you think about the LEO cap around the poles and also how Epic brings a very large, dense connection capability; and, B) This is the story we want our IFE partners to take to the airlines because the airlines need to understand that there is a path here, that 'oh I'm stuck with today economics' [will not be an issue].
Once hardware challenges are overcome, the ability to leverage Epic HTS and OneWeb LEO satellites will mean a "smoother, better user experience, and at the end of the day it's all about the person in the seat" on board the aircraft, says Riegelman, adding that "some of our colleagues in Ka-band are going to struggle" because of the way they're deploying.
Those colleagues in Ka – ViaSat and Inmarsat – have taken a more direct approach to the aero market in recent years. So does Intelsat/OneWeb plan to go direct? Says Riegelman:
We have 1,100 people today [at Intelsat] and I don't have anybody here that knows how to bolt an antenna on an airplane, and the second part is as we think through the chain and our partners, make no mistake, we sit back and have a lot of discussions about them and ourselves and the value they bring to that equation and we look to support that value, but we do look and make sure and hold them accountable to bring the right value to the equation as well…

Do our partners evolve over time is probably the bigger question than 'do we go direct'. We work with them all as they go to the airlines [and say] 'here's the value, here's why the performance of the fleet [is better]'. This is not, 'hey, we can walk away'. We are very integrated to make sure our story is getting through and to support them to drive the right value in the market.
Intelsat does envisage a world where multiple types of terminals can use the shared network in mobility and other markets. "We want to encourage that in the sense that that will produce the best results for end users," says Riegelman, noting that Intelsat CEO Steve Spengler has for many years talked about how performance, economics and accessibility needs to improve, not only at Intelsat but by the industry as a whole.
"Terminal development and platform development is a place where we've been insular; we have not adopted certain standards," he says. Combining Intelsat and OneWeb, and all the technical ecosystem involved, "will allow us to accelerate that development. And bringing in Qualcomm and using them as a standard, will drive [partners] to a faster and higher standard."
Though it is laden with debt – and all the judgment that accompanies such a narrative – Intelsat has been remarkably consistent with its messaging since announcing its strategic alliance with OneWeb in 2015. The firm saw the synergies with OneWeb early, taking note that "they have the best filings in terms of status, it is all Ku and lines up very well with Epic", says Riegelman. Both parties moved "from a theory of interoperability into one of full integration so the things we were doing with interoperability can move upstream, we were thinking terminal, a switch that can switch between the two dynamically. Now we can move upstream, definitely drive to modems and hardware that is much more single in nature and more focused on various applications."
The combined entity will obviously leverage OneWeb's industrial base, such as Qualcomm for waveforms and standards, and become "kissing cousins once again" with Hughes Network Systems (HNS) and regroup with them on "how they're building the terminals and modems. Same with Airbus, and how we take those [satellite] designs and put it into the geostationary business. And some of the [investors] are really potential customers, Airtel, Softbank, etc, so how do we leverage all of those groups to help them achieve their business goals and hasten the OneWeb-type solutions to their business and then bring a higher probability to OneWeb fruition success?"
Related Articles: