SITAONAIR has announced a new partnership with Aireon and FlightAware to deliver 100% global, real-time flight tracking data to aircraft, via SITAONAIR's AIRCOM® FlightTracker.
This solution will enhance our existing product by adding Aireon's space-based Automatic Dependent Surveillance-Broadcast (ADS-B) data to the current data from FlightAware's multiple global sources.
Here, Paul Gibson, Portfolio Director, AIRCOM at SITAONAIR, explains why the future of flight tracking is an exciting one in the light of this new partnership.
Q: Why is this partnership between SITAONAIR, Aireon and FlightAware such good news for SITAONAIR customers?
Paul: Our partnership with Aireon and FlightAware is good news for the industry as a whole, because it provides a single, and truly global, solution for flight tracking.
SITAONAIR's AIRCOM® FlightTracker has been a leader in tracking aircraft accurately – it does this by actively using multiple sources and equipment on the aircraft, to ensure timely reporting. However, for aircraft without SATCOM capability, or those flying over remote, poorly-connected areas such as the polar regions, this didn't necessarily mean truly global coverage.
By bringing Aireon's space-based ADS-B data into the mix, via FlightAware, our FlightTracker will achieve coverage everywhere, providing an aircraft's position data at least once per minute, wherever in the world the aircraft is flying. Even better, it is able to achieve this by using equipment that's already present on most aircraft – there is no need for any modifications or additional avionics.
Starting in 2017, SITAONAIR customers who choose this option will begin seeing the new Aireon data appear in their systems, without having to make any modifications. And, of course, it will be part and parcel of our AIRCOM® FlightTracker offer to new customers.
Q: How will low-cost airlines in particular benefit from this new partnership?
Paul: In the case of narrow body aircraft, that fly routes over water or in remote areas outside ADS-B or ACARS coverage, and tend not to be equipped with SATCOM, this solution will be even more valuable, because it does not require them to adopt any new onboard avionics.
Indeed we're anticipating that low cost carriers (LCCs) will be very enthusiastic about adopting this solution, because it will enable them to comply with the International Civil Aviation Organization's (ICAO) incoming Global Aeronautical Distress Safety System (GADSS) mandate, without requiring new equipment on the aircraft – and that will be a considerable cost saving.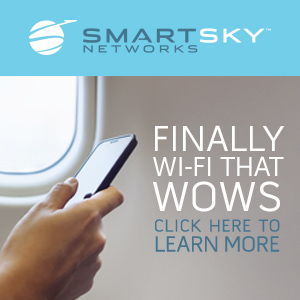 Q: Do you think this is coming at the right time for the aviation industry?
Paul: The timing of the launch of this service partnership is ideal, since the timelines match the 2018 ICAO GADSS mandate. We have already been working with a number of airlines to establish our AIRCOM® FlightTracker onboard their fleets to ensure they are ready to meet these safety requirements. With the flight-tracking capabilities presented through our partnership with Aireon and FlightAware, we'll be helping airlines get ahead of the ICAO's 2021 one-minute mandate.
Q: The Aireon service will be operational in 2018, shortly after the completion of the Iridium NEXT satellite constellation. How does it feel to be a significant step closer to realizing this global flight-tracking solution?
Paul: Of course it was great to see the launch of the first 10 Iridium NEXT constellation satellites complete successfully in California in January, marking the start of the development journey for the Iridium NEXT constellation. We are now keenly looking forward to starting to receive data from Aireon via FlightAware once the constellation is operational in 2018.
You can find out more about SITAONAIR's new flight-tracking partnership with Aireon and FlightAware here. To discover SITAONAIR's AIRCOM FlightTracker solution, click here, or fill out an enquiry form here.