Why am I awake at 5am on a Saturday morning, headed onto the New York City subway's E train and out to JFK Airport? Gogo's 2Ku high-speed inflight Internet has been in service on Delta Air Lines for a few months now and I hadn't yet managed to score an equipped flight in the wild. This early morning flight to Miami gave me the opportunity to put the service through its paces.
The blue wi-fi light flipped on as we taxied out for departure (hooray, gate-to-gate coverage!) and I was soon online.
Delta and Gogo call attention to the new service, both in signs on board and in the splash screen on the login page. But would it deliver for data-heavy services like Periscope and Facetime? In short, absolutely. The speed test results were consistently solid and I even watched as Netflix upscaled the playback bitrate to take advantage of the higher speeds. I stayed connected out off the coast of the Carolinas where ViaSat's Ka-band service often drops out, an advantage of the Ku-band service's broader coverage area.
Some streaming uploads were less successful than others. My efforts to broadcast the takeoff roll via Facebook live were interrupted, while Periscope for the landing worked well. The Facetime conversation with fellow RGN contributing editor Jason Rabinowitz – 20 rows apart – was okay, but choppy from time to time. Arguably that's a good thing as I'm not sure I'm ready for everyone on board to be using Facetime in-flight anyways.
Some questions remain about total capacity of the system as adoption grows. Right now the total bandwidth is mostly limited by the onboard modem hardware.
Gogo expects to begin live testing of its new Gilat-provided modem in the near future, allowing it to increase provisioned capacity per aircraft as necessary. The provider also has commitments with Ku-band satellite operators to deliver significantly more total bandwidth in the coming years.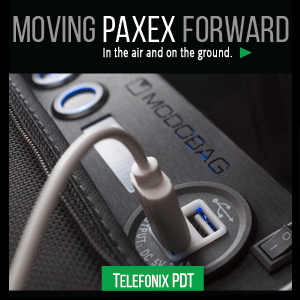 The first of the high throughput satellites (HTS) on which Gogo has capacity contracted – Intelsat 33e – went live earlier this month and both parties indicate they are satisfied with the early performance boost. Buying all that capacity is not cheap, of course, and Gogo will soon have hundreds of 2Ku-equipped planes over North America, as well as scores more Delta aircraft – fitted with traditional Gogo Ku – operating on the busy North Atlantic routes.
Keeping the Internet performance strong as equipage and demand both grow will be a key factor of the product's success. Gogo assures that sufficient bandwidth is available and under contract to keep travelers happy.
Full HD streaming for everyone on board means a 1 Gbps per plane and we're not there yet on the provider side nor on the hardware side. The good news is that we're also nowhere close to needing that amount on the demand side, especially on smaller screens (i.e. mobile devices and tablets) where the value proposition of streaming HD content versus downscaled versions is in question. Still, most inflight connectivity providers are betting big that demand will continue to increase for their services.
For Gogo the trick will be getting passengers to pay. For 2Ku-fitted aircraft, a one-time flight pass is $9.95. My return trip on American Airlines had the far slower ATG-4 service priced at $15.95. While Gogo continues to vary its pricing based on overall network demand and other factors, this single data point suggests that the company might be able to bring prices back down a bit and still deliver a high quality user experience.
At $9.95 for three hours of gate-to-gate connectivity Gogo comes in at the middle of the pack in terms of pricing for high-speed connectivity, between the free service on JetBlue and United's $4/hour offering on its Ka-band service. The incredibly aggressive rollout schedule for 2Ku service – a pace the company increased late last year and is still managing to keep to – will help as well.
Note: Gogo comped the author for the connection on board
Related Articles: