Since 2000, Lufthansa Technik has offered its Two-In-One-Solution (TIOS) to the market. TIOS is a radome mounted on the vertical stabilizer of Boeing Business Jets and other 737 variants, which Lufthansa Technik bills as an ideal platform for housing varying combinations of satcom and satellite TV antennas. The original Ku version supported both Ku and L-band communications. But with the evolution of Ka as a global connectivity platform, Lufthansa Technik chose to update the radome to accommodate the new frequency for all BBJ I (737-700) and BBJ II (737-800) aircraft. It is also changing its approach to product manufacturing for the Ka version of TIOS.
In a recent conversation with RGN in Frankfurt, Beate Rehberg, the product manager responsible for the project in Lufthansa Technik's Original Equipment Innovation group, indicated that the firm recently received STC from EASA for the new TIOS Ka-band package. That also translates to FAA certification thanks to reciprocity between the two organizations. Lufthansa Technik is also pursuing certification in China to further the breadth of sales opportunities available.
The TIOS Ku variant – which caps small Ku and L-band antennae – is currently manufactured by radome maker Saint Gobain and supplied by Honeywell. Around 50 TIOS Ku/L installations are in service today. But the Ka version that will initially support Inmarsat Jet ConneX (JX) – and eventually ViaSat Ka – is being manufactured in-house by Lufthansa Technik. This decision is driven by a combination of motivations, mostly economic.
The volume of production is currently small enough that outsourcing to a low-cost vendor would never reach sufficient scale to save money. It would also require significant knowledge transfer to that partner (materials qualification alone is arduous for Ka. Indeed, more traditional tail-mount installs of JX on certain aircraft types are using Ku radomes until industry has the capacity and ability to catch up). Walter Heerdt, SVP VIP & special mission aircraft services notes in reference to TIOS Ka, "You would not teach someone how to build this. Either they know it or they do not."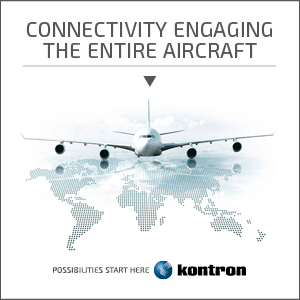 Interestingly, the TIOS Ka "will also support Ku and L-band, for various reasons, we will continue with both programs", says Heerdt. And operators that are currently carrying the TIOS Ku variant can upgrade to TIOS Ka.
TIOS for JX requires certification from Inmarsat before it can be marketed to customers. That testing is ongoing and Heerdt indicated that the results thus far have been successful, and he anticipates approval from Inmarsat soon, telling RGN that two TIOS Ka packages will be installed in the next month.
Lufthansa Technik's integration efforts will ultimately extend to ViaSat as well, with plans to support the operators' regional Ka offerings, but the process is in earlier stages there than it is with Inmarsat.
The TIOS solution offers advantages in reduced drag and bird strike certification. It can also help with center of gravity challenges on the BBJ aircraft the kit is designed for. It has some drawbacks in that it caps smaller antennae versus the larger, fuselage-mount radomes but the lower throughput is generally offset by reduced demand from lower user counts on board.
In a statement today, Andrew Muirhead, head of Lufthansa Technik's Original Equipment Innovation division, said: "The special aerodynamic design and the installation on the vertical stabilizer mean that the radome reduces drag and has a positive effect on the aircraft's center of gravity."
More broadly, however, Lufthansa Technik expects that this is the beginning of a larger radome manufacturing effort for the group. Ms. Rehberg described Technik's position as "planning to dig in" as it develops this new market.
Presumably this effort could expand to commercial aircraft. It's certainly conceivable that this material and manufacturing expertise could translate into producing fuselage-mount radomes supporting the multiple frequency bands required. And, while the commercial aircraft radome market has big names like Saint Gobain and General Dynamics duking it out – and newer players such as CPI and AdamsWorks looking to build market share – the market continues to seek out stronger, lighter and more efficient radomes with lower drag profiles.
Lufthansa Technik explains its in-house TIOS work in the following video, which was released in October.
Related Articles: