Leading manufacturer of satellite communications solutions Cobham SATCOM has announced that its AVIATOR 350D system has been selected by Hawaiian Airlines (HAL) for installation on its new Airbus A321neo (new engine option) fleet.
The Cobham system, supporting Inmarsat's IP-based SwiftBroadband-Safety (SB-S) service, will deliver satellite connectivity to the cockpit for all voice and data applications on Hawaiian Airlines' new single aisle aircraft and will connect to Cobham HGA-7001 High Gain antennas that are being line fit by Airbus.
The next generation IP-based broadband capabilities enabled by the Cobham solution enhance airline safety and operations through better communications and the availability of real-time, in-air information for pilots, crew and air traffic management.
This selection means that the AVIATOR 350D will be installed on the Hawaiian Airlines A321neo aircraft via the Avionics Support Group, Inc. (ASG) Supplemental Type Certification (STC) (FAA STC # ST04150AT), which has been granted for the A319, A320 and A321 families of aircraft.
The new agreement expands the current partnership between Hawaiian Airlines, Cobham, Rockwell Collins and Inmarsat, established during on-going in-flight evaluations of Cobham's purpose-built AVIATOR solution and Inmarsat SB-S on-board Hawaiian Airlines' Boeing 767-300 aircraft, as part of a Federal Aviation Administration (FAA) supervised technology evaluation.
Brian Anderson, Air Transport Sales Manager, Americas, Cobham SATCOM, said: "We are delighted to announce this selection by Hawaiian Airlines, which is the latest demonstration of how we are continuing to lead the way in the development of the next generation IP-based safety service SATCOM systems.
"The selection is a direct result of our team's recent success with the Hawaiian B767 program for the FAA evaluations of SwiftBroadband-Safety service which is affirming the reliability and performance of the Cobham hardware and the Inmarsat's satellite network."
Captain Mary McMillan, Inmarsat Aviation Vice President of Safety and Operational Services, said: "Airlines with eyes on the big picture are seeking innovative ways to achieve efficiency gains and dynamically manage their fleets through the use of digital solutions. We are pleased that Hawaiian Airlines has experienced the benefits of SwiftBroadband-Safety delivered through Cobham advanced AVIATOR avionics and has now chosen to expand its commitment to high speed broadband in the flight deck with its A321neo's. Clearly, the evaluation has been a great success."
Both Cobham SATCOM's next-generation AVIATOR S Series and SB-S have received a high level of industry support, including the recent selection by Airbus of the Cobham and Inmarsat solutions for its A320 and A330 aircraft families and the successful ongoing evaluations with Hawaiian Airlines.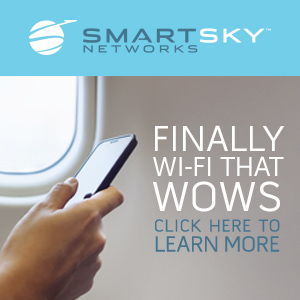 Rockwell Collins provides the managed service between the Inmarsat ground stations that enable the aircraft to seamlessly communicate with HAL's host systems, ground crews and regulatory agencies anywhere in the world without interruption.
SwiftBroadband-Safety (SB-S) is Inmarsat's next generation communications platform offering global, high-speed, secure IP connectivity for the flight deck. It represents a paradigm shift in aviation safety services, delivering "always on, always secure" applications such as flight data streaming ("Black Box in the Cloud") and real-time Electronic Flight Bag (EFB) applications, including networked graphical weather.
NOTES FOR EDITORS:
The AVIATOR 350D solution for HAL's Airbus A321neo fleet is similar to the Cobham system certified for use on the HAL B767 aircraft that are part of the current evaluations. Using Inmarsat SB-S data and voice over IP (VoIP) capabilities, the Cobham/Inmarsat system provides services such as FANS, cockpit voice, aircraft flight tracking information and connects devices such as Aircraft Interface Devices (AIDs) and EFBs for pilots to obtain real-time information including graphical weather updates. The benefits to the cabin crew include the ability to use all Personal Electronic Devices (PEDs) via cabin Wi-Fi for credit card processing and crew voice calls such as Med-Link, while at the same time, pilots are able to stay connected with airline operations.
Cobham's cutting-edge product portfolio provides a cost effective solution for a wide range of airframes, with a full range of features and options. The full Cobham SATCOM AVIATOR range includes the revolutionary AVIATOR S series, AVIATOR 700 and 700D, AVIATOR 350 and 350D with High Gain Antenna (HGA), AVIATOR 300 and 300D with IGA as well as the exceptionally compact and lightweight AVIATOR 200 with Low Gain Antenna (LGA).
Watch Hawaiian Airlines pilots and Flight Operations leadership talk about the benefits of IP broadband in the flight deck in this video.
Inmarsat's whitepaper 'SwiftBroadband-Safety: The Future Of Aircraft Communications' can be downloaded online here.
Rendering at top credited to Airbus.