Each year at the APEX Expo, Panasonic Avionics brings what it calls the "Cool Room", demonstrating leading-edge and bleeding-edge technologies that might just be the future of passenger experience. In previous years we've seen everything from wall-sized interactive displays to virtual reality headsets, but this year in Singapore the Cool Room spread out to the entire booth, spanning holographic virtual reality, bio-authentication, augmented reality and touch surface integration. Not all of these technologies will stick — but the point of the Cool Room tech is to start conversations about how the world will change and evolve.
You might think that two-handed, virtual-reality lightsaber games are unlikely to see the light of day on a plane any time soon, but with airlines increasingly looking to monetise oddly shaped spaces like the "forehead" zone in the Airbus A380, it's not beyond the realms of possibility that the space some airlines use for a couple of sofas, others use for a lavatory and Etihad uses for the Residence bedroom might evolve into a gaming zone on increasingly long journeys.
Microsoft's HoloLens virtual reality glasses, however, could well become a fixture of first and business class cabins in the near term. Panasonic's demonstrator was around wayfinding and tourism in Singapore, and this tech has uses both as part of interactive passenger experience. Think "how do I get to gate A50?", "where is the wine bar in Terminal 5?", "which is the fastest route to my destination, and which subway station do I use to connect?" or "what do my hotel room options look like?" and the options start opening up.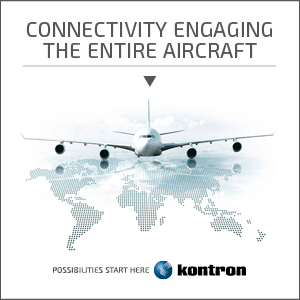 The collaborative Waterfront business class seat developed with Teague and B/E Aerospace — unveiled this January at CES — was out on full show, and it's notable how normal what was a revolutionary seat less than a year ago now seems. That's partly the ever-increasing rollout of outward-facing herringbone seats, but also that wireless charging has taken some knocks this year.
Airlines may well also be reluctant to get further into the mobile charging game given the well-publicised Samsung Galaxy Note 7 battery issues. Waterfront is also pushed slightly further aside by Panasonic showing another option for unique identifiers to bring passenger personalisation: Waterfront uses a passenger's phone as the identifier, but elsewhere on the stand Panasonic was using bio-authentication with biometric recognition.
The theory is an attractive one: register once, perhaps at a kiosk or with a cabin crewmember's handheld device, and then your preferences — for beverage type, seat position, temperature, movie type, viewing history, and so on — follow you around. In practice, it worked reasonably well, although with some hiccups.
But once the practical creases are ironed out, the key problem looming with biometrics is the information security issue that biometrics are passwords that you cannot change if they become compromised. It's simultaneously clear that no system is hackproof, and that the aviation industry in particular uses a substantial number of disparate systems spanning decades, from a variety of vendors, and by necessity connected to the Internet. The InfoSec questions are manifold.
Elsewhere on the bleeding edge front, Panasonic showed a thought-provoking first class suite in conjunction with Japanese seatmaker Jamco. The actual seat itself was essentially a sliding sofa, but the interesting part was the technology. In addition to a 4K display — though it feels like the proliferation of 4K displays is too far ahead of actually getting 720p content on board inflight servers — the main surface of the table in the suite offers projection-mapping and integrated touch surfaces. The "how is this useful inflight" question is still open, although Panasonic was showing media controllers, mapping and a menu selection option.
And that's the theme of the Cool Room: there's a lot of value to the #PaxEx industry in starting to ask those questions of decision makers who pass through the massive Panasonic booth at events like APEX. Kudos to Panasonic for opening up the discussion.
Related Articles: