Though they share little in common in terms of approach, rivals Inmarsat and Panasonic Avionics have remarkably similar goals for business aviation. Each company is eager to displace ViaSat's Yonder Ku connectivity on large business aircraft flying globally and the Gogo Biz air-to-ground solution in North America with their own respective services – for Inmarsat, the Global Xpress Ka-powered Jet ConneX with terminal unit provider Honeywell; and for Panasonic, its Ku-powered offering with hardware partner Astronics AeroSat.
Looking over yonder
"ViaSat Yonder came in at a time when people said 'we love SwiftBroadband but it's not fast enough' so that was [ViaSat's] opportunity; Jet ConneX closes the door, I believe, on future Yonder sales," posits Kurt Weidemeyer, VP of business aviation at Inmarsat Aviation, which currently enjoys very strong content placement in the business aviation community for both cockpit and cabin connectivity, but nonetheless saw hundreds of aircraft opt for higher speeds in the cabin via Yonder Ku.
L-band-based SwiftBroadband is a constrained resource and Inmarsat charges "for the drink today, by megabyte", notes Weidemeyer. "Now because we have so much capacity [with Jet ConneX], they are all subscription-based models. And the lowest tier, which delivers a higher service than the ViaSat Yonder does, costs the same amount as ViaSat Yonder; actually I think the lowest tier costs a little bit less. And you can go up from there."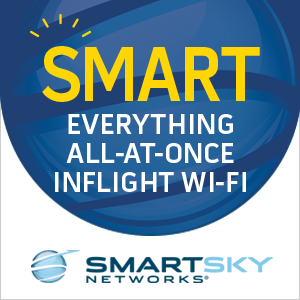 Already, "a lot of customers on the aftermarket have SwiftBroadband and now they're upgrading; it's all upgrading", continues Weidemeyer. The orderbook for terminal units at Honeywell "is greater than 100 operators long in the next 18 months. Yes, the operators are demanding it. The biggest thing that they demand in this market is global coverage, consistency and speed. And so with SwiftBroadband, they had the global coverage and consistency, but now with Jet ConneX, they have speed."
Panasonic has Ku connectivity content on some VVIP aircraft due to its linefit status on commercial types at Airbus and Boeing, but its connectivity solution is new for the lion's share of business aircraft operators. Like Inmarsat, however, the IFEC giant is being crystal clear about where it sees opportunity to grow in the sector.
"Everywhere they are at," Panasonic's David Bruner suggests in reference to displacing ViaSat's Yonder service. "But even for them [Yonder is] an old generation product; it doesn't meet the needs of the marketplace. It doesn't have coverage where it needs to, the capacity where it needs to." Panasonic's hardware partner, Astronics AeroSat, agrees, suggesting to RGN that Yonder has been spotty for operators, as the network represents a "hodgepodge" of satellites, and the hardware "doesn't have the performance".
"I think mobility is an afterthought for them [ViaSat]," opines Bruner. "I think it is all about broadband to home and kind of the North America market and working with KA-SAT in Europe to deliver a service there."
For Panasonic, utilizing the same asset for broadband to home and mobility is simply "not our game; our game is mobility day one, everyday", says Bruner. "We are not providing broadband to home and so it's really about global coverage, massive capacity in the areas that need it, and then new technology we are bringing forward to give radically new capabilities even in the sparsely traveled areas or low-density traffic areas like oceans. So if you are an operator like this, you [won't] know that you are in an area that doesn't have as much [traffic] because you are getting the same experience and the same capability you would if you were over North America." A Gulfstream IV has been fitted, which will unlock the Gulfstream STCs.
But Panasonic's full connectivity vision for business and indeed commercial operators will entail new modem technology coming online mid-next year "and some magic new satellite capability that just doesn't exist today," notes Bruner (an announcement is expected before year-end). But it's coming down the pike, he assures. "Big investments [are required] to make all that happen so it's going to be cool."
For its part, ViaSat seems unthreatened by the target on its back. Aircraft that are pre-wired for Yonder Ku can install ViaSat Ka, in addition to Yonder Ku, with ViaSat's James Person telling RGN:
Now that connectivity is an AOG [issue], they [operators] want a back-up system. So every Ku customer we've talked to wants to add Ka to it. And for us and for them, that gives them the benefit of global coverage already with our Ku system, and when they add our Ka, they get 16 Mbps starting in the US and in Europe and then when ViaSat-2 launches, we add North Atlantic and Caribbean and all those other regions as well.

79% of Ku customers fly within [our] 2017 Ka footprint so nearly 80% of the time, they'll be on our Ka network anyway.
The new ViaSat Ka hardware shipset and service pricing announced at the recent NBAA convention in Orlando, meanwhile, is the "best in the industry, the best speeds, peak rates of 16 Mbps to the aircraft and 2 Mbps off the aircraft and CIR [committed rate] of 4 Mbps. [It's] over all of the Ka satellites, and it's future proof", according to ViaSat.
Moreover, the hardware – built by ViaSat – boasts one connection point to the aircraft tail versus two on competing systems. "We only need one slot in the tail. And we've incorporated that RF into the back of the antenna. So it's compact in terms of just one slot. We also built the same form factor as our current Ku solution …  it's the same three LRU count so those three LRUs go in the slot, same positions, as current Ku," says Person. And it's "backwards compatible and forwards compatible". In short, Yonder customers in the North American ViaSat Ka satellite footprints can easily make a switch.
Due to its size, ViaSat's hybrid Ku-Ka antenna – sold in the commercial space – is "really only a solution that works for Boeing or Airbus, but for business jets that are Gulfstreams or Bombardier Globals, that's not a solution", added Person.
Back on terra firma 
Meanwhile, when it comes to ATG in North America, both Inmarsat and Panasonic are readying to go for the jugular with their satellite solutions, but perhaps most especially Inmarsat, which counts Gogo as a value added reseller in business aviation.
"Today, as an example, if you've got a G650 and you fly a lot in North America, a lot of operators add ATG when in North America and SwiftBroadband when they fly outside, but now with Jet ConneX, with one subscription and a better quality of service, there is no reason to have air-to-ground anymore because there will be Jet Connex [virtually] everywhere," says Weidemeyer, acknowledging that Gogo remains a VAR for Inmarsat's SBB and Global Xpress products in business aviation. And Inmarsat will not sell directly to the business aviation market because its channel is "strong".
In business aviation we are very clear that we do not nor do we have any intention of going direct because we have a great strong channel of value added resellers, between Satcom Direct, Arinc Direct, Honeywell which acquired Satcom1 and even Gogo Biz, which sell our service as well.
But Inmarsat fully expects some of the ATG subscriptions to "turn off". "So that's exactly what's happening," says Weidemeyer.
Asked if Panasonic believes its Ku solution will win traditional ATG customers, Panasonic's Bruner says, "Oh yes. I think, there is a lot to this issue and normally I would say [we'd focus on] an area where there is not air-to-ground, but I think we are reaching a point – as we look even three or four years down the road – there will be new technology in this marketplace that will make it as easy to install and as lightweight as an air-to-ground system … but works everywhere and gives massively better performance because there is much more capacity. Part of our responsibility here is to keep driving this product and service [forward]. One way is you saw our announcements with SES relative to SES-14 and SES-15 next year [which] brings in, on top of our Intelsat 29e Epic capacity, that massive additional capacity. In 2020 that will augmented with additional capacity from our extreme throughput satellite and that will be announced before the end of the year."
Gogo, which also faces competition from ATG upstart SmartSky, sees things differently. "I feel highly confident that ATG is the right solution for a very high percentage of the approximately 20,000 business jets and turboprops in North America," says CEO Michael Small. "Satellite solutions are relevant for those that fly globally; it's a relatively small slice of the market, and there will be [those] that will have to be satellite."
And will Gogo 2Ku have relevance in the business aviation market? "2Ku is a solution that would fit on a BBJ or an Airbus A320 series so that's entirely viable," says Small.
Inmarsat's Weidemeyer suggests, however, that Gogo will face challenges in bringing 2Ku to business aviation because they "don't have great global service yet. Again, for business aviation, these guys need HTS, and you need to get that HTS network up…"
Furthermore, he highlights, "Well, to be clear, we own the VVIP world today as well. Almost all of them are flying with SwiftBroadband today. Out of the first 100 or so orders [for Jet ConneX], a high amount of them are actually ACJs and BBJs because those are the guys that have the willingness to pay.
"Our first STC done was an A340. Someone out of Russia. Flying with it already."
Naturally, RGN asked how Inmarsat and Panasonic view each other in business aviation. After all, Panasonic is the heavyweight in providing IFEC to the commercial sector, with Inmarsat working aggressively to chip into market share now that its Ka-band service is in service, type certified and linefit offerable on a growing list of aircraft types.
Panasonic Ku is a "different value proposition" than ViaSat Yonder "because it's under HTS; it's going to be more consistent and better service than Yonder," says Weidemeyer. "The problem is they're just coming late. We're in at two of the three OEMs [with Jet ConneX]; we expect to get that third OEM committed very soon. It's going to be hard to be pushed out of the trench unless we don't perform. And so far we are performing and we don't see that changing, and with the additional payloads coming along – the only way you get entrenched in that space is if you don't meet customer expectation and we really do believe that for the next few years out, we will be able to do that."
Panasonic's Bruner is confident the firm will gain ground in business aviation, particularly with Satcom Direct serving as VAR.
"In the past it was kind of ViaSat Yonder, and their Ku service and still is kind of out there but doesn't perform that well and with Global Xpress finally coming to market, and having some news … they are probably our number one competing service. You probably heard our announcement with Satcom Direct; they actually resell everything. But what's good about it from our standpoint is they can supply everything and it's really the customers that are going to decide what they want. You've got option A, B, and C. C is really great and that's us. So we will have that relationship now. We have been working on it for a long time but the key thing is having all the pieces put together so that they can now go sell this into the marketplace."
Related Articles: