The Global Xpress (GX) satellite constellation has been in orbit for more than a year and maritime customers are already online. But while Honeywell and Inmarsat recently completed a global flight tour of Honeywell's JetWave-equipped Boeing 757 testbed aircraft – enabling airline personnel and partners to take GX for a spin – journalists covering the space haven't necessarily been shown the red carpet aboard the 757…not by a long stretch. Indeed, gaining access to even a ground test environment was nearly impossible for aviation journalists until this week at the 2016 National Business Aviation Association (NBAA) Convention and Exhibition, where Zetta Jet's new equipped Global 6000 was on static display.
But before NBAA, RGN had already taken the service for a test drive, so to speak, in Florida when Satcom Direct (SD) showed off the JetWave hardware attached to a 12″ tail-mount antenna and connected to the Jet ConneX ("JX") branded business aviation version of the connectivity solution. On the "aircraft" side of the ground test, a Satcom Direct Router was used to provide the "cabin" connectivity solution.
Test conditions were not ideal – the antenna was on a roof under clouds and drizzle rather than flying at 35,000 feet – but the system connected, and your author was able to run through a quick set of tests on the network. Because of the static nature of the testing the "make before break" beam switching performance was not part of the test protocol.
Speed test results ranged from 1.5 Mbps to just over 4 Mbps depending on the site used and iterations of the test.
Those numbers were sufficient to support multiple HD video streams (one from Netflix and another from YouTube) on my devices. Web browsing was snappy and the network was responsive for downloads via FTP. Uploads were less snappy. An FTP transfer repeatedly timed out, though more typical browsing upload behavior was reasonable. I was also able to establish a FaceTime video call over the network and performance was decent, though not 100% seamless. It did have hiccups in the video portion of the transmission at a couple points in the call.
The fact that JX was in a test lab meant I had access to detailed logs and charts of network traffic. This proved useful in showing that the speed test results were truly consuming the traffic.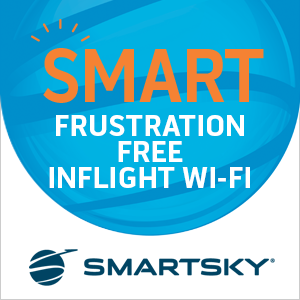 I observed some peaks based on real application usage, which exceeded the Ookla test numbers, including a peak during my time in the lab at 7.15 Mbps. That's well below Inmarsat's 50 Mbps to the aircraft marketing claim but it is also unclear if I was able to produce that demand; I only had a couple of devices available and was streaming as much as I possibly could.
Satcom Direct CTO Ken Bantoft noted that the company's recent deliveries of the product fared well in real-world testing. Passengers were able to stream TV shows and otherwise use the network without issues or interruptions. And that's to be expected. It is less clear how well the system will perform under the heavy demand of 150+ passengers on board or multiple aircraft operating within spot beams of higher contention.
These scenarios will be tested soon enough as Lufthansa is already carrying JetWave kit as part of a soft launch of the service.
This news was first made available to RGN Premium subscribers on 13 October 2016. Sign up now and be the first to learn important news affecting the Passenger Experience.
Related Articles: