Streaming IFE solutions offer a relatively quick route for airlines to improve the onboard experience for passengers at oft-times dramatically lower price points than embedded systems. And while wireless systems have not been approved to support the streaming of early window movie content to passengers' own devices, they are proving very attractive for low-cost carriers operating single-aisle aircraft where increased weight and complexity must be offset by ancillary revenue opportunities, advertising and sponsorships, and crew efficiency improvements.
Retrofitting media servers and access points to aircraft – supported by a wired power supply – requires obtaining certification for the kit on aircraft types. In addition to feeding media content to passengers, the systems can integrate with crew functions to make duty free or food & beverage sales easier. As such, there is no shortage of companies working to get their wireless IFE hardware installed on aircraft. But two Chinese firms stood out at last month's APEX Expo in Singapore.
For FTS Technologies the opportunity to play in this space is an attractive one. The company has a strong transportation entertainment background – its parent operation is tightly integrated with the Chinese rail network – but in the past, its proverbial feet have been squarely on the ground. With newly appointed CTO Rich Salter providing technical and industry guidance, the company is adapting the technology platform used on trains to the aviation industry.
A long-time industry veteran, who previously worked at embedded IFE specialist Lumexis, Salter explained to RGN that FTS's charter "is airborne-only. We're here to take this system and put it on airplanes. The server is about half the size [of competitors] and doesn't need any forced air cooling. The WAP has four radios instead of two so it is a step improvement technically. One unique thing about our system is that it is all made by the same company. Server, WAP and modem are all integrated tightly together. That's a significant advantage."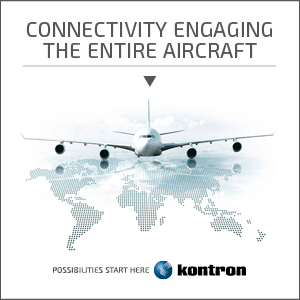 That advantage plays out in a reduced time-to-market for system updates and modifications, but also in the overall performance of the system, according to Salter. While other vendors are concerned about supporting 50 or 60 streaming clients on a single access point, FTS believes its current version can support 75-100 without taking a hit on performance.
Another area where the vertical integration offers potential benefits is in cabin crew automation. FTS is quickly improving on a wearables concept that allows flight attendants to manage most customer requests from a watch rather than the system console in the galley. The company has signed commitments from two undisclosed customers, one for a fleet of Boeing 737s in North America and the other on a single-aisle Airbus fleet in Southeast Asia. Both are expected to receive certification in late 2016 or early 2017 with installs beginning in the middle of 2017. The company recently secured a Series B funding round as well, and received Chinese regulatory certification for its system on a China Southern 737-800.
Another firm with Chinese headquarters, Donica Aviation Engineering, is also building a fully vertical-integrated solution for its streaming IFE platform. The company's second generation hardware is already in service with airlines, and a third generation solution – expected to come to market in early 2017 – boasts two significant improvements. For one, the new kit will no longer require a server module in the electronics bay. Thanks to the ever decreasing profile of high-storage hardware, the content will be contained within the head-end console that sits in the galley. Additionally, the newest generation of WAPs are each expected to support 125 concurrent users running HD video streams, according to regional sales manager Joshua Liu.
Donica's software interface is also highly customizable, allowing the same kit to quickly switch layout, content selections or even airline name/brand through a centralized admin console. Czech charter operator Travel Service is a Donica customer, and takes advantage of the customization features to move its aircraft around the globe following seasonal demand – with content to match – while continuing to deliver the IFE experience year-round.
In their current iterations, the systems from FTS and Donica seemed to be still somewhat lacking on the point-of-sale side, but Donica tells RGN in a follow-up:
The Donica solution does support various point of sale methods, in fact three different types depending upon the airlines needs.
These features are critical to broader adoption and success of the platforms, especially given the ancillary revenue goals that airlines are pursuing. Both firms promise big results from their fully integrated hardware and strong development teams, though the proof will come from delivering the solutions, not talking about it at trade shows.
Separately, the "portable wifi-in-a-box" category, where a self-contained solution can be loaded in a galley cart or overhead bin without certification headaches, continues to gain momentum. AirFi and Lufthansa BoardConnect are among the market leaders, continuing to secure new customers and grow their install base.
But they are far from alone. SITA, the technology company built by the airlines, used the recent Aircraft Interiors Expo, Asia show – co-located with APEX Expo in Singapore – to demonstrate its first attempt at such a product. It looks and feels decidedly industrial and comes up short on some technical specs – including battery life and concurrent users – but SITA is also a large operation that is already "in" at many airlines. Using that position to displace upstarts would not be particularly surprising.
Related Articles: