Inmarsat and Panasonic Avionics, longtime rivals in the inflight connectivity space with traditionally different approaches to the market, don't often find themselves on the same page (though they'll likely find themselves working together on an IFEC integration project if Air New Zealand presses forward with a reported plan to adopt Inmarsat Global Xpress connectivity and have the service integrate with its Panasonic eXW wireless entertainment portal).
The rivalry between these two major players is among the reasons why industry stakeholders won't be too terribly surprised to learn that Inmarsat does not share Panasonic's seemingly receptive attitude to the notion that safety services for the cockpit might one day be transmitted over K-band cabin connectivity pipes if enough security and redundancy can be built in.
Speaking to Runway Girl Network journalists during a recent briefing about Panasonic Avionics' flight tracking services at its Newark, New Jersey offices, company director Jeff Rex said, "I'd rather not speculate but there is always the question mark of if you can define the spec sufficiently with enough security and redundancy that it could go over Ku."
Even intimating that such a scenario may be possible is troublesome to Inmarsat. "I think from my perspective, certainly when we start talking about safety services and start talking about putting it over networks that haven't been tested, validated, don't know the performance standards or be able to measure the performance, I as a pilot get worried," Inmarsat VP, safety and operational services, Captain Mary McMillan tells RGN.
"One of the things I like to reinforce is there are actually real people on those real airplanes and the information going back and forth to those airplanes even on a normal day have an impact on operations and ultimately safety and so from a personal but also an Inmarsat standpoint, we see some of these operators coming from the cabin forward through the fortress door in a data sense. I have some concerns with that. I think we're also in a really good position to both comment and to also chase some of the standards going forward, because we're the only operator in L-band and K-band, and we're able to provide both services and this gives us a unique position and perspective to try to ensure we maintain the safety around safety critical conduits, but also start to enable the data transfers that really change the way we fly and the way that the industry operates."
Industry has been looking to migrate airplane health monitoring, real-time electronic flight bag (EFB) applications, and non-safety ACARS data to more cost efficient, broadband connectivity pipes for some time now (after all, Boeing's original vision for Connexion involved health management over Ku). And some gains have already been made.
As such – and in light of the fact that ICAO is not qualifying the 15-minute position reports in its Global Aeronautical Distress and Safety System (GADSS) concept as a safety service (rather ICAO is making it a performance standard) – some clarity about just what constitutes "safety service" would be quite beneficial, as cabin connectivity providers eye further expansion in the usage of their hardware and services.
"We see the industry gearing up to provide additional guidance around the development and definitions of what constitutes safety-related data as opposed to data that doesn't have a consequence on the conduct of the flight," says Inmarsat's McMillan. "So there is quite a lot of activity around it at the moment but we're in a bit of a no man's land… [There are] big economic drivers that some airlines are trying to take advantage of, and certainly Panasonic and Gogo are trying to take advantage of. There are some ATM-type functional programs that operators are attempting to trial, if you will, using connectivity over [the] cabin network."
The future depends, in part, on how Arinc Project Paper 658: Internet Protocol Suite (IPS) for Aeronautical Safety Services is developed, according to Panasonic's Rex. At present, there are three different visions for how it will shape up, and these are being defined in various ICAO groups. The question is – can you meet the operational performance requirements regardless of the medium? After all, non-safety ACARS-over-broadband proposals are already a thing as mentioned, and Panasonic is working on "how that structure gets implemented and how it moves forward with other airlines" with service provider SITAONAIR.
In the meantime, Panasonic is pitching both its dedicated tracking product, the Iridium L-band-based FlightLink, as well as its Ku-band cabin connectivity solution eXConnect, as capable of meeting ICAO's normal tracking mandates (with an update rate of every 15 minutes), and even exceeding that with updates every minute.
But even though flight tracking is not designated a safety service in the strictest sense, Inmarsat remains adamant that both this and autonomous distress tracking (ADT) outlined in GADSS "should not" go over cabin connectivity pipes, not even its own Global Xpress (GX) Ka-band network.
"It needs to stay on an L-band channel to make sure we have that direct connection," suggests McMillan. Part of Inmarsat's position is that the strong conduit that is L-band, and its protected, prioritized nature, will never be achieved on Ku or Ka networks. There is "no way to guarantee the delivery of the data due to disruptions", she insists.
Referencing flight tracking over cabin connectivity pipes, McMillan further states:
The issue I have with some of these claims is no testing or validation on whether or not they are even able to meet that [performance] standard [are mentioned] so I think they'll be putting the burden onto the airlines in order to demonstrate they can meet that standard, and what type of oversight exists from the regulatory agencies on how that is going to be reported or measured? And going back to the beginning of the conversation, that's where I have an issue. We would not want to put that over our own Ka system, because we haven't done our own testing and validation, defined the parameters…so we wouldn't represent to airlines that we could do it over Ka.
Honeywell Aerospace, which is supplying the terminal units for GX, says it is not working on any GX flight-safety applications as GX is not designed for safety services today and so all safety-critical information will be sent via L-band. Notably, however, Honeywell does see GX as potentially being used for safety-critical applications one day.
Though Inmarsat's concerns over the security and redundancy of K-band cabin connectivity are shared by countless industry observers – indeed, some individuals get rather angry at the mere mention of using cabin connectivity for safety applications – the London-headquartered firm obviously has a vested interest in seeing safety remain on L-band (akin, no doubt, to Panasonic's vested interest in seeing its connectivity kit gain more access to the cockpit).
In addition to meeting ICAO's GADSS requirements, Inmarsat's 'SwiftBroadband Safety' solution, which is expected to be recommended by the FAA as a viable conduit for safety services by the second quarter of next year', is being pitched as the ideal solution for airlines to have "a safety secured channel to use for ATM type programs, flight efficiency programs, weather, telemedicine, many EFB applications" – which, even if they're not wired into the avionics, still have an impact on the conduct of the flight.
As has been well reported, Inmarsat is also developing what has been described as a 'black box in a cloud' functionality for SwiftBroadband Safety. McMillan notes that Teledyne already pulls black box information from aircraft at the airport wirelessly [see RGN's case study of Teledyne partner Ryanair] and this is routinely used by airlines in maintenance and training. "Taking it to the next step, we think we can offer that service off of SwiftBroadband Safety so that you can pull that information while in-flight via the safe and secure L-band channel." The analogy that McMillan uses is "it's essentially what the music industry has done. We went from LPs to CDs and now we download our music. That's exactly what SwiftBroadband Safety can do with flight data."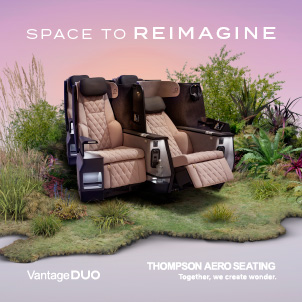 One area where Inmarsat can seemingly agree with rivals is in the notion that as much information as possible should be streamed from an aircraft in the event of a catastrophe trigger, and this should be done however possible, via the most logical conduit.
Says McMillan, "At that point, I'd advocate that we actually enable the logic that would be necessary in order to drive the data and get it off the aircraft right away…"
And that, of course, can mean using the far fatter cabin connectivity pipe, be it GX or that of a competitor.
Meanwhile, Panasonic has not defined an expansion path from "normal tracking" to ADT for Ku connectivity as yet. But that is in the cards. The firm confirms to RGN that, "Yes, the next level of ICAO requirements are on our radar for Ku, but our focus is right now on FlightLink because it is closer to deployment." FlightLink, acquired through Panasonic's AirDat buy, is supported by Iridium's global-including-the-poles network.
Related Articles:
Featured image credited to istock.com/Clare Bonthrone