Kontron, a leading global provider of Embedded Computing Technology (ECT), today announced that the U.S. Federal Aviation Administration (FAA) has given the company's Cab-n-Connect™ A100 cabin wireless access point (CWAP) its Parts Manufacturer Approval (PMA) Supplement for multiple aircraft models including Boeing 737-700, 737-800, 767-200, 767-300, Airbus A330-300, A320-200, and Embraer ERJ 190-100. Receiving the FAA's PMA Supplement certifies the Cab-n-Connect's use on aircraft and streamlines their deployment in commercial aircraft installations worldwide.
"The award of the FAA PMA ensures our customers that they have the best connectivity products available, having passed rigorous reliability, safety and standards testing," Kontron Head of the Avionics Business Line, Jim VandeSteeg.  "Being certified also gives our customers a huge head start by avoiding the one to two years it would take them for certification.  Kontron remains committed to helping commercial aviation companies use wireless technology to the fullest — not only to improve the customer experience but also to help them enhance and simplify operations."
To protect against network attacks, the Kontron Cab-n-Connect A100 features state-of-the-art enterprise level wireless security based on the WiNG™ 5 software and Air Defense™. This integrated software provides a highly robust distributed architecture that extends QoS, security and mobility services on the aircraft enabling highly-secure direct routing and network resilience.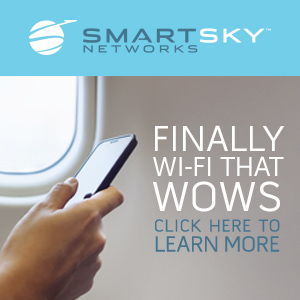 The Cab-n-Connect A100 is designed to deliver next-generation HD video streaming capabilities crucial for dense multiple client applications on aircraft. It features best-in-class performance based on the latest 802.11ac technology supplying significantly increased data throughput compared to 802.11n-based equipment.  The integrated antenna solution reduces the overall size and installation complexity. Integrating breakthrough technologies such as 3X3 Multiple-Input Multiple-Output (MIMO), the A100 supports 3-spatial streams of data that can be sent simultaneously to a single client device, substantially improving bandwidth efficiency and utilization. Additional enhancements in beamforming enable the most efficient path for data transmission between an access point and a client device. With the Cab-n-Connect A100, both the client device and access point work together to provide an optimized communication path for stronger and faster data transmission.
For more information on the Kontron Cab-n-Connect™ A100 CWAP and the company's complete portfolio of commercial avionics IFE&C solutions, please visit: http://www.kontron.com/industries/avionics
Follow Kontron:
About Kontron:
Kontron, a global leader in embedded computing technology and a pioneer in secure IoT platform solutions, provides a combined portfolio of hardware, middleware and services. With its leading-edge standard products and solution-ready platforms, Kontron enables new technologies and applications across multiple industries. As a result, customers benefit from accelerated time-to-market, reduced total cost of ownership, product longevity and the best overall application with the highest reliability in embedded technology. Kontron is a listed company. Its shares are traded in the Prime Standard segment of the Frankfurt Stock Exchange and on other exchanges under the symbol "KBC". For more information, please visit: www.kontron.com
Stay tuned to RGN as we'll be releasing tons of fresh content next week, including two more APEX on the Fly videos, sponsored by Kontron. Download the new Connected Aircraft Infographic.