With multiple aircraft type-specific certifications already awarded for Honeywell Aerospace's JetWave hardware to support Inmarsat's Global Xpress (GX) Ka-band service, and nearly 30 expected by mid-2017, the company is developing various real-time airline-operations applications that will transmit data over the GX broadband pipe.
One application in the works is "connected radar": real-time transmission from each aircraft in an airline's fleet of all the data from weather radar, according to Jim MacDougall, Honeywell Aerospace's director of cabin, satcom.
Aircraft-mounted weather radars obtain weather data as far as 200nm out. Only "a slice of that is displayed in the cockpit", says MacDougall, but all the data the weather radar collects is stored in the aircraft's flight-deck servers. Today, restricted bandwidth prevents this data from being transmitted to the ground in real time. But Honeywell's in-development app will transmit all the weather-radar data from an airline's airborne aircraft via GX to the ground stations handling the data feeds.
After being fed to the airline, aggregated and processed, the augmented weather data will be transmitted via GX back to the electronic flight bags (EFBs) of the airline's pilots in-flight, showing them, from every angle, a 3-D map of weather conditions up to 1,000nm in front of their aircraft. This will allow pilots to adjust flight plans in-flight to plan their flights better for weather conditions, fuel efficiency and the comfort of the passengers onboard, says MacDougall.
Inmarsat Aviation president Leo Mondale has had a chance to observe the new solution. He tells RGN, "Connected radar is a very exciting opportunity and Honeywell has a very strong position in the weather radar space; they've been working on [this solution] for four or five years, and it works really cool." Honeywell will also become a distribution partner for Inmarsat's separate, L-band-supported cockpit communications and safety service offering, SwiftBroadband-Safety, injecting competition into a space dominated by SITAONAIR and Rockwell Collins/ARINC.
Meanwhile, certifications for the GX hardware continue to stack up. After a business partner obtained an FAA supplemental type certificate (STC) in January for the JetWave installation on the Boeing 757 – Honeywell's flight-test aircraft is a 757 – Honeywell in August was awarded a final type approval certificate for JetWave from Inmarsat, which essentially confirmed that the system functions as designed.
Honeywell itself doesn't hold any aircraft-specific STCs. However, as the designer and developer of the terminal units, Honeywell provides the STC holder or aircraft OEM with technical and engineering support to obtain the relevant certification. Various business partners and GX value added resellers (VARs) now hold a clutch of aftermarket STCs and linefit certifications for the terminal equipment.
As has been well reported, Lufthansa Technik holds an aftermarket STC for the Airbus A320 family in airline configuration. A Germanwings A319 was fitted this summer and since then, a handful of Lufthansa group aircraft have been equipped, confirms Mondale.
A separate Honeywell partner holds a retrofit STC for the ACJ version of the A319, according to MacDougall. Lufthansa Technik also holds an STC for the VIP A340.
As catalog options, Airbus now offers Zodiac Aerospace's GX-based broadband offering with JetWave hardware (designated High Bandwidth Connectivity by Airbus) as buyer furnished equipment on the A320, A330 and A380, and the same hardware is coupled with Zodiac IFE for the A350 XWB catalog, as described in detail here.
Airbus also offers Thales' GX-based broadband solution with JetWave hardware, coupled with Thales IFE, as a catalog option to A350 customers.
Says MacDougall:
Thales and Zodiac have linefit offerability [on the A350] and for linefit, the installation is part of the Airbus TC. In the aftermarket, Thales and Zodiac would either work with Airbus to release an OEM Service Bulletin to install the equipment, or secure an STC.
Delivery of the Thales + JetWave solution to airlines has already begun. Notes MacDougall:
Airbus has updated their TC for the A350 to include the JetWave and Thales hardware and has started customer deliveries, and type approval happened during this past summer. Airbus is also in the process of updating their TCs to include JetWave and Zodiac hardware on the A320, A330, A350 and A380.

JetWave hardware, in partnership with either Thales or Zodiac, is catalog offerable today for all four platforms.
Aftermarket STCs for the Airbus A320, A330 and A380 "are all in work for this year or early next, through our partners", adds the Honeywell executive.
Meanwhile, Honeywell is working under a technical services agreement with Boeing to finish qualification testing for JetWave on the Boeing 737NG, 737 MAX and 787 families by the end of this year for "installations starting in the second quarter of 2017 and deliveries in the first quarter of 2018".
Qualification-testing work for the Boeing 777X "is in the process of getting started" and is three to six months behind the work on other Boeing families. However, the 777X isn't due to make its first flight until 2019.
Most JetWave certifications will be for business jets due to the plethora of business jet types on the market. For instance, Bombardier offers JetWave as linefit on its Global 5000 and Global 6000 (a fitted Zetta Jet Global 6000 boasts Rockwell Collins as service provider). For G5000/6000/Xpress/XRS, the STC is held by Bombardier. "For other platforms, it will vary between the OEM, MROs or other partners on a case by case basis," says MacDougall. Another partner holds an STC for the Dassault Falcon 7X.
By late in the second quarter of 2017, Honeywell's partners will have received STCs and linefit approvals for aircraft types numbering "in the high 20s", MacDougall estimates. One will be the Bombardier Challenger.
For various retrofit installations, Honeywell includes provisions in its contracts with initial STC holders requiring them to agree to sell the STC engineering data to other companies that want to perform installations.
The JetWave terminal installation consists of five line-replaceable units (LRUs). One is the antenna, of which there are two designs – a fuselage-mounted installation for larger aircraft and a tail-mounted antenna for smaller types. Second is the frequency converter and amplifier, which Honeywell calls the 'KRFU'. Third is the steering unit (the 'KANDU') and fourth is the modem manager, or ModMan.
All four are common to every aircraft type (except that there are two antenna designs). However, each aircraft type has a unique fifth LRU, the Aircraft Personality Module (APM). This customizes the JetWave installation for each aircraft's characteristics. Each JetWave installation also includes radomes, cables and wave-guides connecting and protecting the LRUs.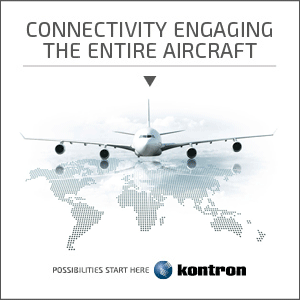 The Ka-band broadband capabilities of GX provide "a huge opportunity" for enhancing airline-operations functions through real-time data transmission, says MacDougall. Its Flight Services Group is working on FMS-based flight-tracking applications and Honeywell Aerospace is developing apps to provide real-time streaming from aircraft of maintenance-monitoring and fault-logging data, to offer customers better maintenance-scheduling capabilities.
It is concentrating first on providing real-time monitoring of brakes, auxiliary power units and (for business-jet types) turbofan engines, as previously reported by RGN. Honeywell Aerospace is a major supplier of each of these equipment categories. Through aviation-software subsidiary Aviaso, it is also developing fuel-saving applications available in real time to pilots through transmission to their EFBs.
Some applications are ready now, but because JetWave installations on aircraft are only beginning they aren't yet available to GX customers. "Probably in the first half of next year we'll start seeing things come together," says MacDougall.
Additional reporting by Mary Kirby
Related articles and releases: