Imagine an aircraft with flight crew, cabin crew and passengers all in a seamless, end-to-end flow of communication. Imagine this connectivity continues to the ground, to flight ops, to stock control, to maintenance. Imagine the benefits that this network can deliver. Imagine the opportunities for ancillary revenues, journey personalisation, passenger experience.
Imagine no more.
Picture this:
It's a thirteen hour flight, Singapore to London. An hour up, cruising comfortably at 34,000 feet and one of the tray tables in business class breaks. It just snaps. It's an 'I-have-nowhere-to-rest-my-Champagne-flute' kind of emergency. Thankfully, there's not a drop spilled. The flight attendant accesses the cabin manual on her iPad, runs a search, sees exactly what the OPS manual says to do. She tapes up the tray, assists the passenger into a vacant seat, tops up the Champagne. All good. Then she accesses the Defect Report Form on her smartphone. Takes a picture, adds location details and sends the form wirelessly to the captain. The captain signs off and the defect report is sent ahead to LHR, over satcom. The return flight is fully-booked, so a functioning table is essential. Updated weather charts arrive on the pilot EFB devices. Good tail winds. Smooth flight ahead. Flight Ops constantly monitor the flight, real-time data displayed back at base, everything from aircraft location to engine temperature. It's a good feeling in the cockpit, just knowing. Everything feels safer.
After the captain announces that they'll be in London early, everyone orders Champagne. Using the wireless IFE app on their own devices, passengers can easily switch between entertainment and the BoB interface, with order requests popping up on flight attendant tablets, smartphones and smartwatches. Cha-ching! Champagne stock runs out during the descent over France, ironically over the very vineyard from which it came. The head flight attendant sends a revised order ahead, with a note to stock control. "BoB alert – we're out of Champagne! Thankfully, nobody's tired and emotional!"
The passengers arrive happy. Very happy. The flight's in early and the cabin crew efficiently looked after their every need. As the passengers disembark, the maintenance team fits the new table and the fridges are filled with Champagne. The cleaners know exactly where to focus their efforts, the refuellers know that the jet fuel requirement is less than usual and the flight is ready to turn around in record time.
The Arconics vision is of a seamless, end-to-end aviation experience; from ground to sky to satellite and everywhere in between. Together with our partner airlines, we foresee an inherently profitable aviation sector with ever-increasing ancillary revenues, maximum safety and operational efficiency, and the ultimate passenger experience. This future will be powered by the flexible, future-proof Arconics Aircraft Software Platform and the Arconics suite of apps.
Arconics Chief Executive Officer, Mr Niall O'Sullivan, said: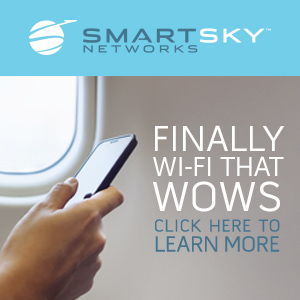 "Aircraft operators have struggled for decades with inflexible line-of-business systems that make data sharing, integration and reporting complex and expensive. Today, legacy systems and architectures limit operators' ability to deliver vital operational savings and new revenue streams from mobile devices.
"The Arconics Platform is an open software platform that runs on multiple avionic systems, providing communications, control, data management, tracking and analytics capability across connected and disconnect aircraft. It provides open APIs to the aircraft allowing faster app development. The result is better software at lower cost, enhanced safety, faster tech deployment, data sharing across applications and increased business agility."
The Arconics Aircraft Software Platform, and its apps in wireless IFE and cabin management, will be presented at APEX EXPO 2016, Singapore, 24 – 27 October. Come to booth 926 for a demo of CloudStore and to find out more about the Arconics aircraft software platform.
About Arconics
Arconics is a world leader in enterprise software and mobile applications for aircraft operators. The company's mission is to help operators reduce costs, improve efficiency and ensure compliance with regulatory obligations. The company's products include market-leading AeroDocs for document management, AeroEFB electronic flight bag (EFB), CloudStore, a wireless in-flight entertainment (IFE) platform and PaxApp, a cabin management app for flight attendants with tablet, smartphone and smartwatch connectivity. All these apps run on the Arconics Platform, a software solution that connects everyone on board.
Arconics customers include Qatar Airways, Cathay Pacific, Ryanair, Aer Lingus, SpiceJet, Tigerair Australia and Philippine Airlines. Tens of thousands of pilots, ground staff and cabin crew across five continents depend on Arconics software to safely and efficiently operate their fleets. The company is headquartered in Dublin, Ireland.