Flying Colours, the Peterborough, Ontario-based completion and MRO centre, has a long association with Bombardier products, including its popular ExecLiner CRJ200 conversion, which transform commercial CRJ200 regional jets into luxurious business jets. After 25 completions and no shortage of interested customers, Flying Colours has taken the bold step of replacing the offering's cabin management system (CMS), a key component in the ExecLiner catalogue.
Rockwell Collins' versatile Venue high-definition CMS has ousted the ExecLiner's UTC (previously provided by Audio International) equipment because, says Flying Colours executive VP Sean Gillespie: "We wanted to be sure we were offering customers the best option that incorporates intuitive technology, improved functionality and greater flexibility. The Venue system is innovative and reliable, which is why we've chosen to incorporate it as standard."
Gillespie emphasises that not only is the standard Venue package reliable, it's also easy to use. "It offers excellent bandwidth into the aircraft, which not only serves current demand but we anticipate will scale up as technology demands increase. ExecLiner customers will make the most of the in-seat controllers, HDTV and screen-swipe technology that so many are used to now.
"Venue gives a choice of cabin control software to accommodate each individual specification. There is touchscreen technology and also the option to use iPhone/Android phones as remote controllers operable from anywhere on board," notes Gillespie.
Venue integrates with all connectivity and communication options, maximising flexibility. "It supports live streaming via AVOD, Blu-ray movies, HDMI auxiliary inputs and USB stored media. The Airshow moving map is integrated into Venue. And the system is designed to support software upgrades, so to some extent it's also future proof."
The work involved to install Venue into the CRJ200 cabin is comparable to that for the UTC system but, Gillespie notes: "The quality of the aircraft varies greatly when they arrive. Some need extensive maintenance and overhaul, which requires work on the exterior and interior, while others just need existing systems replacing.
"The first Venue ExecLiner install is currently under way, to be delivered in the fall. It's all going well and we're working with Rockwell Collins regularly, talking and ensuring the installation goes smoothly."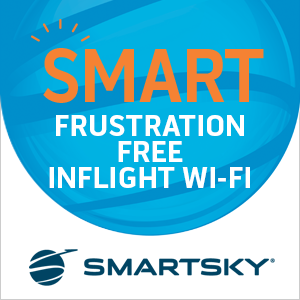 CMS and IFE malfunctions are among the most frustrating for operators and passengers. Although Flying Colours is certain of Venue's reliability, Gillespie explains how both it and Rockwell Collins will support customers: "We'll install the initial software as part of the conversion and can offer upgrades, but customers will receive support directly from the manufacturer. For troubleshooting, we'll work with Rockwell Collins to ensure customer issues are resolved."
Future ExecLiners will receive Venue by default, but are there sufficient advantages in the system for existing operators to make the switch? "We're in discussion with a couple of existing ExecLiner clients and we anticipate that as the aircraft run to their maintenance schedules we may see some movement to Venue," says Gillespie.
Flying Colours' wider business covers Globals, Challengers, other business jets and turboprops, and executive helicopters. Customers visit the 'client design room' early on in their completion journey; it's a tactile, sensory space where ambition and inspiration meet to create the company's bespoke cabins.
Venue is being installed in the room, demonstrating Flying Colours' great confidence in the Rockwell Collins system and that it is becoming part of its wider offering. Gillespie says: "The system can support as much as the client needs, that's its beauty. It's designed to be scalable for all aircraft and we'll be offering it to all our clients."
Image: An ExecLiner cabin with Venue Airshow on-screen. (Credit Flying Colours)