My father-in-law called me recently, flustered as he prepared for his next trip. He had read some advice online that downloading an airline's app was a "must do" step prior to any trip and he couldn't find said download. Was that going to be a problem?
Of course the answer is no, but I was reminded of this exchange early this month as I sat in on an 'Up in the Air' Think Tank session at the Future Travel Experience conference in Las Vegas. Five panelists were discussing opportunities for "harnessing the full potential of the connectivity pipeline between now and 2025" and the topic of apps came up. The discussion was not about individual features or even building a solid, branded experience. Indeed, convincing passengers to download a new app is incredibly difficult. Google's partner development manager Max Coppin suggested that the typical smart phone user today downloads an average of zero apps each month. "No one is saying, 'Great, I'm at this airport for two hours so I'm going to download the app,'" he said.
But having information readily available and mobile is still critical. To that end the group chose to describe and endorse a "super-app" to manage the traveler personalization experience – one app to rule them all.
The think tank recommends that airlines and suppliers collaborate on the development of a personalization super-app which will become the central point for the delivery of the personalized inflight experience. Such an app will not only provide airlines with the most detailed view of passengers, but will also remove the need for them to rely on passengers to download their own specific app to make use of all these opportunities.
As a consumer the idea is intriguing, possibly even compelling. Wouldn't it be great to start watching a movie on one flight and pick it up on my next one, even if on a different airline? Or for every airline to know that I'm inclined to choose a special meal – or be aware of my other personal preferences – without needing me to figure out the unique way each airline requires that information to be registered in a booking. For the providers the value proposition is arguably larger and directly ties to improved revenue opportunities as Coppin further detailed, "The more I know about the passenger the more I'm able to present opportunities to get revenue from them in a way that they see as mutually beneficial."
A noble goal, perhaps, but one unlikely to be realized.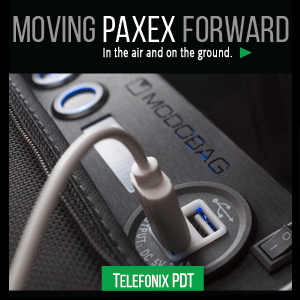 Data is a product. It provides a competitive edge. And sharing that data among competitors is not something that typically comes for free, if at all. The motivation for carriers to share data with one another is minimal, even among airline alliance partners. Coppin's view is that Google could own the data, doling it out on request. "We'll make that data available to you as the airline, airport or passenger and however you want to use that is up to you," he said. Other vendors have a similar approach. But perhaps giving the data back to the passenger – it is all about the passenger, after all – is the ultimate solution.
Build common standards to define various customer attributes, similar to how the GDS platforms built a common definition for a "trip" and then allowed it to be extended over time. Yes, that model is now ripe for a redesign, but it lasted for decades and lessons learned there can be applied to the new information profile standard. Industry bodies can help define the standard and then potentially multiple different tools could be used by a customer to create and manage their travel profile. A traveler might even build multiple personae – work or vacation – and choose the correct profile for each trip.
The data needs structure and consistency to become valuable. Letting the consumer control that, however, is the ultimate value play. They'll be more willing to contribute when they know they have control. And the end result will be a better travel experience while not limiting the ability of service providers to maintain their branding or loyalty data stores, extra bits of information that add value in specific context but that do not necessarily need to be shared.
Related Articles: