Emirates' decision to fit its Boeing 777s with a small device that records the same ARINC 717 flight data as the flight data recorder (FDR) proved beneficial during last month's unfortunate crash of flight 521 at Dubai International Airport. As reported by RGN contributing editor Christine Negroni for Forbes, nine minutes after the aircraft came to rest, all data was accessible to the airline.
The so-called Avionica miniQAR MkIII quick access recorder, coupled with Avionica's avCM wireless communications module, transmitted the data to a land-based server over a mobile data network at the airport. In the following interview with Runway Girl Network, Avionica VP of business development Sean Reilly gives us the low-down on the device, and the firm's growth plans.
What does the actual hardware entail?
SR: The miniQAR MkIII and the avCM wireless module. Both are small appliances weighing less than 2 lbs. combined. We record the full stream of data that is fed to the FDR and at the same rate.
Is Avionica's kit installed across Emirates' entire fleet? Or just the 777s?
SR: Only their 20 B777s.
When did the installations take place? And were the installations accomplished via post-delivery retrofit? Do you have linefit status with Boeing? Airbus? Others?
SR: All the Emirates installations were post-delivery retrofit. Avionica has linefit contracts with Bombardier and Gulfstream.
Does the install require STC in a post-delivery environment?
SR: Yes, an STC is required. Avionica has over 200 aircraft under the STC for the installation of the miniQAR and avCM wireless module.
Where does the miniQAR MkIII sit on the plane – the avionics bay?  
SR: Depends on the aircraft. For a B777, it's in the avionics bay, but on a B737 it is located on the flight deck. The idea is it should be in a location that is easy to get to by a mechanic.  In the past it was the mechanic that went out to the aircraft and downloaded the data. Now with our wireless module, the data is downloaded automatically after arrival, so not as important to access.
SR: The Avionica device used a mobile data network to download data off of the burning Emirates 777 on the ground; what mobile network did it use?
SR: Not sure which network it used, but it could have used any of them, including Avionica's new global data services network that we're now offering to customers. [Editor's note: See Avionica's new arrangement with GigSky.]
QAR downloadable data is only done on the ground via mobile wireless (cellular).
How many aircraft worldwide carry the system?
SR: Avionica has over 8,000 QARs flying today.
SR: I see that Avionica can also transmit in-flight via Iridium satellites. Does Avionica currently provide this service to Emirates (or do the transmissions only happen at the gate over mobile connectivity)?
SR: No, Emirates is not an Iridium customer of ours. All of our data transmissions for Emirates are over the ground using the mobile connectivity.
Does the miniQAR have Ethernet capability?
SR: The miniQAR has Ethernet capability. With our new aviONS (Onboard Network System), which includes a miniQAR, avCM, avRDC (Remote Data Concentrator), 4G Gateway and more, we are able to stream data real-time over an IP connection. It needs an IP-based connection – regardless of frequency.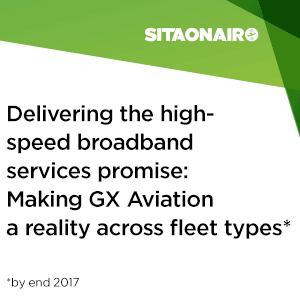 Do any of Avionica's products meet the requirements of ICAO's forthcoming 'normal tracking' mandate; what about the later mandate for autonomous tracking?
SR: Yes. Our satLINK MAX Iridium system does, and so will several of our new products in development now.
Can you explain a bit more about your Iridium product; what are its capabilities? 
SR: Our Iridium product is called the satLINK MAX. It is the only 4 channel Iridium system on the market and is the only system that all 4 channels can support voice and data.
How many customers? 
SR: We have approximately 1,000 units flying globally.
What's your technology path for this product? 
SR: The product is certified on the current Iridium network and will also run on the new Iridium NEXT network, but at current Iridium speeds. As Iridium NEXT modems become available we will integrate into the unit.
What's next for Avionica; what products are under development?
SR: We're working to enhance our products and re-appropriating them. For example, our avWiFi system is now being use for In-Flight Entertainment (IFE) and as I mentioned, we recently launched our aviONS Onboard Network Server.
What are your hopes for future growth?
SR: Avionica will continue to innovate with new data management solutions for the marketplace. We specialize in creating unique and highly reliable products – there will be many products and enhancements in the next year. 2017 marks the 25th year in business for Avionica and we expect to shine brightly for our silver anniversary.
This week we announced a partnership that enables Avionica to now offer global data services that is specific for the needs of commercial aviation customers. We think airlines and corporate flight departments will appreciate having one name to call with for their data-com products and services needs – Avionica.