Gogo recently partnered with Gilat Satellite Networks to develop a next generation modem that it says will ultimately be capable of delivering 400 Mbps to an aircraft. The arrangement represents a debut contract for Gilat's so-called SkyEdge II-c baseband/modem system for global mobility service providers and "is another step in our progression to be a world-leading technology provider for the commercial aviation marketplace", Michael (Miki) Barak, Gilat's RVP Commercial Aviation & Mobility, tells RGN.
For the uninitiated, Gilat's fully owned subsidiary, Wavestream – acquired in 2010 – already lays claim to being a significant – if behind-the-scenes – player in the commercial aviation/inflight connectivity space. "Wavestream is the selected KRFU [Ku and Ka radio frequency units] provider for the majority of existing and some future IFC Ku and Ka band antenna terminals," explains Barak.
Additionally, he notes to RGN, Gilat "pioneered Satcom BLOS terminals for the UAV market with operational experience on Group-4 and Group-3 UAVs around the globe. These terminals include VSAT/modem networks, OTM flat antenna systems and ultra-small, high-power amplifiers."
But as Barak's own LinkedIn profile suggests, the Israeli firm fully intends to have a higher profile in IFEC. Having won the Gogo RFP to provide what Barak calls "the most advanced mobility VSAT network in the market today, with IFC VSAT modems introducing capabilities that are one or even two generations ahead of the competition", Gilat agreed to an interview with RGN.
Our Q&A with Barak is below. You'll note that Gilat has progressed towards bringing new antennas to market to support satellite connectivity, and believes its work "could also fit the untapped regional jet segment". Fresh partnerships are in the works.
Has the new modem been installed on Gogo's 737 testbed; if not, when is installation expected? And when do you envisage certification and installs on aircraft in revenue service?
MB: Gogo tested Gilat modems on its testbed 737 last November with excellent performance. Flight testing with Gogo is ongoing and will continue over the coming months.
Certification is underway and we expect a first STC well before the end of the year, followed shortly by commercial deployments.
Does Gilat hold an exclusive relationship with Gogo or is Gilat free to ink deals with other inflight connectivity providers? To that end, is Gilat in talks with any other providers?
MB: The Gilat/Gogo relationship is, generally speaking, non-exclusive. However certain system capabilities are being provided exclusively to Gogo.
How does the modem compare with current-generation solutions, and rival offers from iDirect, for instance? Can you define some of the advanced mobility management features being incorporated into the new modem?
MB: As stated above, we believe we are offering a far superior system with specific capabilities for IFC service providers that are one or even two generations ahead of the competition.
In a nutshell, Gilat's SkyEdge II-c baseband and modems introduce key mobility capabilities in the following areas:
A unified ecosystem for all applications (IFEC, Maritime, LTE cellular backhaul and even consumer broadband …) using Gilat's X-Architecture, which is a distributed cloud-based architecture tailored for HTS Ku and Ka satellites, with unprecedented Rackspace density.
An unprecedented beam and even satellite switching time of only a few seconds, with true seamless switchover and passenger service continuity.
Gilat's SkyEdge II-c Taurus, which is a dedicated IFEC Modman, with dual-Rx DVB-S2X channels (for Data & IPTV), supporting 400Mbps, with hundreds of passengers connected, utilizing TCP & HTTP acceleration, with compression, caching and even encryption all embedded.
An adaptive and dynamic RTN access scheme, with 20%-30% better utilization enabling much more Mbps/MHz.
Gilat's Global NMS, Mapping and Mobility Manager, which supports global IFEC providers with a Telco-grade provisioning, commissioning and management platform.
Gogo's original press release about the Gilat partnership said the modem had already delivered 200 Mbps using Gogo's 2Ku antenna in the testing lap; what type of results are you getting with more recent testing?
MB: Gogo is pushing the system to its limits. 2Ku coupled with Gilat's VSAT modem companions is introducing unprecedented B/W to the individual seat. Gogo will debut the integrated system to the market and we do not want to spoil the surprise 😉
Late last year, Gilat announced a Ku- and Ka-band phased array antenna development program with a "major aerospace systems integrator". What can you tell us about this program; has it progressed? Will you be offering this phased array antenna to the civil aviation market? What's the timeline for bringing it to market? Any customers as yet? What are the key features, and where do you expect to see adoption (civil/government)?
MB: See the following answer.
I note that Gilat recently deployed "fully operational air and ground antenna arrays and demonstrated their capabilities, including the transmission of real-time video". Where were these deployed and do they represent a prior-generation solution than the one being developed per the aforementioned announcement?
MB: I would like to clarify the Gilat antenna/terminal development efforts that are currently ongoing:
Gilat is well underway with its KuKa panel based aero antenna terminal – ER6000-A. The antenna was designed for line-fit with both Boeing and Airbus and has a lead-customer with potential for hundreds of units. Discussion are in process with additional customers, service providers and certification partners. Units will be available for certification in early 2017.
Phased Array Antenna (PAA): Gilat has a longstanding history in PAA development. We deployed vehicular PAA antennas in as early as 2009, in a joint venture with AT&T – the AT&T CruiseCast Service. Gilat continues to invest substantial resources in its PAA technology, with a recent announcement about a new Ka MMIC development program for a major aerospace system integrator, and a more recent win in a funded EU aero Ka-PAA development contract.
PAA for Commercial Aviation IFEC: Earlier this year we started having discussions with key players in the IFEC space, to launch a development program for a PAA Aero Terminal. Gilat has a unique innovative offering with the potential of doubling or even quadrupling the performance of existing aero terminals in both Ka and Ku bands, under the same general footprint and at an even lower height, thereby reducing antenna drag. The same development could output a smaller footprint antenna that could also fit the untapped regional jet segment. This value proposition caught the attention of all key players, and we hope to conclude development partnerships with some of them.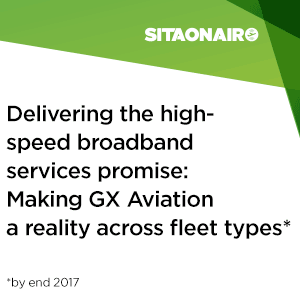 More broadly, what is your outlook for the inflight connectivity sector; and what type of market share do you hope to carve out in a) modems for aero and b) antennas for aero.
MB: Regarding baseband and modems, we are targeting the global mobility service providers. Gogo is a key partner for Gilat and together we will achieve significant market share. Gilat believes that the outstanding set of features that we bring to the market will benefit other key players, and as such we may even take additional market share.
Regarding antennas, we have been leading SOTM antenna development for over a decade, with 18 different SOTM antennas deployed with customers around the world. Despite being a latecomer on the Commercial Aviation antenna front, our aero KuKa antenna terminal development program is well underway, and to the best of our knowledge is the only ongoing effort of this kind, to date. We took special care to design a completely standardized system in an open architecture, to enable any service provider with any baseband to integrate and use our antenna. The merits of having an open architecture KuKa system are obvious, and will support the growth of regional Ka services, combined with global Ku services, for which the major beneficiaries will be the airlines.