Panasonic Avionics has taken an early engagement inflight entertainment and connectivity (IFEC) lead with the new Bombardier CSeries twinjet, Runway Girl Network understands from VP and general manager CSeries Rob Dewar.
"Bombardier has been working with Panasonic Avionics on early IFEC integration activities, having completed flight testing with the [Panasonic] Aura LE Ku-band radome on CS100 Flight Test Vehicle 1 (FTV1) in 2014. The CSeries Options Catalog currently offers Panasonic eXConnect as linefit," Dewar told RGN in a recent interview.
The eXConnect broadband Internet system, along with other elements of Panasonic's suite of Global Communications Services – including eXW wireless IFE and eXPhone onboard mobile telephony – are currently being evaluated by some CSeries customers "and will be featured in upcoming flight test activities to ensure early availability", confirmed the Bombardier executive.
"The implementation of Panasonic IFEC systems offers seamless integration with Panasonic's cabin management system (CMS), providing airlines a single means of controlling both CMS and IFEC functions without the need for additional control panels in the cabin – reducing parts count and training requirements."
Moreover, Panasonic's Ku-band satellite-supported connectivity also happens to be very complementary to the Iridium-supported satcom used in the CSeries cockpit.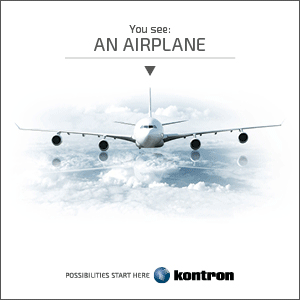 Taking multiple discussions with Dewar as a whole, Panasonic sounds like it is the only game in town for CSeries connectivity at the present time. "Given the ever-changing landscape of the inflight connectivity industry, other systems such as Gogo's 2Ku, GEE's Airconnect and Inmarsat's Global Xpress will be evaluated case by case, based on customer interest and priority," Dewar noted.
Interest in Gogo's air-to-ground (ATG) offering seems to be sparse. "Bombardier will consider the requests of customer airlines to install various connectivity systems on the CSeries aircraft, including Gogo ATG and ATG-4," Dewar said, in response to RGN's question as to whether there were barriers to installing the capacity-constrained solution on the CSeries.
Swiss and AirBaltic, launch customers of the CSeries, have not selected seatback IFE or inflight connectivity for their initial deliveries; both are taking mini-HD overhead screens as the sole initial IFE on these aircraft.
Meanwhile, the Ku-band antenna radome positioning work completed with Panasonic on the CSeries will have read-across to other providers and bands, Dewar suggested, while also hinting that there are other options that Bombardier has been working on but is not yet prepared to discuss. "We've already completed flight testing with the Panasonic Aura LE Ku-Band radome and will recommend the same fuselage position to all Ku-band and Ka-band antenna systems that are agreed to be installed as linefit."
Dewar is keeping his cards closer to his chest about the linefit offerable status of IFEC systems from other providers, however. "IFEC integration was a significant element in the planning and provisioning of the CSeries," Dewar said. "Bombardier evaluated multiple IFEC systems and developed a provisioning strategy that facilitates integration of a number of linefit systems. We are evaluating linefit opportunities on a case-by-case basis and [are] not at liberty to disclose customers' configuration selections due to contractual and competitive considerations."
The company previously suggested that Thales' inflight entertainment system would be linefit offerable (and indeed, in 2011 Bombardier showcased both Panasonic and Thales seat-back IFE monitors in its original CSeries mock-up). C&D Zodiac – later called Zeo – developed the CSeries cabin; it would be logical for sister Zodiac Inflight Innovations to seek offerability for its RAVE IFE system.
RGN pressed Dewar on timescales, production rates and certification time for a linefit connected aircraft in particular, but Dewar would say only: "Bombardier is not at liberty to discuss details of customer-specific configurations and schedules however linefit of connectivity systems may be negotiated on a case-by-case basis."
However, Bombardier has taken care to ensure that provisions for inflight entertainment and connectivity have been made for the CSeries, Dewar said. "Space has been reserved in the avionics bays and a new equipment rack has been designed to ensure that compatible IFEC systems and ISPSS can be installed without any negative effect on passenger stowage or cargo volume, depending on an airline's cabin configuration."
Dewar also highlighted Bombardier's flexibility around provisioning in order to ensure that either a supplier-furnished equipment (SFE) or buyer-furnished equipment (BFE) tack can be taken by its customer airlines. "Since entertainment options are closely associated with airline branding and passenger experience standards, most airlines prefer to have control over the product and service. Therefore, Bombardier also offers its customers the opportunity to provide their preferred BFE solutions, which are in turn evaluated in a case by case, as well as their introduction into the linefit strategy."
PED testing has also been completed, with the CSeries successfully demonstrating tolerance to Transmitting Portable Electronic Devices (T-PED) in compliance with RTCA DO-307. Bombardier is obtaining regulatory approval from the authorities to support customer airlines who wish to offer their passengers gate-to-gate PED use by their entry into service. "Customer airlines will then develop and implement their own operational procedures as required by their respective airworthiness authority," Dewar said.