NYC street photographer Aaron Rose once famously remarked that: "In the right light, at the right time, everything is extraordinary." And as far as Nigel Duncan, CEO of pioneering cabin lighting provider STG Aerospace is concerned, that goes double for aircraft cabin interiors.
For although LED lighting solutions are definitely having a moment right now with Panasonic Avionics looking to bring some of its parent company's LED know-how into the cabin space and Boeing exploring ways to take its award-winning Sky Interior to the next level with mood-enhancing light projections on the ceilings, walls and bulkheads, Duncan insists that the key to really great interior mood lighting is, and always will be, simplicity.
"Our mantra [at STG] is that you don't have to provide complexity and you don't have to provide a disco to change the mood very effectively on an airplane. But you do have to do lighting well," says Duncan. "So things like the saturation levels, the color temperatures, the depth of the hue, the way it reflects on the surface of materials such as the ceiling and the sidewalls, and even the softer surfaces of the aircraft, all of that matters. And doing that in high quality but with limited complexity seems to be what customers want at the moment."
And having installed STG's new liTeMood system – a plug-and-play, aftermarket cabin lighting solution – on eight airlines since coming on the market 18 months ago, Duncan clearly knows of what he speaks.
"We did one of the very first installations of a lighting system in 2011 for Swiss Air, but at that time, we sat back and chose to watch that system operating in service. We wanted to get a lot of feedback about how it was actually being used, so we did not dive in with some of the other lighting companies and offer overly-complex systems after that. We decided we wanted to … see what the passengers and the airlines really wanted," says Duncan.
"So, it's only in the last two years that we've brought liTeMood into play [and] what we're seeing now is a more mature adoption of the right kinds of solutions for mainstream air service and not just because, you know, somebody somewhere at the airline thinks they want 16.7 million colors. I think it's a mistake to think that millions of colors is the right solution, it might be for some airlines, but it can also add a lot of complexity and confusion if you're not using and controlling that lighting correctly. So, we're now delivering very simple solutions [and] for a 737 or a 757 I don't believe it can get any easier than what we offer at the moment because everything we do is plug-and-play. There's no aircraft side configuration changes, there's no software, there's no recertification, there's nothing to do on that aircraft from the airline's perspective and I don't really see it getting any easier than that as far as that kind of system is concerned."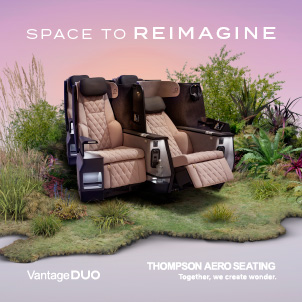 And when Duncan says plug-and-play, he really means it. "Even if we were doing a full aircraft, and we've done this multiple times now and this is proven by field operational time, not theoretical, we can change the entire aircraft on a 737 in five hours. When the aircraft comes in on a standard overnight … they take off all the existing lights [and] we put our system on in exactly the same spot on exactly the same connectors … and it rolls out the next morning looking beautiful with no down time or any maintenance event to be especially part of and it's back in service the next morning."
But just because a lighting system is simple to install and maintain doesn't mean it can't be breathtakingly beautiful to look at as well. In fact, Duncan even goes so far as to suggest that really great lighting can be its own form of inflight entertainment.
"Sometimes, we think of IFE as more of the electronics side of things but inflight entertainment is also about how are you entertained and how is your experience overall on that aircraft. Part of it is going to be watching videos, part of it is staying connected 24/7, part of it is going to be the food and all of that is effected by lighting. Some of those are subliminal effects and some of those are not just about aesthetically does something look nice … but the human factor side is how does it make you feel as well? So, it's very much a part of the IFE environment to consider lighting."
"There are very few things you can actually control on an aircraft, as far as the passenger's perspective is concerned, and one of the things that we think has substantial upside to give the passenger a better experience is using light more effectively," continues Duncan. "You think about having to improve the seat, or change the seat pitch or change the food, those are all much more involved, quite complicated things to do and to organize … but for the value for the money if you're going to do something to improve the passenger's environment … one of the least expensive things to do, which has the biggest impact, is to change the lighting."