Germany's 328 Support Services has taken the next step towards reinstating 328 Series production, with key supplier deals announced at last week's Farnborough Airshow.
The 328 Series – the only aircraft of its kind certified with both a jet and turboprop variation – evolved under Dornier, Fairchild Dornier and AvCraft ownership before fading from production in the early 2000s. For almost nine years, 328 Support Services – which holds the Type Certificate – has maintained, supported and modified in-service Dornier 328 turboprops and 328JETs.
But the Sierra Nevada Corporation subsidiary sees potential in producing sister types that extend beyond the 32-seat regional airliner role for which they were originally marketed. It believes the aircraft are ideal for a wide variety of uses spanning surveillance and rescue missions to passenger and VIP jets. Now work is underway to establish a new production line in Turkey, producing the modernised TRJ328 jet and TRP328 turboprop under the brand TRJet.
This isn't the first attempt to transform these regional airliners. Fairchild Dornier toyed with the so-called Envoy 328JET business aircraft before bankruptcy ended production, but the type had little opportunity to impress the market. According to Ray Mosses, director of sales at 328 Support Services, when the company acquired the 328 Type Certificate, the Envoy interior was already dated.
But the aircraft's 2m-wide cabin also offers 2m of headroom, which is space enough for a high-end VIP completion. When a handful of customers wanted conversions from 328JET airliner configurations, "we brought it up to the latest spec, with LED lighting, satcom and Wi-Fi, 36in TV, new seats and one-piece sidewalls. We sold eight or nine based on second hand aircraft," says Mosses.
The majority of business aircraft flights are two to three hours in length, falling exactly into the 328JET's range capability and sufficiently short that its reduced speed compared to a 'conventional' bizjet makes as little as 10 minute's difference in flying time. There are further advantages in the aircraft's unusual performance, which includes short and rough-field capability – Mosses says a 328 operator could choose to operate from a beach, for example, a capability proven by the 328 in US military service and carried over to the VIP and airliner versions.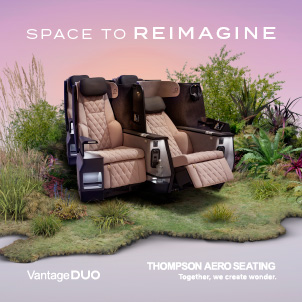 The straight-winged 328JET lacks the ramp presence of a Challenger or Global – types Mosses considers prime competitors, but combined with the ability to use short airstrips, this anonymity could be extremely valuable to some customers, just as it suits US government operations around the world. Its pricing is also attractive: "You might pay $50 million for a Global, but I could probably do a new-build VIP 328JET for around $20 million, available from 2019/20," he says.
In its engineering and design, the 328 was already technologically advanced, with 25% composites in its structure. But the company chose the Farnborough Airshow to announce Rockwell Collins' Fusion as the avionics for new production aircraft, replacing the original Honeywell Primus. "We selected it for its current and add-on capability. It's easily adaptable for the special missions market because of its open architecture," says Mosses.
Another major change concerns maximum take-off weight, with the turboprop and jet both certified at 15,660kg, an increase of 1,670kg for the former. "It means we're keeping the existing engine for the jet, but we've chosen the PW127 for the turboprop," explains Mosses. "It's a good, robust regional aircraft engine and has the additional power we need for the increased weight. We're aiming to keep all the capabilities and performance of the original 328 across all its variants, but with the increased take-off weight."
With extensive commonality across the jet and turboprop, operators will have the possibility of operating mixed fleets with minimal impact on maintenance and pilot training. Mixed-role fleets are also a possibility and the potential for true VIP transport onto austere strips a reality. During the airshow, the Istanbul Chamber of Commerce (ITO) committed to the purchase of 10 TRJ328 aircraft and Sentinel Aerospace Group of Singapore confirmed five TRP328 turboprop aircraft for special mission use.