The first time I toured ORBIS International's third generation Flying Eye Hospital (FEH) in 2013 it was little more than a stripped down FedEx MD-10 cargo jet on a windswept airfield in Victorville, California. But even then the sense of magic and meaning in every donated, yet-to-be installed ceiling panel, bag rack and window plug was almost impossible to ignore.
A literal labor of love for all involved, the first FEH of the digital age came together over the ensuing years thanks to the hard work, dedication and ingenuity of a vast global network of aviation and medical world supporters. All are dedicated to extending ORBIS's mission of helping to eradicate preventable blindness around the world through education into the next two decades and beyond. And after touring the recently unveiled FEH late last week at LAX, I can assure you that their efforts have paid off handsomely. The new ORBIS FEH is nothing short of spectacular.
Featuring a 46-seat mobile classroom at the front of the plane equipped with interactive, audiovisual links to all areas of the aircraft, cutting-edge 3D technology throughout, and live broadcast capabilities that will allow ORBIS volunteers to share information and real-time surgical procedures with not only the classroom, but the entire world online, the FEH itself is also comprised of nine compartmentalized modules that allow the hospital to be shipped as cargo. Aside from lowering costs and simplifying maintenance, this revolutionary approach to interior cabin design, spearheaded by LIFT Strategic Design's Daniel Baron, also eliminates the need to certify the FEH's medical equipment for flight.
"The cabinets, the flooring, the ceiling, the lights … it's all cargo," explained longtime ORBIS board member Jack McHale. "And when we want to do a major maintenance event, the modules can come out, which affords us the opportunity, if something happens to the airplane, to save the hospital. Plus, you have the advantage of taking out individual modules and updating them so when the airplane's getting its check, the modules [can be] out getting refurbished, upgraded, cleaned-up and then put back in."
Continued McHale, "I think everyone that was involved with this project understood the challenges; this is the merger, the melding, the forging of two complicated, extremely technical and highly regulated industries – aviation and medicine. And I hope that [people] appreciate the wonderful marriage that's been accomplished on this aircraft. But as magnificent as it is, we also have to keep in mind the end product.
"I don't even think I can begin to describe the miracles that happen on this airplane. To see a mother two days after an operation have her bandages removed and see her children for the first time or a toddler who bolts from his mother's lap after the bandages are removed to run across the airplane to look at a blue sky for the first time … it's truly remarkable."
Equally remarkable is the attention to thoughtful, culturally specific details throughout the FEH. The two volunteer changing areas in the rear of the plane offer not only extra floor space to accommodate prayer rugs but also feature ground level sinks for pre-prayer foot washing. And since, as McHale noted, "heads of state don't usually like to gown" for the OR, side windows were added so visitors could watch the procedures from the observation room and the corridor outside as well.
And then, of course, there are those adorable ORBIS teddy bears. Susanne Strömbom, VP marketing at OMEGA, which took over the provision of the ORBIS teddy bears in 2011, says that the bears' purpose is two-fold. Aside from providing pre-surgery comfort to the FEH's anxious young patients, they also offer ORBIS volunteers a unique way to explain the procedures at hand.
"When a child comes on the plane, [ORBIS volunteers] show, on the bear, which procedures the child is going to go through. So, they put in an IV and they show them the eye patch, so that [the patient] understands what is going to happen," said Strömbom.
But at the end of the day, Strömbom insists that the main thing OMEGA does for ORBIS is raise awareness of their mission through advertising campaigns, the sale of ORBIS-branded watches (proceeds of which are earmarked for the organization) and a series of inspiring documentaries featuring OMEGA celebrity ambassadors like Daniel Craig and Cindy Crawford tagging along on actual FEH missions. "Basically, our biggest investment here is really helping to spread the word," explained Strömbom. "We're very proud of our work with ORBIS."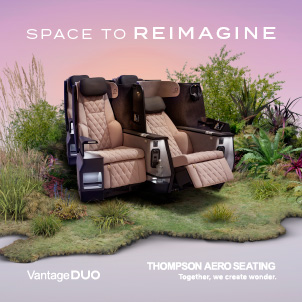 As are the more than 400 hard-charging physicians and nurses from around the globe who volunteer their time on ORBIS programs every year. "Many of our volunteers, like myself, will tell you that what they're most proud of in their careers is their work with ORBIS," said Dr. Daniel Neely, Professor of Ophthalmology at Indiana University. Having volunteered with the organization for more than 15 years, Neely said that what he loves best about ORBIS is that it's not a charity.
"Charities give people things … money, supplies, care. ORBIS gives people knowledge, the most powerful thing. We empower people to improve their own situation and we empower them to pass that on to other people in their area," said Neely. "We teach people how to become the teachers and that ripple effect is exponential and I think that's the power of what ORBIS does [and] that's what makes it different from any other medical organization in the world."
That's also what makes the FEH so key in everything that ORBIS does, noted ORBIS International's president and CEO, Bob Ranck. "This airplane is equal parts teacher, envoy and advocate. It's a teacher because it provides a facility to train doctors, nurses, anesthesiologists, biomedical engineers and upgrade their skills. It's an envoy because, as you saw coming out here, this airplane grabs your attention when you arrive. It brings people out … and gives us a platform to advocate for health care and for improved health systems. And it's an advocate because you can bring out Prime Ministers, you can bring out Ministers of Health, you can bring out philanthropists and make a case for them as to why investments in eye health and healthcare systems is important to their society and to their people," he said.
Added Ranck, "ORBIS is a mission that will grab you by the heart and won't let go. Once you see somebody get their sight restored, you're never the same, you're just not. And whether it's a hospital-based program, a country-based program, a FEH program … when that bandage is removed, it's life-changing.
"I heard a story about a mother who had cataracts removed who looked across the room and saw a tall, young man and said: 'Who's that?' Because the last time she had seen him ten years before he had been two years-old, and it was her own son. She knew his voice [and] when he opened his mouth she recognized him, but, other than that, she'd never seen him grow up. So, those kind of life-changing moments, you can't put a price on that."
Having been a part of the ORBIS family for more than 25 years now, McHale knows how the mission changes lives, including those of the volunteers.
"The reason I have put my time and energy behind ORBIS and the FEH is that I love to teach a man to fish, I mean, that's a ramp-up strategy. You can literally say that our success begins when we leave. We impart the skills, we only do maybe 100-150 surgeries, but the doctors and the medical teams that we train can do that in a day and every day and every week for years," said McHale.
"We have doctors now coming from Vietnam who want to volunteer on the FEH who were trained 20 years ago in Vietnam and say: 'We want to give something back. You gave me a life and a skill and I want to give back. Sign me up for a trip to Africa!' And that, to me, is a testimony to the success of the program."