Constant technological advancement; the use of new frequency ranges in civil aviation, particularly Ka-band; and robust capacity deals between service providers and satellite operators can enable an inflight connectivity experience that was unthinkable just five years ago. But will the dream of matching the inflight experience with that of the home ever be achievable in business aviation? Runway Girl Network asked industry stakeholders to assess the art of the possible.
Christopher Harris, channel development director at Rockwell Collins ARINCDirect Information Management Services, highlights fundamental reasons why delivering the home or office connectivity experience will continue to vex business aviation providers. "In the time taken to deliver faster connection solutions for aircraft, speeds on the ground will always have moved on, driven by the increasing amount of data we use. With certification requirements and their complexity, aircraft simply can't keep up," he says.
Inmarsat is more optimistic with company VP strategy and business development Kurt Weidemeyer telling RGN that customers of its Jet ConneX Ka-band service for business aviation will, for the most part, enjoy an at-home experience in the air. "From the business aviation standpoint [generally smaller aircraft and far fewer passengers] I believe they will. We absolutely have the bandwidth to deliver multiple megabits per second, guaranteed, consistently and to an aircraft anywhere globally. We really will achieve that dream," he says.
All three Ka satellites needed for Inmarsat's near global coverage have been up and running since the end of last year. A fourth is planned for launch in the fourth quarter of this year, adding capacity because Inmarsat knows it has to stay ahead of the bandwidth curve. "In business aviation we're the only provider that guarantees a minimum speed and we give credits if we don't meet it," claims Weidemeyer. "We can do that because we're planning ahead for increased bandwidth with the fourth satellite and we've got two new I-6 satellites ordered for 2019. They'll have L-band and completely steerable, flexible Ka-band payloads. We'll be able to move additional Jet ConneX capacity to wherever it's needed."
Canadian firm TrueNorth, which provides a suite of communications hardware for both cockpit and cabin applications, believes providers should be striving to provide the very best service, despite limitations. With that in mind, it recently launched connected.aero, a hybrid cloud solution designed to amplify bandwidth. TrueNorth's pitch is thus:
With characteristically lower bandwidth, Inflight Internet has challenges. A variety of accidental activities cause reduced speeds. For example, passenger mobile devices doing background updates consume a big chunk of usable bandwidth. Interruptive content may load before desired content, eating still more bandwidth and curtailing speed. In addition, when an aircraft flies through different satellite coverage areas, dropped connections can prove frustrating. Connected.aero brings together a cohesive suite of applications to manage the available bandwidth, add efficiencies and prevent dropped connections. Using a hybrid cloud model for delivery, connected.aero is service provider independent and designed specifically for use with the Optelity Pro Cabin Gateway product (Optelity Pro).
But TrueNorth also remains realistic. "Delivering connectivity in the air like on the ground is the Holy Grail. But for physical reasons, the need to send data from the airplane to a satellite then a ground network, it'll never get there. But then it's also amazing that the technology today allows us to check our email mid-Atlantic," TrueNorth CEO Mark van Berkel tells RGN.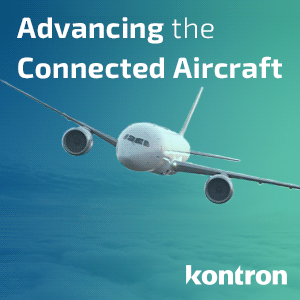 Meanwhile, the same company that is helping to reshape the US inflight connectivity landscape with its regional Ka-band service, ViaSat is likely to make big Ka waves in business aviation on a global scale when its high-capacity ViaSat-3 constellation is in service. But that promise is still years away.
"I think 50 to 100mbps to an aircraft over the next two to three years is achievable, but in your home you'll already be two steps ahead," says Harris of Rockwell Collins, which is a value added reseller for Inmarsat's Jet ConneX service.
"Our devices will also use more data in that time, so will we ever catch up? I doubt it."