For its Legacy 450, Embraer has crafted a cabin where hidden technology defines the design philosophy, with a valence that runs the length of the cabin and includes various functional panels and intelligent features.
Among the innovations in the valence is an 'upper tech panel' – a backlit touchscreen that is delicately framed by LED 'halo' mood lights (pictured above). The screen shows flight information – distance travelled, time to arrival, local times, altitude – without forcing passengers to interface with the inflight entertainment (IFE) system. It's also carefully positioned so that a glance above the head of the person sitting across the aisle tells you all you need to know; there's really no need to interrupt a conversation either.
On the functional side, a leather panel hides an oxygen mask, but can be easily personalized for occupants. "Sometimes the principal will ask for their seat to be upholstered in a different colour to the others. Now they could have something on this panel instead, a crest or personal design perhaps," Embraer VP of design Jay Beever told RGN at last week's EBACE show in Geneva. And this less costly option can be switched out as the operator prefers.
To wit, after the first day of EBACE, Embraer brought new valence panels in, removed the originals and installed the new system on the Legacy 450 in just three hours.
Sitting in the jet with Beever, the Embraer executive suggests that I turn on the reading light. As with all the Legacy 450's control panels, and even its cup holders and connectivity ports, everything is carefully hidden behind finely crafted, detailed covers. I tapped the lid in the ledge by my seat and it lifted immediately, revealing cabin and IFE controls.
Those controls don't need to be on display and the cover adds to the cabin's visual interest. It takes only a little effort to select the reading light. Yet when Beever suggests switching it on, I automatically look at the light above my head.
"You want to reach up for the reading light," he says. "Put your hand close to the reading lights and the screen knows to flip to the light menu; it's proximity sensitive." Two 'dots' – barely obvious without looking closely – sense when a hand comes close and reconfigures the screen, "Like your phone going black when you lift it to your ear." Now it becomes an entirely intuitive, simple control panel.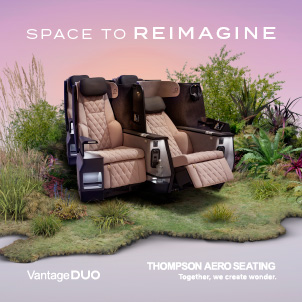 This is a cabin of detail that becomes more apparent and increasingly fascinating over time. Thirty minutes after walking inside, I begin to notice the apparent lack of hinges on the lids. Beever folds the surprisingly large table out of the side ledge, demonstrating its stability and the lack of cutouts in the ledge for its supports. Instead, a finely crafted metal piece folds down as the table opens, folding back up to complete its closure once stowed.
"Our approach was to make technology a servant, not a primary feature," says Beever. "We asked, 'How do you make that technology go away when you don't need it, how do you apply craftsmanship and make it relevant? Then we set it up so that when the technology ages you can open the lid take it away and put another piece in."