The drama surrounding US carriers seeking the limited daytime slots at Tokyo's Haneda airport stepped up a notch this past week with airlines responding to the applications submitted by their peers, and jockeying for the scarce slots. And, quite frankly, the snark levels are building. Mostly in a good way, I think, and it sure is fun.
Delta's reply is a great example of such, with aggressive posturing against the other proposals. Hawaiian's application to the US DOT – seeking one daytime and one nighttime slot – is the subject of ridicule given Delta's theory that the only reason Hawaiian is doing it is to avoid issues with late night arrivals and passengers missing the last mass transit option on such nights. Says Delta:
Hawaiian's application would squander a valuable daytime slot to provide Japanese beachgoers more convenient access to a monorail if their flight is delayed—an issue that Hawaiian can remedy simply by operating its flights on-time…The Department should not reward Hawaiian's hypothetically-delayed flights with a valuable daytime slot pair.
The operations jab might be well-placed given that Hawaiian historically has struggled with keeping its long-haul fleet moving smoothly but the "bite" with which Delta points this out is atypical historically for such filings; the times, they are a changin'.
Regarding United's application for service, Delta feels that San Francisco is a wasted opportunity, that it "does nothing to advance geographic diversity of Haneda gateways. American/JAL already operates a route between San Francisco and Haneda." Of course, there is also competing service operated on the Los Angeles route for which Delta dearly wants to keep its authority, but that competition is less relevant when Delta is the one writing the response.
United's application for Newark service receives similar treatment, with the suggestion that it duplicates joint venture partner ANA's likely service at JFK airport. While the O/D traffic may have similar access, there are significant non-overlapping catchment sections in the greater New York City market and sufficiently large O/D population to support multiple flights. There is also the function of onward connections, something which will not be facilitated at JFK but which Newark service can make happen. American believes there are only 24 onward connections well facilitated at Newark, a number which seems low to me, but that's included in its filing opposing the award of Newark service.
American's application is similarly mocked, with the competing Los Angeles service dismissed as duplicative of Delta's offering and too new – only started after Delta gave up its Seattle slot last year – for American to reasonably claim it successful. The second proposed operation for American, at its main DFW hub, is seen by Delta as inferior because Delta expects that JAL can operate it instead. But doing that moves the JAL service from San Francisco, which means United's proposed service is no longer duplicative. Delta also claims more onward connections from Atlanta than American can offer at DFW while ignoring that American's "Heartland" gateway (Delta's term, not mine) at DFW is far more well-connected than Delta's at MSP. American counters this claim, noting that Delta intends to cut Minneapolis-Narita service if it receives Haneda access while AA will continue to serve both cities, suggesting that the diversity is a benefit, along with noting the significantly larger number of connecting flights it offers and its growth at DFW while Delta is stagnating to the north.
American challenges Delta's application for service from Minneapolis on several fronts, including the above-mentioned likelihood of dropping Minneapolis-Narita service. American also brings out the snark a bit as well, tossing "Seatless in Seattle" in its filing as a dig on Delta's failed attempt to operate Haneda service from its Pacific Northwest hub. More critical, however, is the assertion that 65% of passengers will use the flight to connect beyond Tokyo, something which the shift to Haneda will make more difficult as Delta has no onward flow from Haneda, unlike its 5th freedom feed at Narita.
As for Hawaiian, its argument is twofold: 1) It has operated consistently since service was established and should be permitted to continue such; and, 2) Demand for service between Tokyo and Hawaii outstrips all other destinations in the USA. Yes, it is mostly Japanese visitors on those planes but those passengers fuel the Hawaiian economy, providing greater value than outbound travel from the mainland, according to Hawaiian's filing.
The final argument Delta makes is that it will face undue competition because the Joint Venture operations from ANA/United and American/JAL are too large and are growing in size relative to Delta's operation. This is true but ignores the fact that much of that shift comes from Delta choosing to cut its capacity into Japan dramatically in the past five years. Much of that growth from ANA and JAL has come to secondary US cities, allowing passengers to avoid connections at the larger hubs, and enabled by those carriers adding new Boeing 787s to their fleets. Delta has been less aggressive in fleet upgrades during this time, leaving it with older, less efficient aircraft flying to Asia. To that end, Delta has cut more than a third of its capacity between the US and Japan since 2011, a move which it made based on business demands. This is the same sort of decision process which Delta chastises American for not making in the past, leaving AA as the smallest player in the US-Tokyo market.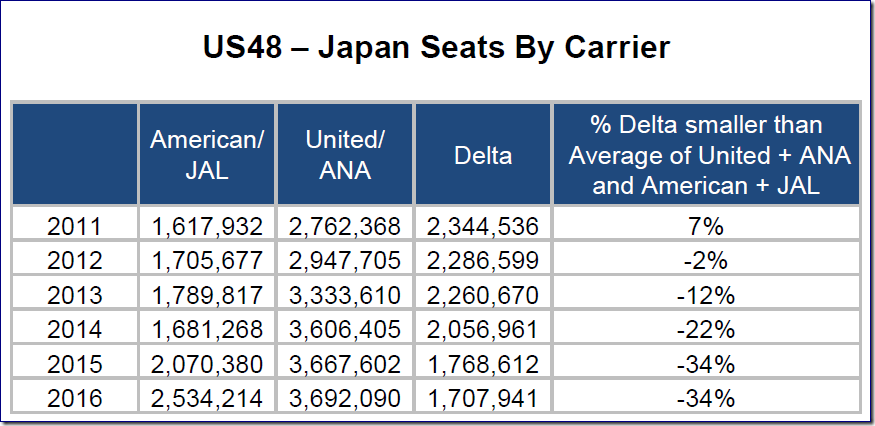 So, Delta went after the opposing applications pretty aggressively. But American took a rather different approach, at least with respect to one of the requests. Hawaiian wants the night-time slot to continue operating some of its flights. Moreover, Hawaiian wants the DOT to formally award that slot now, before the other slots are allocated, likely in hopes of securing a second slot when the five daytime slots are assigned. American fully supports the early award of the nighttime slot in just what might be the shortest DOT response ever filed.
The drama and rhetoric are strong but the stakes are high. It will be interesting to see how this plays out in the coming weeks.
Featured image credited to John Walton