During the recent World Travel Catering and Onboard Services Expo in Hamburg, RGN discovered something of interest tucked away on a crowded display shelf at the busy trade show booth of gategroup (the world's second largest airline catering and onboard services provider, purchased recently by Hainan Airlines Group for USD $1.5 billion). The find? A portable cabin Wi-Fi device designed to fit in the galley where an oven or chiller would typically go.
So disguised was this gadget by a cacophony of other items (mainly buy-on-board duty free offerings, tray settings and creatively-packaged food products for inflight sales), that it went largely unnoticed by most visitors to the sprawling booth… and this was likely intentional. Luckily for RGN though, the product, called "InSeat", was pointed out by gategroup's chief technology officer Simon de Montfort Walker.
According to de Montfort Walker, gategroup's onboard Wi-Fi hub is a collaborative effort between gategroup, Panasonic Corp (with its ToughPad technology) and UK-based multinational telecommunications company Vodafone – and it actually made its true public debut in February at the World Mobile Congress in Barcelona.
The solution features:
Server: Panasonic M1 i5 ToughPad
Wi-Fi Router: Vodafone Machinelink 4G
Enclosure: Customized Atlas Box
Batteries: 24 Hours operation
Responding to the next natural question of "why haven't we heard about this yet?" – de Montfort Walker said simply; "We tend to do less external marketing and more customer outreach. It's also because [the box] is part of the larger ecosystem that we serve. It's not the only thing we do. It's an augment to what we're working on in the retail space and with the crew handheld ePOS (electronic point-of-sale) devices."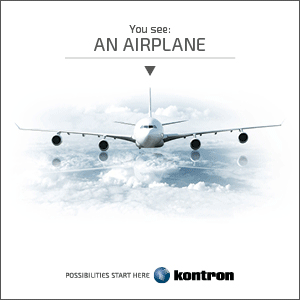 One might understandably surmise that gategroup was also keeping mum on this development for competitive reasons. After all, its main rival (and largest global airline caterer) LSG Group has been developing its own portable, galley-placed, streaming IFE/onboard retail solution and has two airline customers.
Looking more broadly afield, the industry is being inundated with light and portable "carry-on" BYOD Wi-Fi network solutions (think Bluebox's Walk On wiFE, Lufthansa Systems' BoardConnect Portable, etc.) that are classified as loose equipment and circumvent lengthy and costly certifications associates with anything installed or running from aircraft power supply. RGN will address some of the safety considerations of these lithium battery-powered devices in a future piece.
The gategroup solution, however, stands out for a rather good reason: "InSeat" will integrate completely with TS™, the catering service provider's suite of passenger service planning and fulfillment solution, thanks to the 4G connection provided by a Vodafone IoT SIM embedded in the box. Each time an equipped aircraft is on-ground, the SIM will relay sales data back to the airline and push inventory updates forward to the onboard network for both crew and passengers (something that LSG Group is also working toward with the integration of RiM and MiM into the Group).
"[This solution will] allow the crew to focus on service delivery, not payment processing. Also, providing a view to passengers of onboard inventory helps better manage passenger expectations," said de Montfort Walker. "For passengers, they can now make sales selections and payments at their convenience during their flight … And they can just make payments through their device. The operational efficiencies will also allow airlines to better stock flights, be more informed on inventory and loadings, reduce wastages and reduce fuel consumption."
InSeat's Vodafone-based network can support two full IP ranges or around 500 devices, according to gategroup (this sounds ambitious to us, we'll to wait and see). For larger aircraft, the solution can pair with a "booster box" that could be installed in an overhead locker or galley to improve signal strength.
Live testing of the "InSeat" network solution is expected to begin sometime in June, and de Montfort Walker says he's pretty excited about the interfacing opportunities it presents going forward.
"I think it's a starting point more than a stopgap," he told RGN. "Onboard connectivity will only advance. As the aircraft becomes more connected in flight, we will further enhance our products to take advantage of that connectivity. Passengers want more on their flights and they want the ability to have control over their experience. That is what we are giving them, while also easing pain for the airline. 'InSeat' is just the beginning."
The company is currently refining the product (indeed, the box we saw looked like the exact sum of its parts and not much more) and investigating the use of lead acid batteries as an alternative to less-stable lithium cells for long-life and safety.