Passengers in economy class may have decidedly less space on board than their counterparts in the front of the cabin but some airlines are fighting back on the catering front in an effort to level the field just a tiny bit. And, of course, they're charging a fee for the luxury. How each carrier approaches the challenge varies; JetBlue and Air France provide two interesting examples of possibilities.
New York-based JetBlue added its Mint premium cabin two years ago (and is expanding the product), but even as better seats and amenities were added to the front of its planes, the goal was not to take away benefits from "Core" economy customers.  Yes, seat pitch is being slightly reduced in economy, but JetBlue still offers a US domestic airline industry-leading 33″ pitch for the class.
And now, lo, the carrier offers the spectacular Beecher's Cheese Plate in coach. The original plan had nothing to do with putting the Beecher's product on aircraft. JetBlue was working on a deal to stock the cheese boxes at terminal concessions, but once the inflight department caught wind of its potential, the plan changed and the boxes were soon flying as part of the company's 'Eat Up fresh' food menu. The offering is only available in the main cabin, not in Mint, but that hasn't stopped Mint customers from seeking it out.
Christie Lind, JetBlue senior analyst for onboard experience, explains that balancing the offerings between the two cabins is "a give and take…The Beecher's Cheese Plate is in such high demand with our Mint customers." Yup, the folks up front are seeking out the offerings from the back of the plane.
And even as JetBlue continues to explore opportunities to expand the routes that offer fresh food, it is also looking at how the existing offerings might change in more subtle ways. Lind continues, "Maybe it is not Mint going to Core but partnerships that we have in Core which are really strong and unique and true to New York. It may not be just a one-way street."
Hot meals are unlikely to show up in the JetBlue Core product anytime soon; that requires ovens, of course, as those meals need to be reheated and JetBlue doesn't have that option on the vast majority of its fleet. Expecting to see that sort of "trickle down" flow of products is likely to leave customers disappointed. But the idea of "trickle up" options, like the Beecher's Cheese Plate making their way into the Mint cabin, should not be discounted.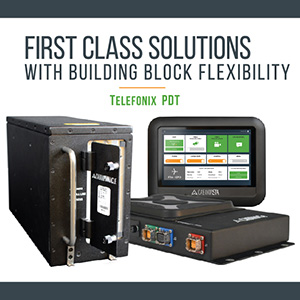 Air France faces different circumstances as it seeks to offer a dining up-sell to its long-haul passengers departing Paris. The carrier's "A la Carte" service is now available to travelers in economy and premium economy cabins who pre-order the meals at least 24 hours in advance of departure.
Air France partnered with chef Jean Imbert, a recent Top Chef winner and rising star in the world of French cuisine to fill out one of the options on the 'A la Carte' menu. Similar to JetBlue's partnership with Beecher's, this arrangement plays on the name recognition of the partners to build awareness and drive sales. That also means that there can be challenges with product quality and consistency. Imbert frequently makes surprise visits to the Servair kitchens where "his" meals are prepared to ensure that the preparation is consistent.
Imbert also acknowledges that the onboard service experience is different than a restaurant, with less time for a flight attendant to plate and present the meal, but his name is on it and he's adamant the quality remains high so as not to be on the receiving end of negative posts on social media.
He invested 18 months of time working with Servair to finalize the menu, with similar challenges to business class menus built by the Michelin 3-star chefs. "We create the best product that we can with the price that they give us. We have to know that in the air salty is very difficult to taste and crispy is not possible. I like this because it is just like Top Chef: The more difficult it gets, the more you have to think."
This thinking and creativity means more and better options for many coach passengers, even if it does come at a price. And some business class passengers may eventually get to benefit from it, too, as the most stellar options in coach "trickle up".