With tech-savvy women worldwide making key travel decisions these days for themselves and their families and Nielsen reporting last fall that women slightly outpaced men in smartphone ownership in the United States – and are projected to control a whopping $28 trillion of consumer spending in the US alone – it was disheartening to see so few women in attendance at the recently concluded Airline Passenger Experience Association (APEX) Technology Committee conference in Newport Beach, California. Even more troubling was the fact the APEX's unveiling of its much-buzzed about "Emerging Technologies Panel" on the final day featured nary a single woman in its midst.
And while cynics may point to the fact that aviation has traditionally been a very male-dominated industry (especially on the technology front) and that the make-up of the advisory panel simply mirrors that reality, I'm hopeful that APEX will come to realize the fundamental wrongheadedness of not ensuring women's voices were heard from the onset of its discussions on future #PaxEx technologies.
Last year, STEM advocacy group Change the Equation reported that despite surging demand for qualified workers in the sector, the number of women in STEM fields like Engineering, Computing and Advanced Manufacturing has remained virtually unchanged since 2001. And recently released diversity reports from tech giants like Microsoft, Twitter, Apple and Google – which saw the ranks of women tech employees stagnating or declining – are even more depressing. But the truth is, even in a male-dominated industry like aviation, talented, tech-savvy women are out there and meaningful engagement with them is crucial moving forward.
As Margaret A. Neale, the Adams Distinguished Professor of Management at the Stanford Graduate School of Business noted a decade ago in her landmark scholarly piece on diversity: "The worst kind of group for an organization that wants to be innovative and creative is one in which everyone is alike and gets along too well."
The good news is that current APEX CEO Joe Leader seems to agree wholeheartedly with Neale and looks to be more than open to injecting a much-needed female perspective into the conversation moving forward.
"There will be women on the [Emerging Technologies] Panel," promised Leader in Newport Beach. "My philosophy is like that of the new Prime Minister of Canada. I believe [we] need to be very inclusive as an organization."
And when asked about the scarcity of women attendees of any ilk at the Technology Committee conference, Leader said that he saw that too as a huge growth opportunity for APEX. "It's one of the things in the engineering world that I know some companies struggle with and I think it's a critical initiative for us," vowed Leader. "I'm a big believer in diversity."
And while that sounds very encouraging, and Leader's insistence that technology and education will be vital building blocks of the APEX agenda moving forward is refreshing, the fact is, optics matter. Especially in a new media age where images of all-male panels are quickly shared on social media, as evidenced by the dedicated Tumblr thread, 'Congrats, you have an all-male panel!', or the images that emerged from the International Air Transport Association's Annual General Meeting: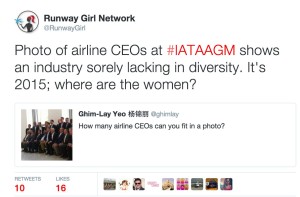 And the APEX Technology Committee conference: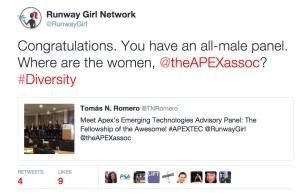 So although the stellar line-up of individuals on the Emerging Technologies Panel represent innovative, forward-thinking talents, APEX should be mindful of the powerful and lasting message that a panel comprised exclusively of men sends out to their membership and, by extension, the world. Particularly today, when it seems like it's harder than ever for women and girls to find worthy role models, not to mention gainful employment, in the science and technology workforce.
Simply put, APEX and the industry at large can do better. We all can. And we owe to ourselves and our sisters, mothers and daughters everywhere to try.