Aviation is a fast-paced industry. From the rapid technological advances seen over the last 100 years, to the speed at which modern-day aircraft fly, to the seemingly unstoppable levels of global air transport growth – this is not a sector that can be accused of moving slowly.
Unless, that is, one asks whether the industry is making fast enough progress on reaching its sustainability targets. The resounding answer from conservationists and sustainability experts alike is that yes, much is being done to try and reduce aviation's impact on climate change – and the industry is to be lauded for that – but change is not happening fast enough to keep up with the growth of the sector.
"The speed at which the aviation industry is developing new technologies is not keeping pace with the growth in air transport," Professor Callum Thomas, chair of sustainable aviation at Manchester Metropolitan University's Centre for Aviation, Transport and the Environment (CATE) tells Runway Girl Network. "Manufacturers like Rolls-Royce and Airbus are fully aware of the challenge, but the technologies are getting harder and harder to improve upon.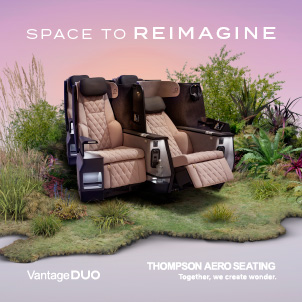 "From the 1970s to the 1990s, the improvements were absolutely amazing…but we now need a step-change in technology because we're reaching the limits of what the current technology can deliver."
Unfortunately, any deviation from the familiar tube-and-wing design we all know and love today is likely to remain far into the future (although brains much larger than mine are working hard to make that step-change a reality.)
In the meantime, IATA has set out ambitious environmental targets for aviation: carbon-neutral growth from 2020 and a halving of carbon dioxide emissions by 2050, relative to 2005 levels.
However, the reality is that those targets cannot be met without the implementation of a global market-based measure to address aviation emissions, and without a massive scaling-up of alternative fuels to reduce the industry's reliance on kerosene.
And therein lies the rub: in order for both of these things to happen, global governments need to agree with one another on the former (unlikely) and invest huge sums of money to support the latter (even more unlikely).
This takes us neatly to ICAO, the United Nations body charged nearly two decades ago when the Kyoto Protocol was signed with reducing greenhouse gas emissions from international aviation, and which appears to have been moving slower than a snail on ludes towards meeting this objective.
To be fair to ICAO, though, getting nearly 200 member states – among them developing countries whose growing economies rely heavily on air transport – to agree on a treaty that could limit that sector's growth is an unenviable task.
As Professor Thomas points out: "Some governments are trying to restrain the development of a global emissions scheme. The Chinese government is going to object, as it did to the [European Union's] ETS, and the same goes for India, Saudi Arabia and Russia."
ICAO member states did, however, agree just over two years ago to develop a global market-based measure proposal to present for ratification in September 2016. So far, so good. But are the airline industry's hopes and expectations of such a scheme far-reaching enough?
IATA's preference is for an obligatory carbon-offsetting scheme to cover emissions growth after 2020, based on average annual emissions between 2018 and 2020.
But James Beard, a WWF-UK policy officer specializing in international aviation, does not believe carbon-neutral growth from 2020 is sufficient for the industry to play its part in limiting the global temperature increase to 1.5-2ºC.
"If [a global market-based measure] is agreed in 2016 it will have a significant impact on addressing emissions. But just talking about [emissions] plateauing and not going down is not in line with the targets set out in the main UN climate talks," says Beard.
Environmentalists would prefer the global scheme to be more along the lines of a revenue-generating carbon-offsetting program, with proceeds funnelled into helping developing nations address problems related to climate change, or an emissions-trading system similar to the EU's ill-fated attempt.
"We need airlines to work with us to make sure the scheme is environmentally effective," says Beard. "The most important thing airlines can do is to help speed up policy-making progress – their voice carries weight."
Moving on to alternative fuels, we've all read the press releases, witnessed the demonstration flights and heard of the potential held by such fuels to reduce greenhouse gas emissions from aviation. But the issue always boils down to scalability. And large-scale production on the level that would be required to fill the tanks of the world's airliners needs colossal investment, which is sorely lacking.
At this juncture, it is worth recognizing the amount of time (and, more recently, money) that certain airlines have been investing in developing alternatives to kerosene. To name just a few, British Airways appears to be progressing well with its plan to operate flights from London City using fuel derived from landfill waste; Brazil's Gol is pioneering the use of a sugarcane-derived fuel called farnesane; and United Airlines in June went as far as to invest $30 million in alternative fuels developer Fulcrum BioEnergy. The airframers have also been very active in researching, developing and testing biofuels for aviation.
But nobody seems able to put a timescale on when significant volumes of renewable jet fuel will be in circulation. And skepticism abounds as to how sufficient amounts of biofuel can be produced sustainably.
Also, low oil prices are not giving the private sector much incentive to invest, as Professor Thomas points out: "When the price of oil goes up biofuels become more attractive – until that happens, companies are not going to invest." Which brings it back to governments, and so it goes on.
What was interesting about talking to the sustainability experts interviewed by RGN for this piece was that they did not cast the airline industry as the bad guy – rather, they praised the positive steps taken so far, of which there have been many.
Much of the blame for slow progress lies with policymakers. However, the airline industry's voice is instrumental in pushing things through, so perhaps it needs to shout louder. This could be the industry's chance to shine, to put its head above all other industries and proudly say that, hand on heart, it is doing its absolute best to mitigate its impact on climate change.
After all, this is an industry that brings people together and makes the world seem smaller than it is. But the industry must earn its licence to continue growing. As such, it should be breathing hard down the necks of policymakers to ensure that a truly effective market-based measure can be reached. To ensure that enough investment is ploughed into the development of sustainable alternative fuels to enable them to flourish. And to ensure that red tape is removed to the extent that all possible operational improvements can be enacted.
Otherwise, as Professor Thomas puts it: "My fear is that in 50 years' time we may not be able to travel as much as we do now."