With 330 active mobile connectivity installs and a backlog of 1,239 in the books, Panasonic Avionics is sitting on the quiet giant that is AeroMobile. If you mostly fly US-based airlines, you've probably never heard of AeroMobile before. Outside of the US, according to AeroMobile CEO Kevin Rogers, use of mobile connectivity on board aircraft also equipped with wireless Internet is ready to take off in a more substantial way.
"Almost without exception, the airline customers that are taking GCS (Global Communications Suite) are taking both wifi and phone," says Rogers. "My frustration is that, of course, all you hear about is wifi. If you look at the statistics, there are double the number of users of the phone compared to wifi."
Rogers attributes the quiet success of mobile connectivity to the near complete lack of a barrier to entry for passengers. While inflight wifi systems require payment and registration (even if Internet is provided free of charge), mobile connectivity systems are automatically enabled by carrier roaming agreements and do not require any immediate action by the end user.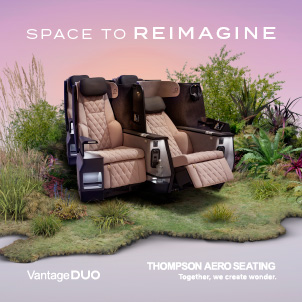 While the technical barrier to entry is low, the problem of pricing remains AeroMobile's biggest problem. While airlines or connectivity providers set the pricing for inflight Internet systems, AeroMobile sells access to cell phone carriers on a wholesale basis, and those carriers set the roaming price for access to service on board. Prices vary wildly – from being included in some plans, to the ludicrous $10 per MB that AT&T charges. "I am very frustrated by end-user pricing," says Rogers.
In the near future, Rogers see prices dropping substantially enough for this final barrier to be removed, and use of mobile connectivity to grow. "We are just touching the tip of the iceberg in terms of usage, because for a number of reasons, the price that you have to pay to use this is on the high side. Satellite costs have come down dramatically, which gives me more ability to work with the mobile operators to help the price come down. But everybody has to play ball here."
Case in point: after launching connectivity services in Southeast Asia with low-cost carrier Malindo Air, AeroMobile worked with the local cell providers to actually include AeroMobile services in a standard daily roaming package. "There, we find that mobile operators are very responsive. They want to cooperate, and now you'll see that our service is priced in what we call 'daily plans.' So for those roamers down there for $10 per day, or less, AeroMobile is included in that package," says Rogers.
In Scandinavia, Rogers says AeroMobile worked with one mobile phone carrier to drop the cost of roaming on board by 80% after SAS introduced the service on longhaul flights. Unfortunately, each mobile carrier must be persuaded to lower prices on an individual basis, which is slowing down mass adoption of mobile connectivity on board.
For those who do connect on board, usage patterns differ quite substantially from those who connect via wifi. While Deutsche Telekom reports the average data use on Panasonic's eXConnect wifi systems hovers around 200 MB per session, Rogers says the average session on AeroMobile is only "a few megabytes" per user, mostly from lite web browsing and email use. Phone calls on AeroMobile only account for 20% of overall use, says Rogers.
For the time being, AeroMobile is limited to 2.5G EDGE connectivity, which is far slower than the data rates offered by inflight Internet. Rogers hinted that an upgrade of network technology type is coming, but offered no details other than noting an upgrade would be possible for existing installs.
If AeroMobile is able to work with major mobile carriers, there may yet be a place for mobile data on board aircraft. Until then, it seems that the service will remain a niche for those lucky enough to subscribe to a reasonable mobile carrier, or for those who don't care about cost. And more than a few passengers do not care, says Panasonic VP GCS David Bruner, noting that GSM services in Europe are "off the charts".
"People pay a 100% premium … No sorry … Well in some cases it's infinite because it's free wifi and they pay $10.00 a megabyte, but they love it because of the simplicity."