Inmarsat has teamed up with major telco Deutsche Telekom to provide inflight high-speed Internet access to European airlines, including Lufthansa, which has committed to trial the service.
The so-called European Aviation Network under development by the two firms will combine an S-band satellite from Inmarsat with a complementary LTE ground network provided by Deutsche Telekom. Inmarsat had originally intended to "go it on our own to deploy" the hybrid S-band/air-to-ground network but recently decided that "a partnership approach made more sense", Inmarsat Aviation president Leo Mondale tells RGN this morning. The partnership with Deutsche Telekom is "exclusive" insofar as it pertains to the hybrid network, he adds.
For its part, Lufthansa has committed to a flight trial programme for the hybrid network. "This promising and innovative technology offers potential in terms of costs and can be flexibly adapted to suit the broadband transmission demands of the future. From 2017 onwards, Lufthansa will commence a flight trial program of the new technology," says the carrier in a statement.
In the nearer term, however, Lufthansa will begin equipping its short- and medium-haul fleet with Inmarsat's Ka-band satellite-based connectivity service, Global Xpress (GX). This will enable passengers on continental flights and flights within Germany "to enjoy the full freedom to communicate and to use the Internet with a wide bandwidth above the clouds", notes Lufthansa. The first aircraft will be fitted with the new technology in early summer 2016.
However, should Lufthansa's 2017 trial of the hybrid service prove successful – and Inmarsat has full confidence that it will – then it is anticipated that the carrier will cut over to this technology for its short- and medium-haul aircraft, as air-to-ground-based solutions are less expensive to operate than satellite and hardware installation is generally less arduous. With that said, antennas will need to be installed atop and below the fuselage.
It's not clear how many Lufthansa narrowbodies will have been fitted with GX by the time the hybrid is ready. But Lufthansa's decision to begin by installing GX underscores the competitive pressure in Europe to offer connectivity to passengers (airlines including Norwegian, SAS and Vueling have already made decisions for their narrowbodies).
"I think we were successful here because we did not take a 'buy this tech now it will be all you need' approach. The fact that Lufthansa is selecting Inmarsat and Global Xpress for the European fleet and given the option to upgrade and slot in the European Aviation Network over time is an indication that they don't want to simply make a technology decision," says Mondale.
Advising us to take a less "system and technology oriented perspective" and look at the big picture, he adds, "The essence of the contract is we'll get broadband to Lufthansa's passengers."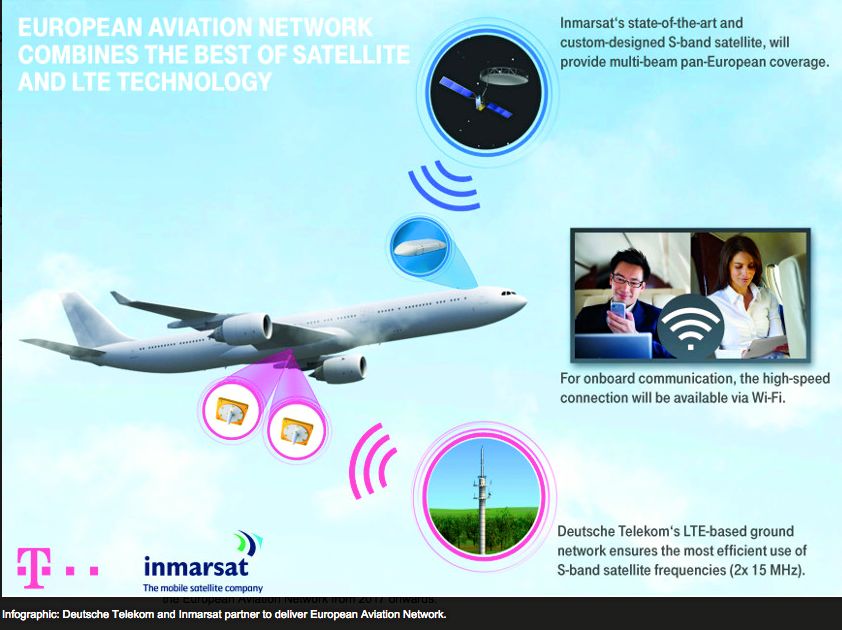 Other European carriers are expected to follow suit, and adopt the Inmarsat/Deutsche Telekom hybrid service (and may even mirror Lufthansa's approach). When Inmarat first announced plans for the hybrid network, British Airways signaled that it could become the launch customer. "BA discussions are certainly continuing; the only thing I can really say is expect more airlines to follow," says Mondale.
Lufthansa offers Panasonic Avionics' Ku-band connectivity service on its long-haul fleet of 106 aircraft, and is installing the solution on its new long-haul, low-cost subsidiary Eurowings. The FlyNet-branded offering is offered in partnership with Deutsche Telekom unit T-Mobile. Asked by RGN if a consistent user experience would be offered to passengers flying short-, medium and long-haul, Mondale says, "We're committed to being practical with the airline so if they feel it's important to bundle those up and stuff, it's going to be their call and we'll support it, so I wouldn't be surprised to see something like that."
Significantly, Lufthansa Technik will be responsible for integrating all systems and components into Lufthansa's aircraft. The work will not only include installation activities, but also all tasks required in terms of aviation and licensing law, says the airline. Mondale notes, however, that other European carriers that select GX and/or the hybrid service may decide to use their own MRO providers for this work. "We'd be crazy to make that decision for airlines so we haven't, but we expect Lufthansa Technik to be a credible player in the market. That's what they do in everything they do."
Another Lufthansa Group unit involved in the carrier's connectivity rollout is Lufthansa Systems, "which will provide the technical infrastructure needed to establish a well-functioning Internet connection on board", says the carrier. This work will include tasks such as setting up network operations in the aircraft, and providing the software required for the operation of an Internet portal. Lufthansa Systems' BoardConnect wireless IFE solution is already installed on some Lufthansa Airbus narrowbodies. But BoardConnect will represent far more than entertainment in the future.
"Lufthansa Systems and Lufthansa Technik are additionally planning a long-term global partnership in order to also be able to offer other airlines a modern onboard IT platform (BoardConnect) with broadband Internet access that can be used for a number of different purposes," explains Lufthansa. "Both the Lufthansa Group and future clients in the third-party market will benefit from the additional services and lower risks provided by this strong partnership."
Carsten Spohr, chairman of the Executive Board of LufthansaGroup, comments: "Lufthansa has always been a pioneer of Internet services on board its aircraft. Having equipped all planes in the Lufthansa intercontinental fleet with our successful FlyNet system, we are now continuing our success story by providing Internet on board our short and medium-haul flights. We are therefore the first airline in Europe able to offer its guests an Internet surfing experience boasting the same quality and speed as they are used to at home."
Featured image credited to Deutsche Telekom