United Airlines has new first class seats for its Airbus and Boeing narrowbodies. Representing a collaboration with London design house PriestmanGoode, the seats will serve as a refresh to elderly first class cabins on A319s, A320s and many 737s and 757s. But although they're wider – bravo – they suffer from a number of obvious design flaws that make one wonder how nobody at the airline, their design partner or the seatmaker spotted them.
The overall first impression is corporate and bland. The sea of blue when you're looking from the aisle is only barely broken by the dull brown of the armrests and what I'm concerned is a scuff-prone tan (excuse me, "champagne"). It's not quite as corporate as Korean Air's new first class suites, but it's up there.
What they really remind me of are the last generation of Delta seats, before DL went all waffly and interesting with its patterns. This is, of course, all subjective, but if the overall look and feel is more Wipe Kleen than Poltrona Frau, I'm not sure that the premium passenger will be too impressed.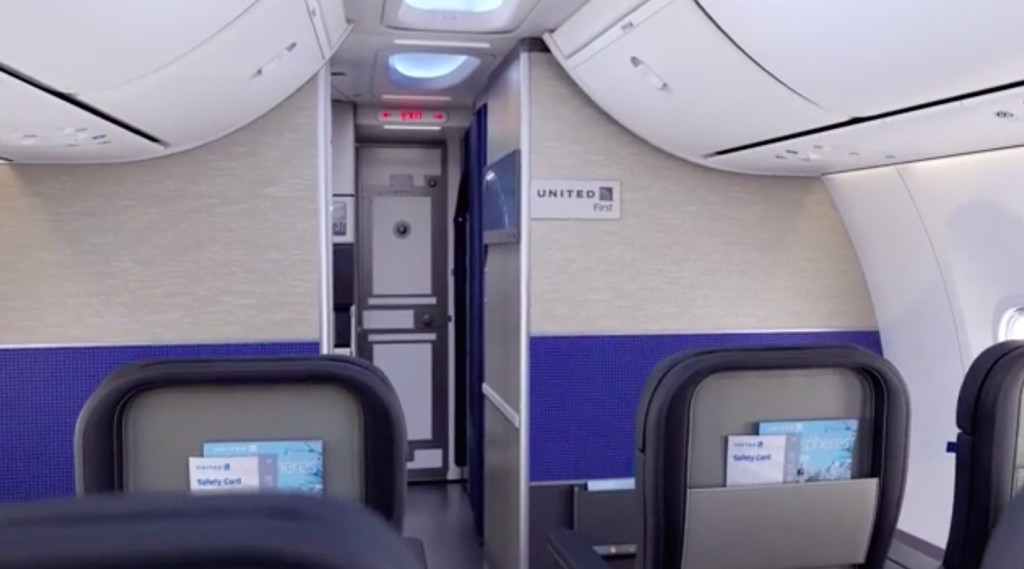 And speaking of wiping clean, the light tan leather that covers most of the seatback in front feels a bit too much like a 1990s Ford Explorer, and I can't imagine that it will be easy to keep free of marks.
A deep side pocket for laptop storage is a good idea in theory, except for the untold horrors of what will be lurking in its depths. We've all seen what customers leave on aircraft. I give it three weeks before something unmentionable turns up in one. I know I wouldn't stick my laptop into that kind of space without a serious exploratory mission with a bleach wipe first.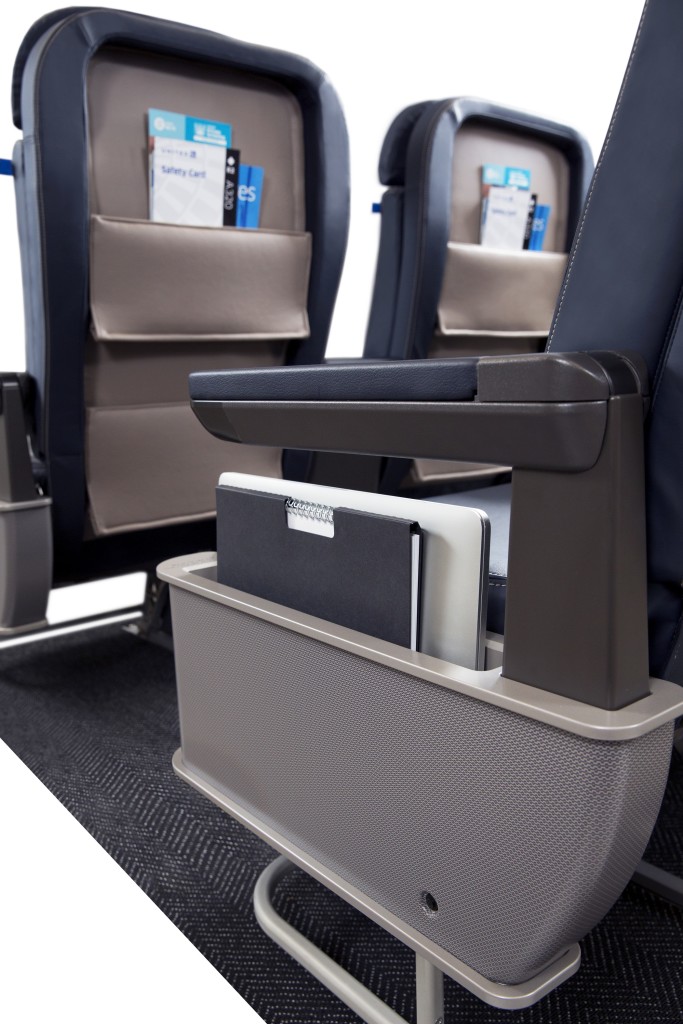 The omission of a USB socket, even with the presence of a universal AC outlet, is a bad decision. On a short flight, road warriors want to make the most of multiple charging options to boost their batteries fast, and I can barely believe that an airline hasn't installed a 2.1A USB socket in a first class seat in 2015.
It's great to see SmartTray's integrated groove-and-rest tablet holder solution on the fold-out trays, but the apparatus for holding your tablet is significantly off center, sitting as it does to the outside edge of the large tray. The product was developed through a licensing agreement with United, before in-seat power giant Astronics agreed to exclusively market and sell SmartTray's products, so I'd expect to see these tablet holders rapidly evolve.
But there's another big problem (quite literally) with United's iteration: because the groove doesn't extend to the sides of the table it won't take the just-announced iPad Pro. The 12.9" iPad Pro — as long on its short side as the current iPad Air 2 is on its long side — has been mooted for what seems like forever, and even with the benefit of hindsight it's baffling to think how the industrial design missed this. Surely the groove could extend across the join to the smaller part of the table construction.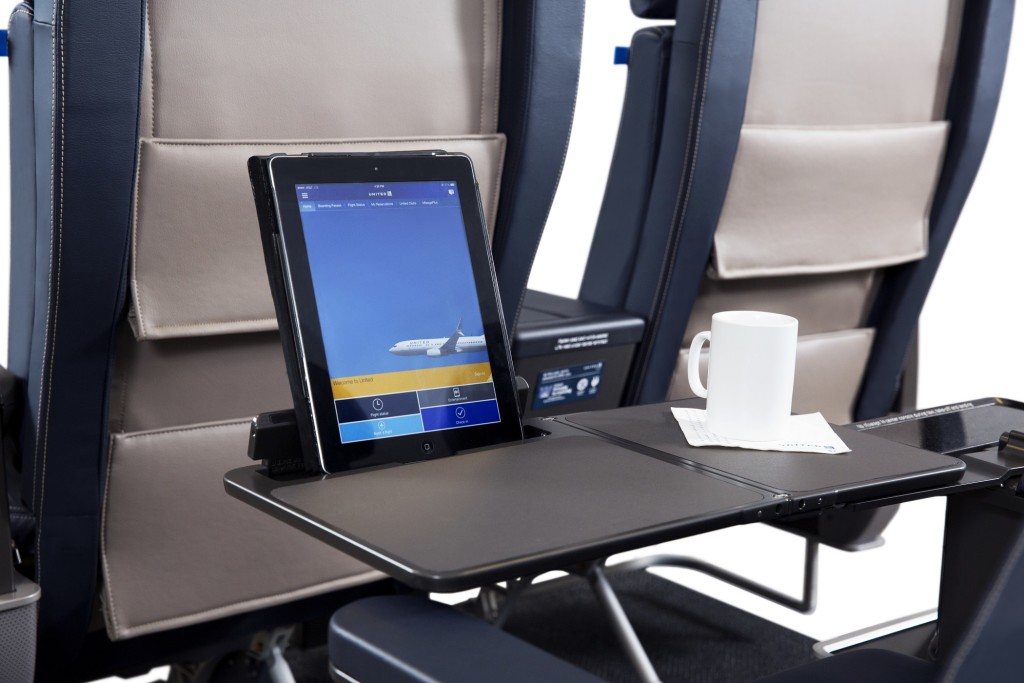 An attractive bi-level granite-topped cocktail tray section of the centre armrest is a nice touch, though.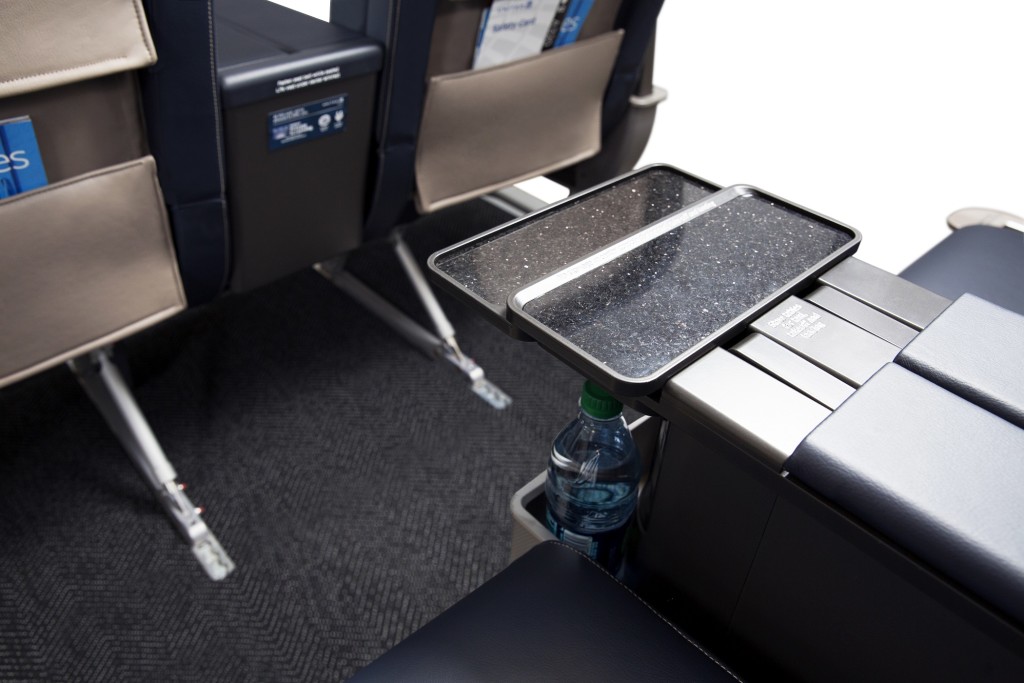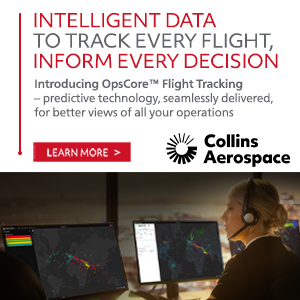 At the end of the day, when "it holds a water bottle" is one of the top things the airline is promoting — and in first class where presumably there are enough flight attendants to bring you some water if you so desire — this doesn't scream 'bells and whistles'. Especially since the water bottle holder is right next to the 120v AC power system. Make sure those caps are screwed on tightly.
United intends to install the seats on its aging A319, A320 and Boeing 757-300 aircraft, with a relatively fast rollout through 2016 and a one-for-one replacement of old seats — no shrinking cabins, apparently. The airline says that it is "expanding to other United fleets in 2016", and I noted that the promo video showed a 737-900ER with scimitar winglets together with a 737 Boeing Sky Interior.
If I were grading this, I'd give it a solid C-. Numerous off-the-shelf models look better and have more functionality. As the last of the three big US carriers to make a first class seat move in recent years, United really needed to lift its game — and it hasn't.