Inmarsat and International Launch Services (ILS) today launched the I-5 F3 satellite aboard a Proton-M rocket, bringing the Inmarsat Global Xpress (GX) satellite connectivity solution to the cusp of functionality for the aviation industry.
The project has been beset by delays, mainly related to failures of other Proton-M launch vehicles. While it will be a few hours yet until the F3 satellite completes its positioning into the final orbit location, everything appears to be successful so far. This is a great relief to Inmarsat and the Industry as a whole; the backlog for satellite launches is significant, as is consumer and airline demand for more bandwidth in the sky.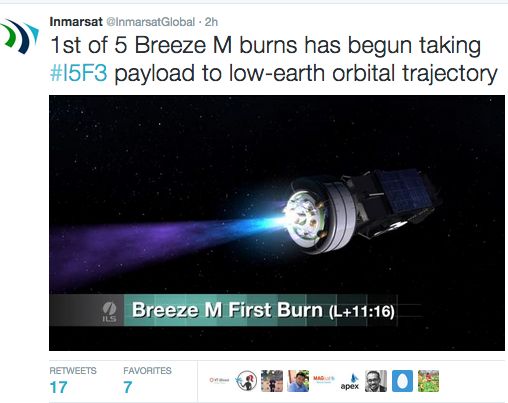 The first two satellites were launched in December 2013 and February 2015 and both have been in service for limited usage profiles, including certain maritime routes. But commercial airlines do not yet have access to the network.
Terminal unit provider Honeywell began testing its onboard hardware for GX earlier this year and all reports thus far have been positive, with both spotbeam and satellite switching tests completed successfully. Separate from the Honeywell testing, GX service provider SITA OnAir is reporting testing for an undisclosed 777 customer; an EASA STC is expected before end-of-year as well.
Qatar Airways is among the 777 operators to have selected GX for a portion of its fleet (as previously reported, Air Canada is believed to be adopting GX via service provider Gogo, though nothing has been publicized yet). Vietnam Airlines and Air Caraibes are also GX customers.
With a successful F3 launch and the appropriate STCs issued, the GX service could reasonably be operational on commercial aircraft before the end of 2015, though the true deployment timeline will depend on hardware availability, final certifications, and aircraft installation times. Typically early installs are slower and may require additional STC work as new aircraft types are added to the mix (initial installs of satellite-supported connectivity systems can take up to two weeks).
But even when GX capacity is finally ready to come on line there are some questions being raised about the price point and shifting competitive landscape in the market.
Global Xpress enjoys a significant discount relative to the traditional broadbeam Ku-band capacity today. But, like everything else in this market, the forward-looking price point for competition suggests challenges.
Ku-band HTS satellites are set to launch over the next few years (Intelsat recently made a point to note that its launch schedule is on track despite recent SpaceX, ILS mishaps, notes Raymond James analyst Chris Quilty). And estimated Ku HTS capacity pricing is significantly lower than what GX is believed to be offering today.
But those HTS satellites are not available today and consumer demand very much is.
An additional challenge for Inmarsat is the decision to launch with global coverage bar the poles. While this means the company can offer connectivity on virtually any airline route (or other vessel), it also means a relatively inefficient layout of spotbeams and capacity relative to demand peaks. The combination of wideband Ku beams for thin demand areas and Ku HTS spotbeams in higher demand regions – being touted by Panasonic Avionics, Global Eagle Entertainment and Gogo – suggests a coverage, operating cost and retail pricing combination which could prove to be more palatable to airline customers. But, again, that product does not exist today.
There is no perfect connectivity solution for the industry overall. Even larger airlines are seeing that different sub-fleets and aircraft mission profiles demand different connectivity solutions. And GX will absolutely be part of the game, especially with the entry-into-service expected later this year. But, just like every other solution, it is not the Holy Grail.