The US FAA says it is assessing whether any required corrective actions are necessary after fuselage scratches were identified under the antenna radome skirt of two aircraft equipped with Panasonic Avionics' eXConnect inflight connectivity system and radome.
As exclusively reported by RGN Premium, Panasonic late last year notified eXConnect customers that scratches were found on two aircraft over the last four years of service with Panasonic radomes. Caused by metal contact between the skirt seal retainer ring and retaining nut, the scratches were observed during a routine C-Check by an undisclosed airline. Wearmarks gave a clear indication of metal-contact with the fuselage.
In a statement provided to RGN, the FAA says, "This issue was identified on an eXConnect system installed via an FAA Supplemental Type Certificate (STC) held by Panasonic Avionics in Bothell, Washington. The Panasonic system incorporates a fuselage mounted antenna installed via a second FAA STC held by Delta Engineering in New Castle, Delaware. The antenna is currently installed on both Boeing and Airbus transport airplanes.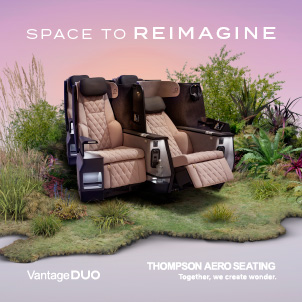 "We have been working with Panasonic and Delta Engineering regarding the reported interference. Panasonic has released a Service Information Letter to enable operator inspection and repair. If corrective actions are necessary, the FAA will follow our normal process for developing and proposing an Airworthiness Directive (AD) to inform affected operators and authorities."
The FAA notes that it is still investigating the issue.
Most IFEC providers hire companies that are designated to act on behalf of the FAA in specialized areas of aircraft systems design and certification. Delta Engineering holds this FAA designation, known as Organization Designation Authorization (ODA), and is considered "one of the most powerful in the country", says a source.
Indeed, Delta Engineering has issued over 1000 STCs, including about 25 for IFEC antennas, Delta Engineering VP Jonathan Moritz tells RGN. As the situation stands now, he says, the eXConnect package is "not unsafe". Panasonic has "always been proactive in making things right".
Furthermore, he says, the undisclosed operator mentioned in the Service Information Letter to customers "was aggressive in trying to blend out the scratches and went beyond" the work required to complete the repair. "The second aircraft [had] very minimal type scratches. Scratches don't make an unsafe condition. An aircraft has to be able to withstand a lot more damage than what a composite radome can do to the top of the aircraft."
He does not expect an AD will be required. "Now Panasonic is going to make a product improvement just because that is the way Panasonic and Delta Engineering are; we want perfect [safety] not to meet in the middle. Regulations are the minimum standard, not maximum."
We spoke with Panasonic Avionics VP Global Communications Services David Bruner in January, and his comments are in line with what Moritz has said.
"The first thing is, even if it did [result in an AD] it could be a thing where somebody says, 'this is not a conforming part and you need to fix it and you need a couple of years to do that'. There is no safety impact to an aircraft; there's no big damage, especially [to] airlines, which [encounter] damage to skin of aircraft everyday. But this is more of a thing where, okay, you don't want it to do that if it doesn't need to. So we've found just a couple of aircraft that have had this and you say, 'what's causing it', and you design something better to fix it. And you take care of it."
Other suppliers are involved. TIMCO designed the radome and the attach plate, and St. Gobain builds the skirt and radome, according to Bruner.
This begs the question – is Panasonic looking more closely at its partners to make sure quality control is up to snuff?
"I think it's just as you would do with any kind of business as things get mature, you learn more, you tighten up tolerances, and [see] how repeatable is this? So you want to make sure every single one of them [radomes] is perfect coming out," says Bruner, noting that it's difficult to get exact copies each time. "From our standpoint, from the end supplier standpoint … we want to go to suppliers and say, 'how do you make sure each one comes out to as close to identical as possible?' We're working on that."
Peter Lemme, who chairs the Airlines Electronic Engineering Committee that developed the ARINC 791 standard used for current Ku- and Ka-band satcom systems, previously told RGN that Panasonic went its own way in terms of the eXConnect package. "Certainly [it is] a sobering realization how much we introduce with large antennas and the reality of a lifetime in service" he said in reference to the inspections.
Bruner clarifies, however, that what Lemme is referring to "is that the first model of our system was deployed before ARINC 791 was completed and so he's absolutely right, but it was what was taken to the committee and basically was adopted. Boeing asked for one change to support their attach plate and radome and that was accepted." Later iterations adhere to ARINC 791.
Should the inspections of Panasonic eXConnect-equipped aircraft serve as a collective warning to the industry? "We all use these radomes; we all have kind of similar designs and tolerances and everything [is] just really important," says Bruner.
He adds, however, "Of all the things we've run into, with bird strike and everything, this is not a big thing… The bigger the [equipped] fleet you get, the more you have to think about things like this; you want to catch these things early."