Malaysia Airlines' new CEO Christoph Mueller is wasting no time getting his beleaguered airline back on track. The airline is "bankrupt". A third of its workforce is to be made redundant. Its fleet is to be trimmed and routes abandoned. Its operations are to be transferred to a new holding company.
Today, it has a new shareholder, the Malaysian sovereign wealth fund Khazanah, replacing the government. Its staff have new contracts. New management is in place. Shortly, the company will transfer its Air Operator's Certificate from the old MAS to the new MAS, and it has already applied to IATA to transfer its MH airline code. Additionally, new cabins are to be installed in the widebody fleet it keeps.
At a press conference today, Mueller outlined how he expects the MAS phoenix to rise from the ashes of a significant period of ineffectual management, on top of which came the MH370 and MH17 disasters.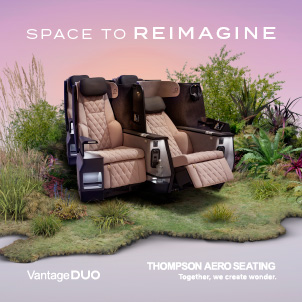 "In aviation terms, MAS as we know it is leaving its cruising altitude and preparing itself for a safe landing," Mueller said. "We are technically bankrupt, and that decline started before the tragic events of 2014." 
The airline will be looking at its route network and ensuring it operates the right aircraft on the right services. Despite having put its Airbus A380 fleet on the market, Mueller expects to fly these aircraft on the Kuala Lumpur-London route, although it is clear that the 12h35m eastbound and 13h30m westbound flight timings mean that additional shorter routes (perhaps to and from Australia) will be needed if the aircraft is to be profitable. MAS will keep its fairly middle-of-the-road first class cabin on these routes, at least to begin with.
The Boeing 777 and Airbus A330 fleets that form the backbone of MAS longhaul operations have been in need of an upgrade for some time, especially in business class. That's coming, with the current angled lie-flat seats due to be replaced by beds that Mueller promises will be a significant improvement and "above the industry standard". That would have to be a fully flat bed with direct aisle access at least, and likely an outward herringbone of some sort.
Look also for the relatively generous pitch in economy class to either be reduced or more heavily featured in advertising. Given the success of Singapore Airlines, it would seem that there is a niche for premium carriers with firm cost control and keen pricing in southeast Asia.
Overall, costs need to come down by 20 percent. Part of that will come from a slash in vendors: MAS currently has 20,000 vendors, and Mueller reckons that the figure needs to be reduced to 2,000 or 2,500.
Staff costs are also a significant proportion of this restructuring. Mueller noted that airlines are "queueing" to take MAS pilots, but it's uncertain how many of the other 6,000 members of staff will also be snapped up. While Mueller noted that he doesn't expect all of the 14,000 job offers the new MAS has made to be taken up — for reasons including the fact that staff may already have been made offers with other airlines — MAS is a critical part of the Malaysian economy. The airline's revenues last year consisted of 0.7 percent of the entire country's GDP.
A significant amount of work will be needed for MAS' IT systems to enable these changes. Mueller "identified significant skill gaps" in the existing systems, and it seems clear that a large proportion of the cost savings Mueller expects will come from backend and head office systems. Consolidation from its current 12 headquarters buildings to one at Kuala Lumpur International Airport will be a good start on that. As part of the cost reduction, operations will shortly be transferred to a new holding company, which Mueller likened to the US process of Chapter 11 bankruptcy protection.
The rest of the initial work should be completed by September, Mueller said. His end goal? "To end up finally with a profitability that is sustainable", and not before time.
As Warwick Business School Professor Loizos Heracleous put it, agreeing with Mueller's assessment: "As a legacy state owned carrier, Malaysia Airlines has had some constraints in terms of optimising routes, staffing levels and general operatioanl efficiency. The tragic events of last year only hastened restructuring actions that sorely needed and should have been taken a long time ago."