When she first started her company, Vancouver-based Descriptive Video Works in 2003, Diane Johnson said she did something unusual. Frustrated that the blind and visually impaired community hadn't advocated for themselves and made the same hard-earned progress that the deaf and persons with reduced mobility (PRM) community had over the years, Johnson said she covered her eyes with her hands for a moment. "And as soon as I did that, my level of confidence was down and then I thought that for the blind, at [that] time, in 2003, to fax something, e-mail something, pick up the phone and know what the right phone number is or even send a letter through snail mail was really challenging." And that's when Johnson said her mission – inclusivity and accessibility for all – became clear.
For while closed captioning is gaining acceptance worldwide as an expected technology and nearing 100% acceptance in North America, despite major strides in the past five years, Described Video (DV) and Audio Description (AD) – commentary and narration which guides the listener through film and televised content with clear descriptions of scenes, settings, costumes, body language, etc. – are still very much in their infancy. But during this week's APEX Technology Conference in Universal City, California, Johnson said the tide is definitely turning.
To wit, in 2012 the AD mandate that President Obama signed in 2010's 21st Century Communications Act became the law of the land stateside. Last year Emirates became the first major airline to include AD on several of its IFE channels and just last month Netflix introduced AD to a number of titles on its streaming services nationwide. For Johnson, this isn't just encouraging, but a sign that just maybe government policy makers and major corporations in the US and abroad, are looking a little deeper than the bottom line on this one. And with closed captioning already gaining traction on the IFE front, Johnson said incorporating AD into the mix is, simply put, the right thing to do. "Why would you treat someone who is blind differently than someone who is deaf?" Johnson asked.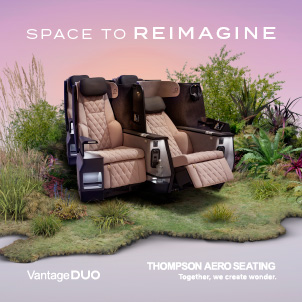 Admitting that there are obvious challenges ahead for full blown AD adoption in the IFE realm, Johnson said the delivery of AD content should really be no different than any other IFE language track. "Descriptive audio is self-contained," added co-presenter Bryan Rusenko, a veteran of the IFE industry. "It's a new audio program and accommodating that is the same as additional languages."
And though there was some initial resistance to the concept voiced by some of the studio representatives in attendance, even they admitted that although it would require an outlay of time and money, replicating something akin to the AD systems in use in the theatrical market is "not impossible".
And best of all, noted APEX Technology Committee chairman, Michael Childers, there are already "plenty of solutions available in the consumer world that we can borrow from". Chief among them, said Childers are the plexiglass IFE screen covers currently in use by Air Canada. When placed over the passenger's screen, the plastic templates use Braille to become a "tactile GUI" of sorts and have proven to be very popular with blind passengers.
But at the end of the day, Johnson said a huge part of her job is still about bringing the issues of the blind community to the forefront. "I'm just grateful to be here today because the more venues and places that [AD] is available to people the more it will become the norm."
Related links: