Ultra low-cost carrier (ULCC) Spirit Airlines has issued a challenge to inflight connectivity providers: give us an Internet solution that won't cost us any money and will generate revenue for the airline.
One of the last major hold-outs in the US not to adopt connectivity, Spirit CEO Ben Baldanza in a recent interview with Mad Money's Jim Cramer said: "The problem with Wi-Fi is that it adds a couple hundred pounds to the airplane in terms of the antenna and it increases our cost for very uncertain revenue. So when we can get a Wi-Fi player – and I'll put this call out to anyone who wants to do it – who's willing to install it on our airplane and then share the revenue with us rather than make us pay all the upfront expense, then we'll do it.
"Until then we're probably not going to have Wi-Fi, but I'm optimistic that at some point we'll probably have it."
Spirit, which operates a fleet of Airbus A320 family aircraft, obviously isn't the first carrier in the world to seek a cost neutral connectivity solution. After all, Gogo got its start by brokering revenue share agreements with US airlines which saw the firm take a financial hit up front (its says it requires cash for hardware these days). And Ryanair once fitted 50 Boeing 737s with OnAir mobile connectivity, only to shutter the service when OnAir refused to cough up more free kit.
ViaSat is among the companies eager to score Spirit as a customer, despite the carrier's imposed conditions. Spirit and Frontier Airlines – ULCCs that together with Allegiant Air haven't committed to a connectivity solution -"are a possiblity", says ViaSat director Don Buchman. "I'm sure all my competitors are [responding to Baldanza's request] as well."
"So Frontier and Spirit are uncommitted, and even anyone who is committed [is fair game]; those agreements are coming up in the future; we'll target all of them. The capacity we're putting on line is just phenomenal," adds Buchman in reference to ViaSat's current high-capacity ViaSat-1 satellite, and forthcoming  ViaSat-2, which is expected to offer twice the bandwidth economics of its predecessor.
But can ViaSat currently handle more traffic from an airline that counts Chicago O'Hare as a focus city, i.e. Spirit? Though ViaSat's Exede service is registering the best speed tests in the sky, multiple sources say the company faced challenges in managing the capacity needs of JetBlue and United Airlines over the midwest, particularly around Chicago.
Buchman says ViaSat has been "optimizing capacity" for JetBlue and United, and "haven't really had to churn off anyone" on its residential contracts to do so.
"We haven't had to make that choice. It's about applying capacity smartly. So as our fleet has grown … and we have predictions on where we expect capacity to go, so we reallocated capacity. It's making sure the right capacity is available at the right time, so it's normal network planning," he says.
This optimization, coupled with some code bug fixes by Thales/LiveTV – which is lead on both the JetBlue and United contracts – has greatly improved the service, and increasingly it's the norm for passengers to be able to stream Netflix via the Internet in-flight.
Indeed, JetBlue's free tier of inflight Internet service is performing so well that JetBlue VP brand and product development Jamie Perry confirms the carrier's paid tier is having "a little bit of an identity crisis".
ViaSat's Buchman notes that the firm's ViaSat-1 satellite has "a fixed amount of spectrum and capacity and that was from the day we launched. There is greater demand in one spot than another – Florida less, Chicago more; we couldn't reallocate capacity from Florida to Chicago to serve that need. But ViaSat-2 [which will launch in 2016] is completely different technology. ViaSat-2 allows us to shift capacity around as we see fit. So you can move it. If the World Cup comes to a region like South America, and you need to reallocate capacity for that peak demand for a short time, you can do it, irrespective of who the customer is."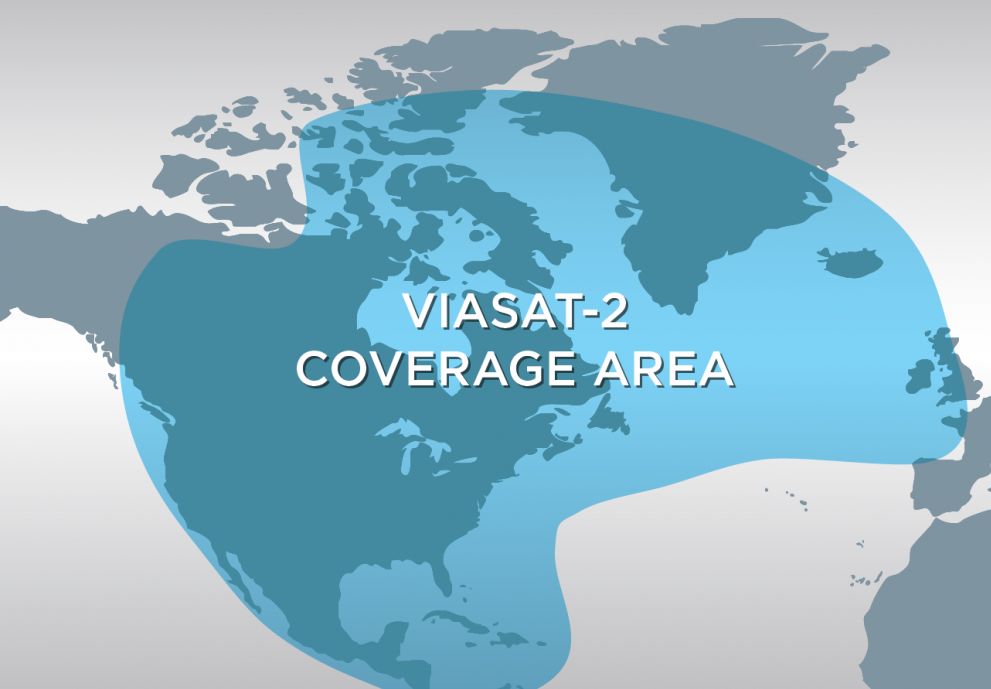 This is the reason why ViaSat and Boeing can offer the recently announced 'ViaSat Flexible Broadband System'  based on ViaSat-2, enabling service providers "to start with a smaller investment, focus capacity to match the bandwidth demand in their markets, and scale their infrastructure as expansion is needed", he says. This announcement ties into airlines, adds Buchman, "because you can build up capacity around the world that already has a customer base and airplanes flying around, and you can get a nice network effect. So it's smart global capacity that is very economical, and it's scaled to where you need is. It's a powerful, new innovation that is changing the way operators around the world will get satellite capacity."
However, there is strong momentum behind the Ku connectivity camp – ViaSat rivals Panasonic Avionics, Gogo and Global Eagle Entertainment – due in no small part to the near global availability of broad beam Ku today, and this is why ViaSat is pressing forward with development of a hybrid Ku/Ka-band system that aims to offer regional Ka when aircraft are flying over the US and Europe (the latter via its Eutelsat partnership) and Ku over the Atlantic.
"I think by the end of this year we'll have a certified version of that ready to go," says Buchman, who showcased the antenna at last week's Aircraft Interiors Expo in Hamburg.
In the meantime, outside of the JetBlue and United deals, ViaSat will glean benefit from the launch of regional Ka on the likes of Airbus A320 operators Vueling and Aer Lingus. LiveTV/Thales is the lead, but "it has our antennas, modems and satellite terminals on" the recently fitted Vueling A320, notes Buchman. "As long as everyone is selling us; that's a good thing."
And so, if LiveTV/Thales – which holds STC for the A320 package – secured Spirit as a customer for Exede, that too will be a good thing for ViaSat.