Inflight GSM and Internet provider OnAir has a new spring in its step, and with good reason. In a nod to the ever-growing importance of inflight connectivity and its core role in aircraft e-enablement, the Geneva-based company's parent SITA recently created a new business organization called SITA OnAir, which is bringing all products linked to e-aircraft – from ACARS messaging and flight tracking to passenger connectivity – under one proverbial roof.
So, purely for example, does the SITA AIRCOM Server Flight Tracker solution being trialled by carriers including Malaysia Airlines now become the SITA OnAir AIRCOM Server Flight Tracker solution? Yes, says OnAir. Moreover, and perhaps more significantly for the airlines and tech-savvy travelers reading RGN, SITA OnAir wants to become the go-to provider for managing these services across hardware platforms.
If an airline has selected Panasonic or Gogo Ku connectivity hardware to support inflight Internet and real-time electronic flight bag (EFB) applications, SITA OnAir hopes to be that airline's main point of contact from nose to tail.
It's a highly ambitious goal, but SITA – a multi-national IT company which is owned by, and services members of, the aviation industry – carries some serious heft. The company counts nearly 400 airlines (operating 14,000 aircraft) as customers, and is seen as a trusted partner to the industry. In short, it already has a major presence as servicer provider for ACARS on many of the aircraft equipped with inflight connectivity solutions that compete with SITA OnAir. SITA's rival in the ACARS and tracking business – and indeed more broadly in airline and airport IT – is Rockwell Collins, which acquired Arinc.
In the cabin SITA OnAir has firmly followed a path that sees it offer airlines mobile and Wi-Fi solutions over Inmarsat's lower bandwidth L-band satellite-based SwiftBroadband service now and Inmarsat's higher bandwidth Ka-band satellite-supported Global Xpress service later. The unit's CEO, Ian Dawkins, isn't shy about discussing SITA OnAir's lofty ambitions as they pertain to being airlines' point of contact even on competing inflight connectivity solutions.
"Airlines want to have one service provider that can manage across multiple satellite links and multiple platforms. They don't want one service provider for one aircraft, and another for another, so we've positioned ourselves very well. It's a very important move," he tells RGN.
The company has already made some headway in this regard. When SITA OnAir customer Emirates announced plans to fit its widebodies with Panasonic Ku hardware in 2013, the carrier said OnAir would continue in its role as Internet Service Provider (ISP), explaining, "OnAir is ISP so passengers can have one ISP across multiple sectors. That's important for when we have 24-hour pricing." Of course, it's clear the benefits of having a single ISP will now be pitched as extending way beyond just a pricing convenience for passengers.
"In the cabin we work with all the major hardware suppliers; we provide our services. But then when you look at flight deck activities, we'll work with all of them again as well," says an unflinching Dawkins.
He believes there will be "a revolution in this area" because new e-aircraft – including the latest Boeing 777 and 787, and the Airbus A380 and A350 – produce a tremendous amount of data for aircraft health monitoring. "But how do you use it efficiently? We will help the OEMs to manage this data, and provide some of our specific services to each of those people as we do today. We said we weren't just going to talk about aircraft e-enablement; we were going to do it, and [include] passenger, crew, and cockpit. So someone may [select] someone else for hardware, but we'll provide all the services to them. That's the strategy we're going for."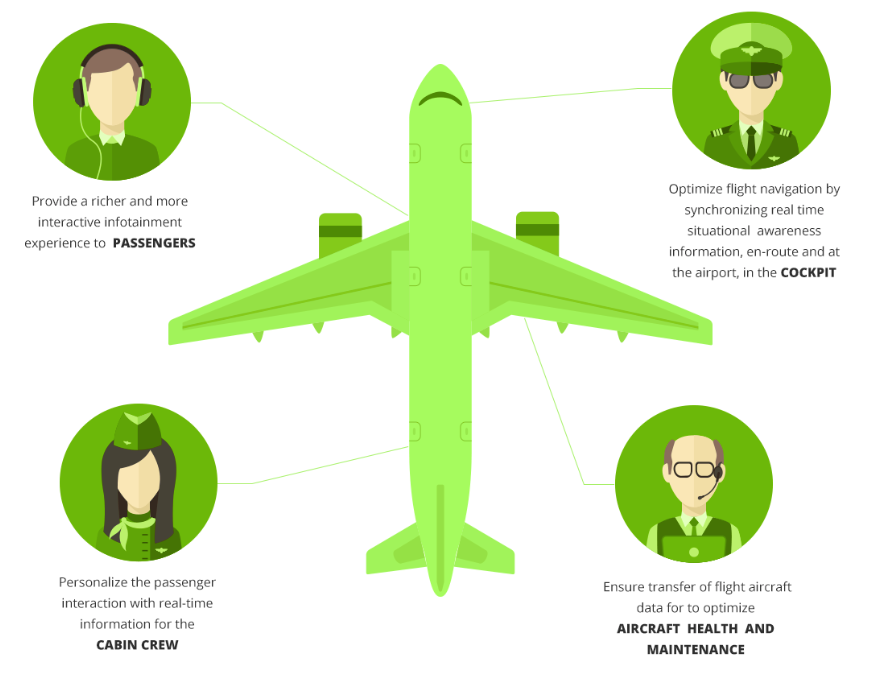 The rollout of the three-satellite constellation required for Inmarsat to offer global coverage via Global Xpress (GX) is delayed due to rocket launcher problems outside of Inmarsat's control. "Okay, it's not here today," says Dawkins, but after the second of the three satellites launched on 1 February, SITA OnAir began certification, "and we plan this year to get the first aircraft operating on GX. But if you step back from that, and an airline has a different fleet and a different satellite provider and wants us as service provider, yes we will support them … and might already be supporting them in the cockpit," he notes.
This should help answer questions from analysts who in the face of myriad headlines about global airlines' adoption of Ku connectivity from Panasonic, Gogo and Global Eagle Entertainment, have asked, "What is OnAir really doing these days?"
But SITA OnAir has even wider plans for supporting every touch point of the passenger experience (#PaxEx). It will utilize SITA's ATI Cloud, their network infrastructure at airports and airlines … and bring value to the total SITA group. So it's [also] about linking up the crew with the ground infrastructure, linking the cockpit with ground infrastructure and bringing that into the mode of the airlines' operations centers, more than [occurs] today," says Dawkins.
Francesco Violante, CEO of SITA, notes in a statement, "The connected aircraft is nothing unless it is fully integrated into an airline's IT infrastructure, which is a highly complicated undertaking. SITA has supplied IT solutions to airlines for over 65 years, in particular integrating new technologies into complex IT systems."
But this must surely be SITA's most ambitious plan yet.