All Nippon Airways is expanding its equipage of OnAir inflight connectivity, and has selected Panasonic Avionics to supply Ku-band satellite-supported Internet on its Boeing 787s.
The carrier in 2014 began Wi-Fi installs on aircraft that fly internationally. "OnAir has currently equipped 13 Boeing 777s and seven Boeing 767 aircraft with Internet OnAir," confirms OnAir spokeswoman Aurélie Branchereau-Giles. By year-end, the company anticipates "there will be 22 and nine for each aircraft type respectively."
Thereafter, ANA's 777-300ERs are slated to be fitted with the OnAir system, the carrier tells RGN.
In choosing to stay with OnAir for the 777-300ER ANA advises customers they'll be getting the kind of connectivity best suited for low demand applications like texting and surfing the web using tablets or smartphones.
OnAir's light connectivity service operates over L-band satellites. Connecting laptops is not recommended by ANA, and at the prices the carrier is charging, it's easy to see why. A $6 session covers a limit of 5MB or roughly about 2 ½ minutes of YouTube videos and a lot more Facebook page views. For $24, passengers will get a limit of 20MB.
ANA has gone in a different direction for connectivity on its Boeing 787s. The carrier will install Panasonic's broadband Ku system on both its 787-8s and 787-9s.
The first Panasonic Ku-equipped ANA Dreamliner to be fitted – a 787-9 – will be delivered to ANA with the system already installed by Boeing at the factory. Though ANA spokesman Roysei Nomura said a decision has not been made on whether to opt for the linefit option or retrofit later, RGN recently spotted an ANA 787-9 with Panasonic's signature antenna radome hump in Everett, Washington.
ANA is clear on one pointed, though: "All new aircraft entering ANA's international fleet will be Wi-Fi enabled."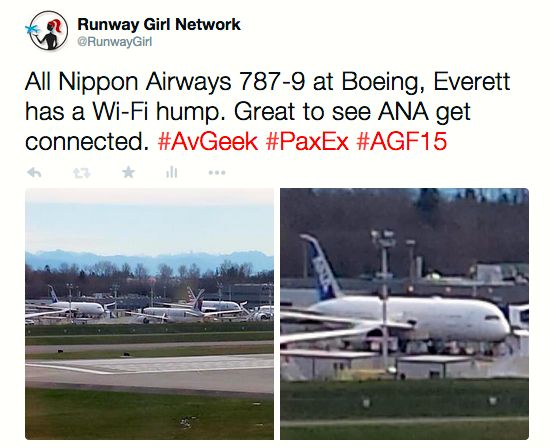 Wi-Fi on domestic flights is considered less of a priority due to the brevity of some of the routes. Most domestic flights are between one- and one-and-a-half hours, says Nomura. Still, even that amount of time is becoming too long to be off the grid for many travelers so domestic-flying 787s and 777s are to be fitted.
ANA also operates Airbus A320s and Boeing 737s; these will be equipped with Wi-Fi, though no schedule has been announced.
The airline may be eager to meet passenger demand to be connected at 35,000ft, but it is remaining mum on whether it plans to take advantage of the connection for enhanced cockpit and crew communications.
Branchereau-Giles notes that OnAir offers its customers the opportunity to use the system for electronic flight bags (EFB), flight planning, flight tracking and real-time weather and location data in the cockpit as well as customer service and retail applications in the cabin.
Similarly, the Panasonic Ku system is being used to drive operational benefits at airlines. Lufthansa's long-haul pilots currently have access to real-time EFB applications via Ku.
During our interview at Haneda Airport, I asked ANA's Nomura if the airline is considering using Ku to transmit Boeing Airplane Health Management (AHA) data over Ku, and was told no decision had been made.
"This is matter we will discuss in the future," he said.