Delta Air Lines recently started installing Gogo's Ku-band inflight connectivity system on some of its Boeing 757-200s in a move that, while not unexpected, today proved to be a bellwether for how the carrier will cut over to installations of Gogo's higher-bandwidth 2Ku solution on narrowbody aircraft that fly long-haul domestic and international service.
In 2012 Delta announced it would offer Gogo's traditional Ku system on its international fleet of more than 150 aircraft, including 777s, 767s, 747s, A330s and transoceanic 757-200s. With Gogo having obtained STC for the 757-200 late last year, Delta began upgrading some of these ATG-4-equipped aircraft with Ku. "The driver is that we want to offer uninterrupted, gate-to-gate Wi-Fi service for our customers on our international routes," Delta spokesman Paul Skrbec told RGN. A total 35% of Delta's long-haul fleet is now equipped with Ku, and 85% will be finished by the end of 2015, he said.
But the 757 is not the only aircraft type in Delta's fleet that can handle longer legs. For instance, the carrier operates 73 Boeing 737-800s that have the range to fly to Hawaii from the West Coast. In an announcement today, Gogo confirmed a report first intimated on RGN Premium, saying it will outfit Delta's "narrowbody aircraft serving long-haul domestic, Latin American and Caribbean routes" with the company's next generation 2Ku connectivity solution.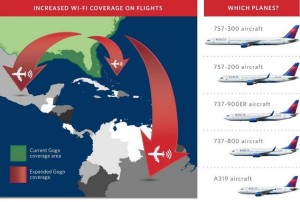 More than 250 aircraft in Delta's existing fleet are expected to be installed with 2Ku technology, and the spectrally efficient offering is expected to be installed on new international aircraft when they enter the Delta fleet, said Gogo. Presumably, this means Delta intends to install 2Ku on its Airbus A350 XWBs via post-delivery retrofit modification, should Gogo not secure linefit offerability on the type by the time the A350s enter service.
The massive deal gives a fresh windfall of connectivity business to Gogo, and will keep it busy working on the Delta contract for several years, but it also gives Delta added flexibility to position 2Ku-equipped narrowbody aircraft around its system, including on over-water operations that Gogo's air-to-ground network cannot support. Gogo expects to begin 2Ku installations by 2016 (pending certification) and will continue deploying new technologies to the fleet over several years.
Teasingly, in addition to the 2Ku award, Delta "will partner with Gogo in the launch of next generation air-to-ground (ATG) technologies for short-haul domestic aircraft flying within the US", said Gogo. This would see Delta's current domestic mainline fleet upgraded from ATG and ATG-4 to the next gen technology.
An optimal scenario for supporting next gen ATG would see the US Federal Communications Commission (FCC) authorize air-ground mobile broadband service on a secondary license basis in the 14.0-14.5 GHz band (within the Ku band primarily used for satcom), as originally requested by chip maker Qualcomm.
A while ago the FCC started circulating a draft order to finally auction ATG licenses in this band, but the Association of Flight Attendants-CWA filed an objection citing cyber security concerns. In a bid to appease the union's concerns, the FCC hasn't included the ATG auction on its agenda for its monthly public hearing (scheduled for tomorrow). This is the reason why there has been a lack of movement on a Report and Order. However, a source tells RGN that the auction is no longer a matter of "if" but rather "when".
The AFA-CWA could not provide comment to our questions about its letter to the FCC, but today assured us that a statement is forthcoming.
In a recent interview with RGN, Gogo CEO Michael Small lauded the benefits of offering next generation ATG as a secondary service in Ku. "I don't know any other place you can find 500 MHz of spectrum so – while having complications in secondary use – it is still by far the most spectrum and the most intriguing. Bringing it to our industry would be great," he said.
Of course, Gogo would need to emerge victorious from the FCC auction, and secure at least one license. With a single 125 MHz license, Gogo conservatively estimates that each ground station could support forward link capacity of 400 Mbps. This 400 Mbps capacity translates into 480 standard definition YouTube videos streamed simultaneously.
Financial insiders believe the company will need $50 million to $100 million for auction.
[Photo above credited to Jason Rabinowitz, aka @AirlineFlyer]