Gogo has cleared a hurdle in its effort to bring its new 2Ku inflight connectivity technology to airlines, having received blanket Federal Communications Commission (FCC) approval to operate the system on 1,000 aircraft.
Boasting two spectrally efficient, low-profile ThinKom antennas, 2Ku required approval from the commission, whereas Gogo's hybrid ATG-4/Ku-band system Ground-to-Orbit (GTO) does not need approval even though it carries a single ThinKom Ku antenna.
Why? "Because GTO is only using the Ku antenna for receive," Gogo spokesman Steve Nolan explains. "So the FCC doesn't require it because mainly it's concerned about interference so when the return link is sent back up (as it is on 2Ku), we needed FCC approval for the second antenna."
The 1,000-aircraft allotment covered in the FCC's blanket license is common. Should Gogo need to equip more aircraft with 2Ku, the company would simply apply to the commission to amend the license.
Company CEO Michael Small says clearing the necessary hurdles to bring 2Ku to market is no small feat. "Gogo has proven it is a leader at navigating these environments for all aircraft types no matter where they fly. We are happy that the launch of 2Ku is proceeding as planned and are continuing to work with the FAA on approval for installation," he adds.
Gogo expects the new service to be available for the commercial aviation market in the second half of 2015.  Launch customers for 2Ku include Virgin Atlantic and Aeromexico, and trial customers include Air Canada, Japan Airlines and United Airlines.
The system is also being considered by multiple other carriers, including Brazilian operator Azul. RGN understands that Azul remains open to the possibility of not choosing a line-fit connectivity solution for its Airbus A350 XWBs, and is still studying 2Ku for possible post-delivery retrofit modification.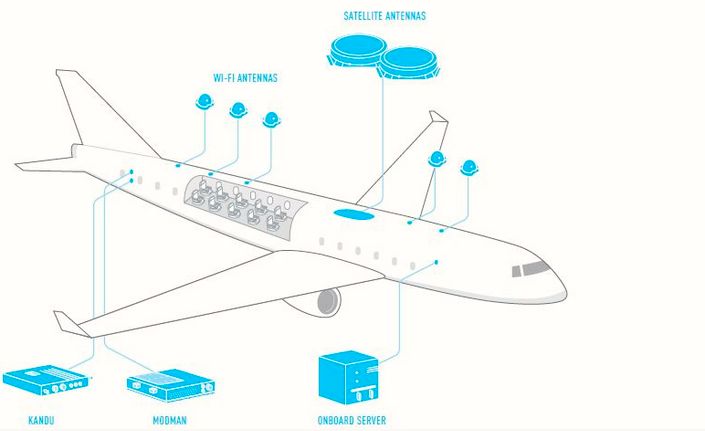 Gogo says the advantages of 2Ku to South American carriers, in particular, are significant. The antenna's performance benefits "will be even more dramatic in tropical regions where other satellite solutions degrade significantly due to restrictions associated with operating at high skew angles", it notes.
The new antenna technology is expected to deliver peak speeds to the aircraft of more than 70 Mbps. When future High Throughput Satellites (HTS) become available, Gogo expects peak speeds for the service in excess of 100 Mbps.