SINGAPORE: As Asia-Pacific's middle class continues to grow rapidly, and is projected to account for over 40% of global middle class spend by 2030, Embraer is positioning its re-engined E-Jet E2 family with new interiors as being an ideal fit to meet the needs of increasingly savvy passengers in the region.
"Consumers are highly brand driven and brands that lead the Asian market sit at the top end of the consumer curve. This [E2 cabin] represents an opportunity for airlines to position the exact image they wish to capture," Embraer Commercial Aviation VP, Asia -Pacific Mark Dunnachie told RGN in Singapore.
One can be forgiven for overlooking the subtleties in design of the E2 cabin; after all, it is becoming an increasingly common sight to see deeper overhead bins, slimline economy class seats and LED lighting on both new-design and refurbished aircraft. But look a little closer, and you'll see there is much more than meets the eye in terms of modernity, modularity and ease in maintenance.
Designed by London-based PriestmanGoode – which also designed the first class cabins of Air France and Qatar Airways, and is presently giving a slick look to London's new Tube – E2 is being pitched as an "interior design for a new generation," with 40% larger overhead bin space that can accommodate "the road warrior's wheelie bag and aspiring travelers' backpack", notes Dunnachie.
This is the only cabin designed for one carry-on per passenger, claims Embraer director of industry analysis & product strategy Andre Stein. "Nobody needs [to] fight anymore or have to be sent to the end of the plane to put their trolley [bags in the bin]. This also reduces turnaround times and improves the passenger experience (#PaxEx on Twitter).
The floor of the galley is of treated bamboo, an option on offer in the catalogue which creates a wow factor on entering the aircraft. "We've made an effort to use renewable sources that have the same characteristics of certified materials giving us the benefit of weight and robustness," Paul Priestman, co-founding director of the PriestmanGoode tells RGN. "One of the drivers was to make the cabin look more like a hotel than an airplane."
The new cabin management system boasts touch screens and integrated controls. The e-enabled aircraft ensures cabin crew can authorize credit cards in-flight or, if a seat is broken, to send a picture of the seat to maintenance staff before the plane lands.
Business-class seats are produced by Embraer's US subsidiary AST, which also supplies seats for Embraer's Lineage 1000. Airlines can choose the original three-abreast layout in business, or a new configuration of individual staggered seats that give extra shoulder width and ensures "nobody need cross over you", says Dunnachie. "Also, if required, people can talk to each other with ease."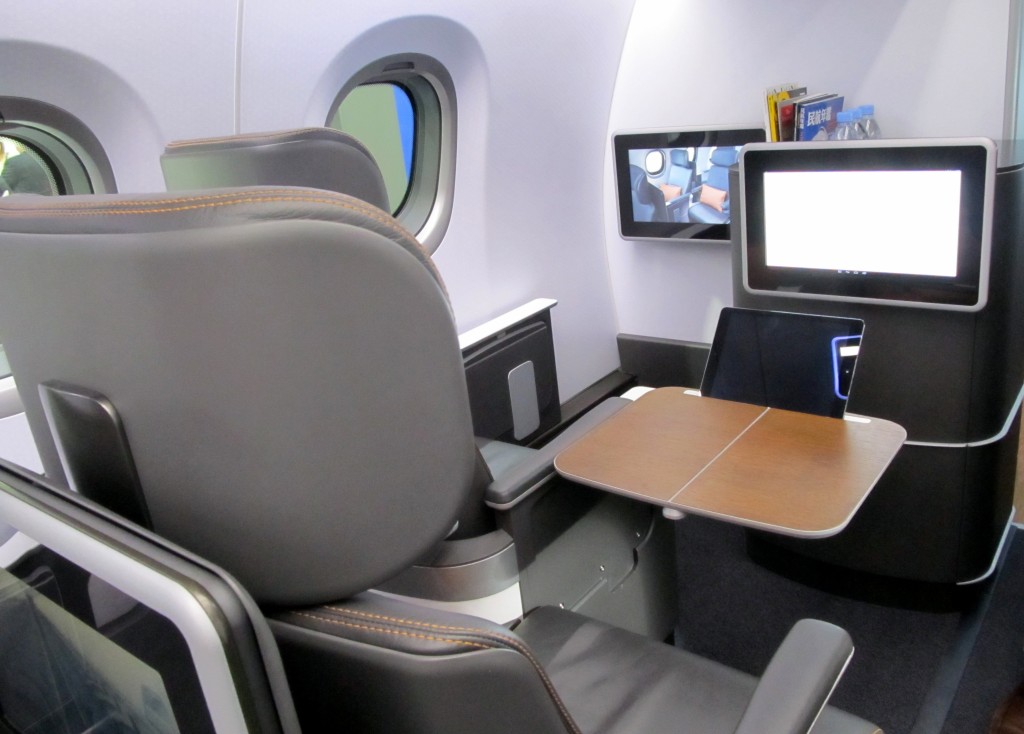 The economy class cabin is equipped with what Embraer says is the lightest seat in the market, the Z85 which evolved from Zodiac Aerospace's 'DragonFly' slimline seat (Dragonfly will make an appearance on Bombardier's competing CSeries aircraft). Each seat in the E2 cabin will come with a power plug.
"We developed new materials with the manufacturers for the seats," says Stein, though he declines to reveal more. Various real and faux leather options are available on the market, but while mock leather "is good as it is cheaper and lighter", it is mainly good for short-haul flights "as it gets sweaty if used longer", notes Stein.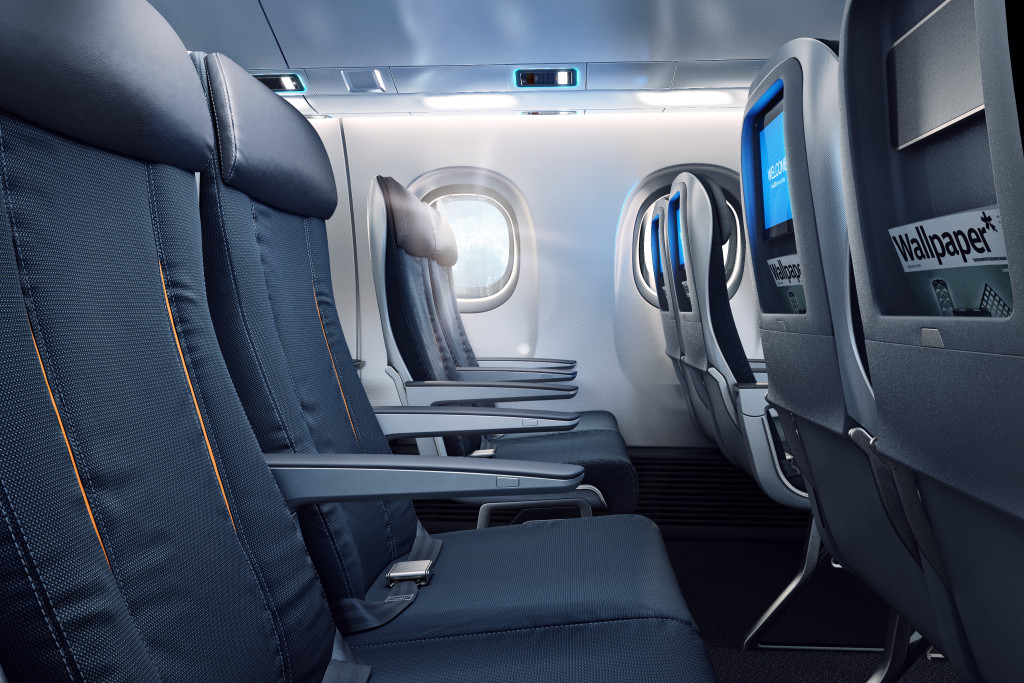 Airlines can opt to support personal tablets and/or in-seat IFE. But because IFE technology becomes obsolete fast, says management, the decision will be left to the airline. Other notable features of the E2 cabin include: the sidewalls, which are integrated into the ceiling to give a clean form; and the lavatories, which use titanium in areas where corrosion is more common. The same seat tracks run through both classes for ease in configuration and maintenance.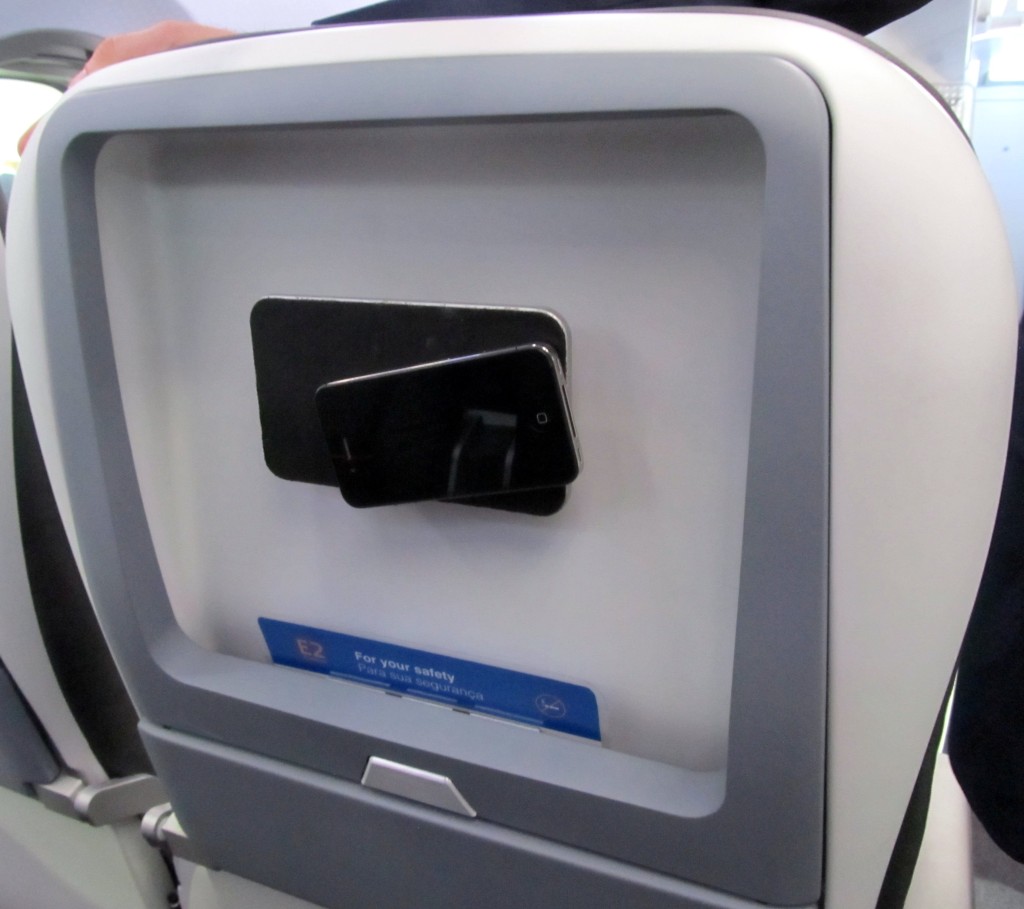 Meanwhile, on the flight deck, Embraer has selected Honeywell Epic 2 Primus avionics with four larger 13-in x 10-in displays.
Replacing the predecessor E-Jet family of E-170s/E-190s, the re-engined Pratt & Whitney geared turbofan-powered E-Jet E2 family is scheduled to enter service in 2018. Over the ensuing decade jets in the 70-130-seat category will be needed to sustain hub-and-spoke efficiency in the Asia-Pacific region, notes Dunnachie. This role will generate significant demand for new aircraft in the segment, he adds, and clearly opportunity for the E-Jet E2.