Looking for more variety when it comes to inflight dining? United Airlines just might have an answer for that. The carrier announced significant changes to its catering policies this week, looking to win back the business travelers who left after its merger with Continental. The new menus will be rolled out in stages, with United eventually adding fresh food service to a number of new routes and also updating the menus.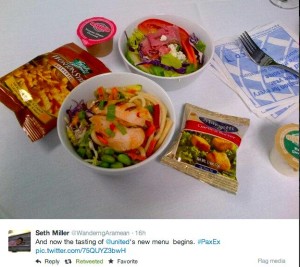 Executive Chef and senior manager of food and beverage design Gerry McLoughlin recognizes the challenges of the current menu. "We do understand that menu fatigue has been the biggest complaint of our passengers. Even if it is just going to the same place, we want to make sure that [passengers] are not getting the same meals," he said yesterday during a media briefing at Newark Liberty International Airport.
Todd Traynor-Corey, managing director of food services, furthered the thought, noting that a major change to the menus is part of the plan but that more is needed. "What we're focusing on is a major overhaul of the menus in February. But as part of the research that we did we heard from customers that there were some things that we need to fix right now…our salads and sandwiches."
Those changes are already underway. New salads are now being served in the forward cabins. Phase two takes effect on 1 September 2014 as new sandwiches and wraps are introduced in the premium cabins on domestic routes. There are eight new options, four each hot and cold. Passengers will be presented with a hot or cold option based on the time of day and trip duration. Sandwiches will be prepared fresh daily and served alongside a soup option which will be gluten-free.
For United's frequent flyers some of the sandwiches and salads will look familiar; they were inspired by the carrier's Bistro on Board offering which has been served in economy class for several months now. As McLoughlin explained, "We did get positive feedback from the Bistro on Board; those sandwiches were very popular."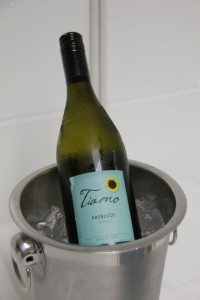 But it is not a straight porting of the food from the coach menu. Traynor-Corey expanded on the new menu, saying, "The key learning from launching the Bistro on Board program was the principle that we built that menu around – fresh ingredients, high quality food made today and served today. And that's the concept. But it is not the same items that we sold in the back. There are a couple of items which are similar to what we sold in economy class but some of the ingredients are different and the portions are larger."
The beverage cart will also see an upgrade in this timeframe as Prosecco is added in November, giving passengers a sparkling wine option in addition to the new food choices. New entrees will be added starting in February 2015, with more choices and more frequent cycles through the meals.
By mid-2015 additional changes will be implemented, increasing the number of routes where fresh food is offered. The carrier will expand meal service in the forward cabin to cover routes longer than 800 miles (approximately 2:20 on the schedule) and also begin fresh food service on its regional jet fleet where first class cabins are offered.
The meal threshold compares favorably to Delta (900 miles) and American Airlines (which recently announced a change to 1000 miles) though all three will continue to have exceptions for routes which are heavily traveled by business customers (e.g. NYC-Chicago/Atlanta).
The mid-2015 timeframe will also see "significant enhancements" to the long-haul economy class dining options, according to the company, though details are scarce.