Reducing time to market and development costs in the aviation world is a lofty goal. Moving from idea to prototype to assembled hardware that can be tested and certified is typically a very slow process, and indeed usually takes many years. Researchers at Honeywell are working to reduce the time required; while many of the solutions are still very much in the R&D phase the promise they hold for faster prototyping and reduced manufacturing costs is great.
At Honeywell's recent annual Technology Symposium, company researchers showed off multiple solutions built using Additive Manufacturing – essentially 3D printing at an industrial scale – on different materials and for different purposes.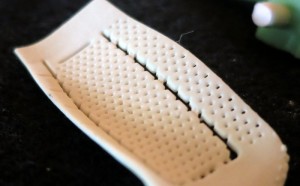 For Wil Baker, a Principal Engineer in the Advanced Technology group, the medium is ceramics and the goals are faster prototyping, reduced component cost and increased complexity in the ceramic casting cores used to construct turbine blades. Traditionally the cores are made via a combination of injection-molded ceramics and machining to clean up the components. The Additive Manufacturing process allows the cores to be built without the long lead time (often 12+ months) to build molds and without the additional machining work required to realize the tight tolerances required of the parts. Honeywell has successfully fabricated engine quality blades for the TFE731-60 powerplant using the Additive Manufacturing technology and hopes to move from the labs to production lines in the near future.
The process also speeds up development of newer and more complicated solutions; Baker showed off a promising new design which would be too expensive to manufacture using traditional methods. With the Additive Manufacturing approach the new blade cores could be available for testing in a matter of weeks to months rather than years and at a price which would be sustainable for full production runs.
The Additive Manufacturing process demonstrated is not being used in production parts yet. The parts demonstrated are identical to the human eye but much more stringent testing will be required to prove the resiliency at the metallic crystal level. At least one of the researchers expects that testing to conclude and regulatory approval "in a matter of months" on metal components produced by Additive Manufacturing.
I could make the leap that APUs provide back-up power on aircraft, and this benefits IFEC. But I do not expect that we'll see 3D printing of the actual IFEC hardware anytime soon. With that said, I wonder what #PaxEx applications the industry will find for Additive Manufacturing in the future. For instance, it might address obsolescence and rotables. For now, the ability to quickly prototype – which translates to bringing products to market at a faster pace – is a benefit worth celebrating, and worth keeping our eyes on for further developments.