For the last 18 months US carriers have grappled with delays to their inflight connectivity and live television programs due to the FAA's heightened scrutiny of bird strike testing of antenna radomes atop aircraft.
Some service providers have pressed forward with their hardware equipage programs for airlines under exemption from the FAA's bird strike certification requirements. But this is a gamble. If the FAA doesn't like what it sees at the end of an exemption period, it could put the breaks on an airline project and even require removal of the systems.
Another way to meet the FAA's guidance is to structurally reinforce a radome, but this adds a lot of weight, and can result in a degradation of performance as radomes are designed to have certain RF structural characteristics without additional plating. A third option is for providers to start from scratch and totally redesign their radomes, but this too is a costly endeavor, and equates to lengthy program delays, which in turn impacts the passenger experience on board aircraft (hey, we want to be connected!)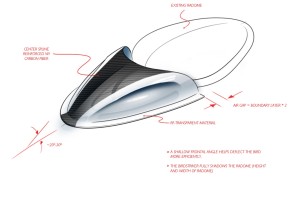 Among the myriad companies impacted by the FAA's bird strike guidance is Armstrong Aerospace, which specializes in upgrading aircraft with new technology, including the aforementioned inflight connectivity and live TV systems, which operate over Ku-band satellites. Rather than sit on its hands and wait for a remedy, or try to fight the FAA on the regulation (which it knew was a losing battle), Armstrong took the bull by the horns and developed a radome deflection device aptly called BirdStriker™.
Weighing in at less than 2-pounds (20-pounds for the entire install package), and placed directly in front of the radome, the carbon fiber BirdStriker quite literally does what its name suggests. "We wanted the bird to liquefy on impact and it does," says Armstrong director of programs Kevin Weppner.
He explains that the company's main objective in developing BirdStriker "was to keep the connectivity business we currently have on track". In short, Armstrong didn't want to have to wait for reinforced or redesigned radomes before getting back to the business of installing hardware for major inflight connectivity providers. But BirdStriker is also poised to generate new customers for Armstrong. "We saw 1,000 addressable aircraft among various types for now, and then for systems going forward," says Weppner.
The company did a FAA witnessed test of BirdStriker about 1.5 months ago. It has inked a contract to install BirdStriker on an undisclosed airline in July, and is confident it will receive supplemental type certification.
"Our initial discussion with FAA indicates that once you do this test – once for a Boeing narrowbody, once for a Boeing widebody, once for an Airbus narrowbody and once for an Airbus widebody – then the concept is good to go and then it's a minor adaptability to the adapter plate and can be put on the plane," says Weppner. "There are multiple ways to skin a cat and FAA has made it clear it is open to bird deflection technologies as opposed to solely beefing up radomes." The FAA could not be immediately reached for comment.
See our exclusive video of the BirdStriker in action below.