Virgin America is studying Gogo's new 2Ku inflight connectivity system, and may opt to leapfrog the Ground-to-Orbit (GTO) system it selected last year by adopting 2Ku instead.
The carrier – which already offers Gogo's higher capacity ATG-4 air-to-ground connectivity solution on its Airbus A320s – is eyeing 2Ku for its fleet but hasn't made a final decision yet, multiple sources tell Runway Girl Network.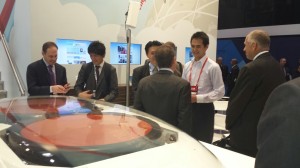 The most glaring reason for this reconsideration is simple – airlines are now fiercely competing for the best Wi-Fi in the skies, and 2Ku would offer even more capacity to Virgin America than GTO and, presumably, an even better passenger experience.
GTO, in its current state, is a hybrid ATG/Ku-band satellite solution that is targeted at the North American market. Combining a ThinKom-manufactured receive-only Ku antenna for fast download speeds with the ATG-4 system for lower latency uploads, GTO attracted Virgin America as its first – and so far, only – customer last year.
The new 2Ku solution unveiled by Gogo at the recent Aircraft Interiors Expo in Hamburg, pictured, features not one, but two of low-profile ThinKom antennas. Gogo is pitching the solution as offering twice the spectral efficiency of current Ku antennas and says it will boast speeds of 70mbps. Speeds of over 100mbps are expected to be achieved when the next generation of high throughput (HTS) satellites are launched.
Virgin America declined to comment for this story, and Gogo could not be reached for comment.
Should Virgin America select 2Ku over GTO, the move will serve as an endorsement for satellite-based connectivity at a time when AT&T is looking to enter the ATG market with a 4G LTE-based solution, which will be delivered in partnership with hardware provider Honeywell.
ViaSat's high capacity Ka-band satellite-supported Exede service – which is currently being installed on JetBlue A320s and Boeing narrowbodies at United Airlines – has received rave reviews from passengers, and is among the reasons why rivals are considering their options for higher capacity connectivity solutions.