Runway Girl Network asked John Walton, director of data at flight data and search company Routehappy, for some detailed information on what's on board each flight, in this instance connectivity between New York area airports and London Heathrow. Routehappy's Flightpad database claims to be the industry's most detailed and comprehensive source of cabin- and subfleet-level information, ranging from the most expansive taxonomy of seat types through to types of onboard power supply, Wi-Fi connectivity type and more. The database is matched to flight and scheduling information by Flightmatch, a powerful series of algorithms, to supply Routehappy.com, partner sites including Wego, Fly.com and FlightView, and it is available on a commercial basis. 
With 26 flights across four airlines and three airport pairs, the battle between the American Airlines-British Airways and Delta-Virgin Atlantic alliances has never been more fiercely fought.
AA-BA has 17 flights, of which three are American Airlines' and two are the business-only London City Airport service (which we've included). We have coded these in blue below: lighter for American, darker for BA and brighter for the London City flights.
DL-VS has 9 flights, of which three are Delta's. These are coded red: darker for Delta and brighter for Virgin Atlantic.
The US airlines fly between JFK and Heathrow, with the UK airlines also adding the London City flights plus services to Newark — two for Virgin Atlantic and three on British Airways.
Yet despite the ten different equipment types used (ranging from two A318 through a Dreamliner to a good handful of 747-400s), it's clear that neither alliance is taking into account connectivity in a material way when determining scheduling and aircraft allocation across the Atlantic.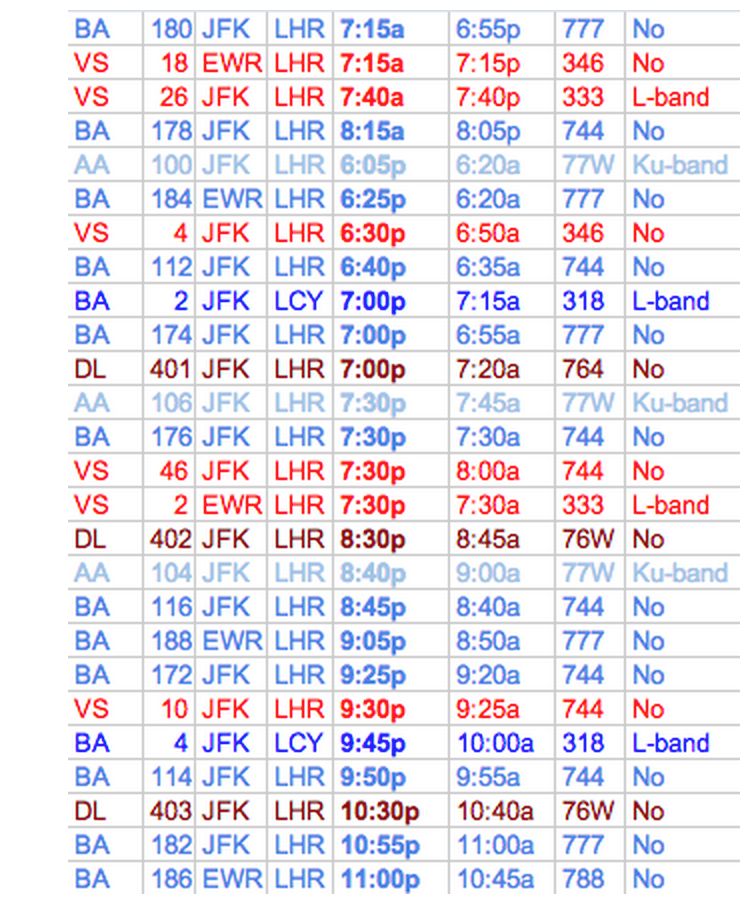 On the eastbound timetable to London, Routehappy's data shows clearly that only one of the four daytime flights is connected — VS26, which offers only L-band on the Airbus A330-300. That leaves the rest, including American's three Ku-band Boeing 777-300ERs, on overnight flights where connectivity is less vital than sleep.
The lack of connectivity is particularly curious given both airlines' focus on Heathrow as a hub between the eastern US and South Asia while European demand is still soft. With morning flights — including the new BA180, for which slots were passed to BA from American — on the outbound it would seem that connectivity in a market still dominated by the tech sector would be a benefit.
With total travel times of over 18 hours to, say, Mumbai, it would seem sensible to provide connectivity on the first leg from the US, before a transit and nine-plus hour onward journey to the Indian subcontinent. Processing email and working online en route, ready for a conference call in the UK mid-afternoon on arrival, would be an easy way for an airline to be a carrier of choice.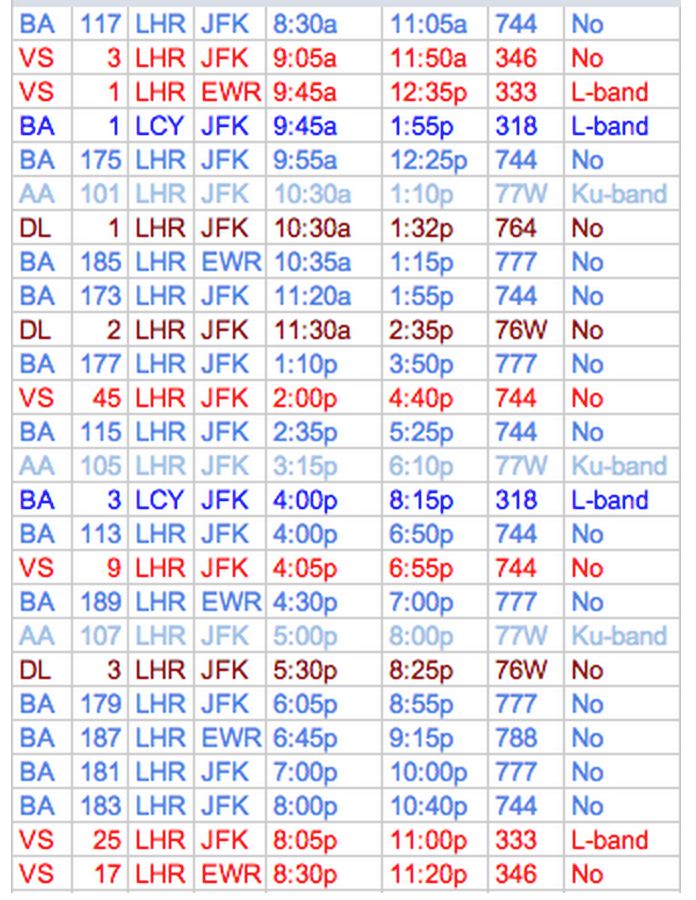 Westbound, American's 777s are spread throughout the day rather than clustered either earlier in the workday to allow passengers to make use of them or later to permit post-work relaxation and catch-up during the flight. One of Virgin Atlantic's L-band-equipped A330s flies the 0945 VS1 to Newark, which allows for same-day meetings, but the other is on the very last JFK flight of the day, the 2005 departure, VS25, which operates essentially as a night flight.
Despite the fact that Panasonic Avionics and Gogo have received STC for their Ku-band connectivity installation on Boeing 747 aircraft – the 747 is a "non-bird strike aircraft" – neither Virgin Atlantic nor British Airways have yet chosen to install connectivity on their 747s. This is perhaps a less understandable decision for Virgin Atlantic, whose small Heathrow-based subfleet of 747s flies only across North Atlantic routes to JFK, Newark, SFO and Miami. BA's 747s are more numerous and deployed on less well covered routes.
All comments and opinion are those of the author, Routehappy director of data John Walton.
Editor's Note: This analysis first appeared on RGN Premium in February. Additionally, Delta manager customer experience Chris Babb recently announced on the FlyerTalk forum that the carrier will launch Gogo Ku connectivity on 747 aircraft on 3 March. "Ship 6305 and 6308 are flying and in test mode," he said. Furthermore, while 19 of 22 Boeing 767-300ERs are equipped with Gogo ATG-4 (the 76Z fleet with 26 BE seats), he said, this is "an interim solution as we work toward certifying and installing the satellite system across the international fleet". The Boeing 747 is considered a "non-bird strike" aircraft because of its hump, which means obtaining STC for connectivity is easier than on other types.Delta's installation of Ku-band connectivity on its 767s is significantly delayed, though RGN Premium is hearing positive things about the A330 program.