Sick or injured passengers are often transported in business class seats on commercial aircraft. But, according to interiors specialist Bucher, a stretcher offers the highest possible degree of safety and comfort.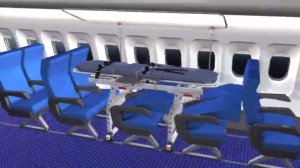 The company will unveil its latest generation Air Transport Stretcher (ATS) during the forthcoming Aircraft Interiors Expo in Hamburg. In a pre-expo statement, Bucher says its new ATS enables height adjustability and, due to the design and curvature of the structure, can fit "into a wide range of seat configurations and rail systems", including new slimline economy class seat designs.
"Seat manufacturers are redesigning their seats to not only reduce weight but also improve the ergonomics of the seat for optimal passenger comfort while maximizing available space. With these changes, Bucher's engineering team needed to adapt to these modifications to ensure its ATS could still easily be installed while accommodating the latest seat designs, wide range of seat pitches, and new aircraft deliveries," says Bucher.
According to the firm, the ATS can be set up in approximately 8-10 minutes, and is certified "for the whole fleet of Airbus and Boeing Aircraft".
See a general video of the ATS assembly here, and a graphic view of how how the latest ATS fits into a widebody's economy class cabin below.