French safety authorities are recommending that EASA evaluate the fire risks associated with batteries in personal electronic devices (PEDs) in aircraft cabins, after a fire on board an Air France Boeing 777-200 was traced to a crushed lithium battery that fell into the seat mechanism, an event deemed similar to a separate earlier fire on a 777.
On 8 December the aircraft, F-GSPK, took off from Atlanta Hartsfield on a flight bound for Paris Charles de Gaulle airport. "In cruise at FL 380, a cabin crew member noticed a smell characteristic of an electrical fire at the level of seat 4F in Business Class. He turned off electrical power to the general video system, removed the seat covering and noticed the presence of flames. He later explained that he had extinguished the fire by reflex by throwing water onto the flames. A cabin crew member checked that the fire did not start again and the flight continued without further incident," says the BEA (Bureau d'Enquêtes et d'Analyses pour la sécurité de l'aviation civile) in its report on the incident.
The BEA stresses that the crewmember's decision to turn off the inflight entertainment system's electrical power supply before any other action "was an effective protection against the risks associated with the many items of equipment installed in the seats".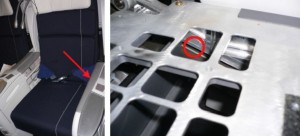 On examination of the Business Class seat and the battery, adds the BEA, it was noted that the seat converts into a sleeper bed with the aid of an electrically controlled mechanism. "On the ground, during dismantling of the seat, a spare external battery from a passenger's electronic device was found severely damaged in the structure of the seat. It showed traces of fire.
"This Lithium–Polymer-type (Li-Po) battery has a capacity of 1 Ah and delivers 5 V and 500 mA. It is intended to extend the capacity of electronic equipment such as mobile phones, tablets, audio equipment etc. The battery was crushed in the slide identified on the photo below. It is possible that it slipped under the seat covering, behind the armrest or down the side of the seat." The seat pictured is identical to the seat involved in the incident.
This is not the first such incident, however. As BEA notes in its report, on 2 May 2013 a similar event occurred on board Air France Boeing 777 registered F-GSQU during a flight from Paris Charles de Gaulle to São Paulo (Brazil). "Shortly before the beginning of the descent, a mobile phone that was being recharged caught fire under a cushion on a passenger seat. The cabin crew put out the fire with a halon extinguisher. The telephone was then placed under running water until the end of the flight."
The BEA suggests that while many studies are currently under way on the danger relating to transporting the various types of lithium batteries in cargo holds, the danger represented by transporting them in the cabin "has not been taken into account".  It is calling on EASA to "evaluate the risks associated with fires to batteries contained  in mobile electronic devices transported in cabins by passengers and crew, and propose appropriate procedures in case of a fire on this type of equipment".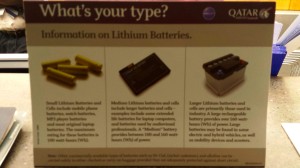 Its recommendation to EASA comes at a time when the  airline industry is growing increasingly concerned about lithium battery fires in aircraft cabins, and is in fact looking at further ways of preventing them. Passengers flying on Qatar Airways, for instance, are now greeted with information about batteries on check-in.
Some guidance is already available to operators. A FAA Safety Alert For Operators (SAFO) – called 'Fighting Fires Caused By Lithium Type Batteries in Portable Electronic Devices' – was released back in 2009, and there is an International Civil Aviation Organization (ICAO) 'Emergency Response Guidance for Aircraft Incidents involving Dangerous Goods', notes IATA manager cabin safety Suzanne Acton-Gervais.
"While extremely rare, these events have occurred. In 2012 IATA developed some materials to promote the guidelines already highlighted by the FAA and ICAO. A related topic is post-event handling on board and safely managing such incidents after the aircraft lands," she says.
Portable electronic devices and their batteries are generally very safe, and are manufactured to a high standard. "The concern comes if they have been damaged or crushed, not repaired at an authorized facility, or if they are counterfeit batteries.  There is a big push to increase passenger education and awareness [about this issue]. We are certainly promoting it as 'best practice' to do so," says Acton-Gervais, pointing to IATA's lithium batteries page.
IATA will also hold its first ever Cabin Operations Safety Conference on 20-22 May in Madrid. The conference, which will include active participation from ICAO, will address lithium battery fire prevention in addition to a raft of other cabin safety topics. Runway Girl Network is proud to be a media sponsor of this event.
Separately, with respect to lithium batteries in cargo holds, US shippers/carriers of hazardous materials have the flexibility of following ICAO regulations that already requires pilot notification of large shipments of lithium batteries aboard aircraft. However, a rule that would impose additional safeguards related to the transport of lithium ion batteries is currently under consideration. You can track progress of the rule here.
The Air Line Pilots Association (ALPA), which has long called for standards to be harmonized, provided Runway Girl Network with the following list of examples of lithium battery fires on cargo aircraft.
Aviation Accidents and Incidents Involving the Transport of Lithium Batteries
The two aircraft accidents listed below include the transport of lithium batteries as cargo and contributed to their onboard fires:
| | | | |
| --- | --- | --- | --- |
| | Accident | Date | Incident Summary |
| | Onboard Fire and landing, Philadelphia International Airport (PHL) | February 7, 2006 | A Mc-Donnell Douglas DC-8 landed at Philadelphia International Airport after the crew received a cargo smoke indication in the cockpit during the landing approach. The flight crew evacuated the airplane after landing and sustained minor injuries, and the airplane and most of the cargo were destroyed by fire after landing. Although the source of the fire was never conclusively determined, extensive fire damage was found in cargo compartments known to have held equipment containing lithium batteries.The National Transportation Safety Board subsequently issued six safety recommendations addressing the transportation of lithium batteries by air. |
| | B-747 Onboard Fire, Dubai, UAE | September 3, 2010 | Boeing 747-400F departed Dubai International Airport on a scheduled cargo flight to Cologne, Germany. Although the aircraft was carrying over 80,000 lithium batteries, none of the shipments were included on the pilot notification form. Twenty two minutes into the flight, the flight crew advised ATC that the fire warning systems for the cargo compartments indicated an onboard main-deck fire. The crew declared an emergency and requested an immediate return to Dubai, but ultimately crashed several miles from the airport, with the loss of both pilots, the aircraft, and its cargo. While the investigation is ongoing and no source of fire has been determined, the presence of large quantities of lithium batteries likely contributed greatly to the severity of the fire and the loss of the aircraft |
The 36 incidents listed below are excerpted from the FAA report, "Batteries & Battery-Powered Devices, Aviation Incidents Involving Smoke, Fire, Extreme Heat or Explosion" as of October 9, 2012
 

 

DATE/ SOURCE

 

TYPE OF BATTERY

 

DEVICE

(if applicable)

 

AIRCRAFT

TYPE

(Cargo)

 

INCIDENT SUMMARY

07-JUNE-2012 DOT 5800.1 FormNo I2012060342
Lithium-ion batteries
N/A

Cargo

Report from United Parcel Service indicated that at its Louisville, KY facility, a package containing 18 approximately 1 ounce lithium ion batteries from 6 various manufacturers melted through their plastic wrap causing the outer package to start burning.
22-April2012 DOT 5800.1 FormNo I201240360
Lithium-ion battery
N/A

Cargo

Air Express International indicated that a packaged opened during the sort at its Erlanger, KY facility.  The package contained 17 lithium ion batteries.  As one of the batteries was being returned to the package, it shorted out and caught fire.  One employee was injured and treated at the facility.
24-MAR-2012 DOT 5800.1 FormNo E2012040410
Lithium-ion batteries
Battery powered device

Cargo

Report from Atlas Air indicated that a package caught fire at its Incheon, Korea facility.  The package appeared to contain a lap top computer.
02-MAR-2012 DOT 5800.1 FormNo I2012030493
Lithium battery
N/A

Cargo

Report form Federal Express indicated a fire in a package at its Toluca, Mexico facility.  When asked, the consignee reported that he had ordered a lithium battery for a bicycle.
25-FEB-2012Air Carrier report
Lithium-ion batteries
Lithium-ion battery powered surf board

Cargo

Initial report form Federal Express indicated that a smoking unit load device was discovered at the Memphis, TN airport facility. Inspection revealed the contents of the ULD included a smoking and burning self-propelled surf board.
29-MAR-2011DOT5800.1 Form
Lithium ion batteries
Battery packs for electric bicycles

Cargo

Initial report from Federal Express indicated that the batteries offered for shipment from Kwun Tong, China to Southampton, England caught fire for an unknown reason at the facility in Tsun Wan, Hong Kong.
21-MAR-2011
Lithium-ion batteries contained in equip. including lithium polymer batteries
Unknown

Cargo

Initial report from Federal Express indicated that the package offered for shipment from Mumbai, India to Shenzen, China was observed to be smoking by a customs official at the facility in Guangahou, China.   Subsequent indicated the package contained the batteries.
6-OCT-2010DOT5800.1Form and FAA report
Lithium ion battery
N/A

Cargo

Initial report from United Parcel Service indicated that an electric storage acid battery offered for air shipment from Shanghai, China was observed smoking at the facility in Cerritos, CA.  Subsequent investigation by FAA indicated that the battery appeared to be an 18.5 Volt, 30Ah (555Wh) Lithium Ion Battery (Lithium Cobalt Oxide (LiCo02)).
28-AUG- 2010DOT5800.1Form
CR 123A primary lithium battery in a device
Flashlight

Cargo

Initial report from Fed Ex indicated that the flashlight in a backpack belonging to a jumpseating crewing member caught on fire while at the gate in Memphis, TN.  The report indicated that one of the flashlight batteries exhibited signs of thermal runaway causing the fire.
9-FEB-2010Report from Air Carrier
Lithium metal w/liquid cathode battery
N/A

Cargo

Initial report from United Parcel Service Airline indicated that, subsequent to air transport from Hong Kong, during the local ground portion of the delivery, the truck driver heard a loud pop.  First responders were called to the scene.  One of the batteries in one of the packages in the shipment ruptured, discharged soot and dislodged other batteries in the package.
25-AUG-2009 Report from Air Carrier
Initial report indicates Lithium-ion battery
GPS tracking device

Cargo

Initial report from Federal Express indicated that a burning and smoking package was discovered at the Medford, MA facility.  The package was in route to Seattle, WA.  An unsuccessful attempt was made to extinguish the fire by cutting open the package and applying a fire extinguisher.  The Fire Department had to be called.  Subsequent inspection revealed that two of the devices heated and caused the surrounding packaging to ignite.
15-AUG-2009Report from Air Carrier
Lithium-ion battery
N/A

Cargo

Initial report from United Parcel Service Airline indicated that a smoldering package was noticed at its Taiwan Hub.  The package was transported from Macau, China.  Inspection of other packages in the same consignment indicated that similar batteries were offered without terminal protection.
14-AUG-2009 Report from Air Carrier
Lithium metal batteries
e-cigarettes

Cargo

Initial report from Federal Express indicated that upon landing at Minneapolis-St. Paul Airport the crew was alerted to a fire by a warning light associated with a forward compartment.  Upon subsequent inspection of the relevant Unit Load Device, numerous packages were discovered with smoke and fire damage.
15-JULY-2009Report from Air Carrier – DOT 5800.1 Form
Lithium-ion cell phone batteries
Transport-ed loose" in pack-ages without out cell phones

Cargo

Initial report from United Parcel Service Airline indicated that one of several related packages transported from Romulus, MI was discovered to be emitting smoke and smoldering in Santo Domingo, Dominican Republic.  Upon inspection, package contained numerous loose lithium-ion batteries with "…no protection of the contact points…"  Package documentation indicated, "used batteries – non haz."
18-JUN-2009 Report from Air Carrier
Lithium-ion
Bicycle Power Device

Cargo

Initial report from United Parcel Service Airline indicated that a burned package was discovered in Honolulu inside a Unit Load Device as it was being unloaded.  The package was originally loaded in Philadelphia and was subsequently transported on UPS flight # 2967 from Ontario, California.  DOT Form 5800.1 report to follow.
06-AUG-2008Air carrier report
Lithium ion
Electrical equip.

Cargo

UPS Airline reports that a package containing LED lamps powered by excepted lithium ion batteries was transported on UPS#0213 on 04-AUG from Louisville, KY to Cologne, Germany.  It was subsequently observed smoking in a UPS ground sort facility in Copenhagen, Denmark.
27-DEC-2007Air carrier incident report
Lithium metal (lithium manganese dioxide)House of Batteries prototype, 15-volt, (Five Ultralife 3-volt D cells connected in series).  The battery contained 16.65 grams of lithium (3.3 grams per cell).
SSCOR medical suction pump

Cargo

Shipment was submitted to UPS for "2nd day Air" service.  After pick-up and ground transportation, the package "spontaneously combusted" on the conveyor at a UPS package sort facility in Cerritos, Calif.  An employee put out the fire with a facility fire extinguisher.
15-DEC-2007Air carrier incident report
Lithium ion/poly-mer for radio-controlled model helicopter
Packed with radio controlled helicopter kit

Cargo flight

A package containing an R/C helicopter kit with lithium polymer batteries was being sent from Hong Kong to the Netherlands.  It was discovered emitting smoke at the FedEx sort center in Frankfurt, Germany.  The package was brought outside the building and the fire was extinguished.
11-DEC-2007Air carrier report
Lithium ion/poly-mer for radio controlled model planes:FlightPower F3A, 5350 mAh, 18.5 V

Cargo flight

A package of lithium polymer batteries for remote control aircraft was being transported by UPS from Argentina to San Marino via Cologne, Germany.  At the UPS hub in Cologne, a customs inspector cut into the box with a knife, accidentally cutting into a battery which then caught fire.  The battery had a soft plastic exterior without a hard metal shell.  A fire alarm was triggered and 400-500 people were evacuated from the facility for 35 minutes. The transport section of the accompanying MSDS stated the batteries were "non-regulated."
30-SEP-07Air carrier report
Lithium-ionXiamen Powerlong  3.7v, 4000 mAh and 5200 mAh

Cargo flight

After flying from Hong Kong, a Korea-bound box was emitting smoke upon offload at the FedEx Hub at Subic Bay, Philippines. No flames were seen. The box was removed from the sort. The outer-most box was an overpack containing three inner fiberboard boxes. It's believed each of the inner boxes contained 120 lithium-ion batteries. The fire was contained to one inner box.
08-AUG-2007Report from German transport officials
Lithium polymer (ion)Arkai 11.1 Volt

Cargo flight

The batteries traveled from Hong Kong to Frankfurt on a FedEx flight.  During customs inspection, one of the 440 batteries in the package started to burn.
14-Dec-2006Report from air carrier
Counterfeit CR123A, lithium metal
Flashlight "Superfire WF-501B"

Cargo flight

During a UPS cargo flight from Sydney, Australia to Guangzhou, China, at 38,000 ft., the crew heard a loud bang.  A crewmember found that his flashlight in a bag next to his seat was warm and had a strong odor coming from it.  The flashlight was opened and there was soot/residue from burning. One of the two batteries (now determined to be counterfeit) was damaged.  Earlier the crewmember had dropped the flashlight about 6 inches into his bag and heard a thump.
11-Nov-2006Notification by US Customs and CPSCFAA case # 2007WP700045
Lithium ion cell phone batteries

Cargo flight

After being shipped by air from China to the US, some batteries were selected for inspection by US Customs.  While on the desk of an import specialist, the battery started emitting sparking flames and smoke.
15-Sep-2006FAA Case # 2006GL700427
Silver oxide button cells, various sizes

Cargo flight

During off-loading at their Plymouth, MN facility, DHL/Airborne personnel discovered two boxes that were warm to the touch.  The boxes were opened and found to contain hundreds and hundreds of button cell batteries loosely packed together in a plastic bag liner.  Batteries were being shipped by a small business battery recycler that stated they thought all batteries were discharged.  Tests showed many still had positive voltage.
17-Jul-2006FedEx Notification to FAA
EaglePicher-Kokam Lithium ion/poly-mer(used for remote control models), 122 batteries of various sizes

Cargo flight

The unlabeled/marked package was discovered to have caught fire while being held in bond for customs clearance in Korea. Package had traveled to Korea in FedEx system from Vienna via Paris and Subic Bay.
03-MAR-2006FedEx incident report
Lithium ion button cells, mfr. by Lixing

Cargo flight

US-bound package was noticed to be smoking at outbound FedEx station in Shenzen, China. Upon inspection, the package of lithium ion batteries was discovered to be on fire.
29-JUN-2005FAA case # 2005WP700218DOT Incident report # 2005080470
Lithium Ion
Battery-pack

Cargo flight

At UPS in Ontario, Calif., during unloading of a ULD from Shanghai, it was discovered that a fire had taken place inside the ULD. A package containing a lithium-ion battery pack was identified as the source of the fire.  Upon discovery, the burnt package and its contents were cool to the touch and there was no smoldering evident.
11-FEB-2005FAA incident summaryDOT incident report # 2005030047
Lithium battery, solid cathode, manufactured by Eagle Picher of Surrey, BC, Canada.
None

Cargo flight

An undeclared package containing 18 lithium batteries caught fire while being unloaded from a conveyor belt at the FedEx facility in White Bear Lake, MN. FedEx cargo handlers report hearing a "pop" sound and then seeing the box "lifted" off the conveyor belt by the force.  The shipment had flown from Los Angeles to Minneapolis and was to be trucked to Clear Lake, WI.  Only one battery caught fire.
07-AUG-2004FAA incident summary statement, DOT Incident Report #2004081622
Lithium-ion
Lithium-ion batteries assembled together in a plastic case

Cargo flight

Prototype lithium batteries shipped under a competent authority approval from California to Europe apparently started a fire in a ULD during the loading process at the FedEx Memphis hub.  The ULD had just been loaded for a transatlantic flight (Memphis-Paris). The ULD and many other packages in it were damaged/destroyed by fire.  Shipment apparently was in violation of the DOT approval allowing the prototype battery to be shipped.
12-AUG-2002DOT Incident report #2002090134
Lithium battery (excepted)
Samsung minicomputer (palm pilot)

Cargo flight

Burning odor detected by handlers at the Los Angeles FedEx inbound package sort center.  Battery apparently short-circuited causing the bubble wrap in the package to burn and melt onto the unit.
12-APR-2002DOT Incident report #2002050519
Lithium batteries
None

Cargo flight

Lithium batteries shipped under exception by Abbott Labs did not have terminals protected from short circuit.  Started fire inside package at FedEx Indy sort facility.
07-JUN-1999DOT Incident Report
"Non-regulated" batteries.Actual type unknown.
None

Cargo flight

Package noticed during FedEx operation in Greensboro, NC to have burning smell.  Inner batteries apparently arced causing batteries to burn inside the package.  Incident report stated batteries had not been packaged correctly.
10-OCT-1998FAA AAL Special Agent statement
Unknown
336 laptop computers

Cargo flight

Fire warning diverted cargo aircraft.  Captain/flight engineer inspected cargo area.  Both noted heat rising between pallets on jet flat, as well as strange odor and lung irritation.  Fire fighters sprayed pallet with retardant.  No further evidence of heat exposure or fire.
19-MAY-1998FAA #EA19980082
Unspeci-fied batteries
Uninterruptible power supply (UPS) units (2)

Cargo at IAC warehouse

One of the UPS units exploded during offloading of a truck.
26-SEP-1996DOT Incident report #1996110343
Lithium batteries
None

Cargo flight

Eight lithium batteries were connected in a series and packed with bubble wrap inside a plastic express envelope.  There were exposed connections on one end and loose wires on the other end.  The batteries were not secured from movement within the package and a short-circuit resulted causing the packaging to burn. Burnt package discovered at Airborne sort center after first flight and prior to trans-Pacific cargo flight.
08-MAY-1994UK CAA DG Occurrence Report Database (G. Leach)
Duracell lithium batteries (excepted from ICAO regulation by SP A45)
None

Intended to go as cargo on passenger

aircraft

Consignment of lithium batteries found emitting smoke in ULD during truck transport to LHR.  Fire damage.  Batteries were smaller in diameter than a dime and about 5 mm high.  They had been tossed loosely into a box.  Positive and negative terminals had "tails" which were prone to short circuiting.  The shipper was prosecuted by the UK CAA for failure to comply with Special Provision A45 of the ICAO Technical Instructions and fined £1200 with £300 costs.