Updated to include a statement from Thales and fresh comment from Air France
Air France is confirming that the inflight entertainment system on one of its Airbus A380s short-circuited on a 29 January flight operating from Paris Charles de Gaulle to New York.
Following "a smell of electrical smoke when flying over the North East of Canada", the flight crew "identified rapidly the source of smell and eliminated immediately its cause (IFE short circuit)", says an Air France spokesperson. "The flight continued to New York where it landed safely."
In a follow-up statement, the Air France spokeswoman says the IFE unit was "replaced at the arrival of the aircraft and a request for an investigation has been made with Thales with whom Air France is working closely in order to understand what happened".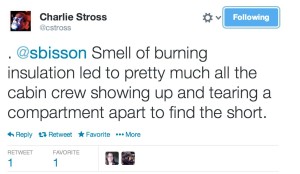 According to a report by The Aviation Herald, "several passengers reported a strong smell of electrical smoke developed near the rear of the upper deck cabin, cabin crew reacted rapidly, moved passengers out of their seats and removed seat cushions". The web site also shows a picture of the seats without the cushions, and says the aircraft was registered F-HPJD.
See a tweet (to the right) about the event from a passenger who is understood to have been on the flight.
This is not the first time that a report has surfaced about an IFE-related smoke incident on an Air France A380. In January 2012, The Aviation Herald reported that an Air France A380, registration F-HPJC, operating from Paris to Montreal was climbing to FL380 when the crew declared PAN due to smoke in the cabin. The aircraft returned to Paris. The publication said the airline reported a video screen overheated but denied smoke in the cabin, while a passenger reported smoke from an IFE seat in economy, "which dissipated after the inflight entertainment system was shut down".
Thales, which provides its TopSeries IFE to Air France's A380s, in a statement says, "In response to the recent Air France event involving their A380 Thales Inflight Entertainment system, Thales is performing an investigation on the equipment that is now at a Thales facility. Once the investigation is complete, Thales will file its findings report with Air France and the authorities."
Its IFE is not the only system that has been subject to smoke incidences in recent years. On 13 October, a British Airways Boeing 747 was flying over the North Atlantic en route from Dallas to London Heathrow when a fire broke out in the Primary Access Terminal that supports the Rockwell Collins IFE on board, and is located in the purser station under the stairs on the aircraft. Crew successfully extinguished the fire, and the UK's Air Accident Investigation Branch said it was investigating the incident, as reported by Runway Girl Network.