Airline initiatives to design unique cabin environments, including some of the modern "nested" seating configurations we see introduced in first and business class cabins today, are only possible because inflatable aircraft restraint systems address the particular HIC (Head Injury Criteria), which these new seat designs pose.  
Additionally, airbags in seat belts are being used to overcome the distance requirements of seats from bulkheads in order to fit more seats onto planes. This need drives an initiative to make airbags more readily available both in seat restraints and in bulkheads, as revealed in a recent article here on the Runway Girl Network.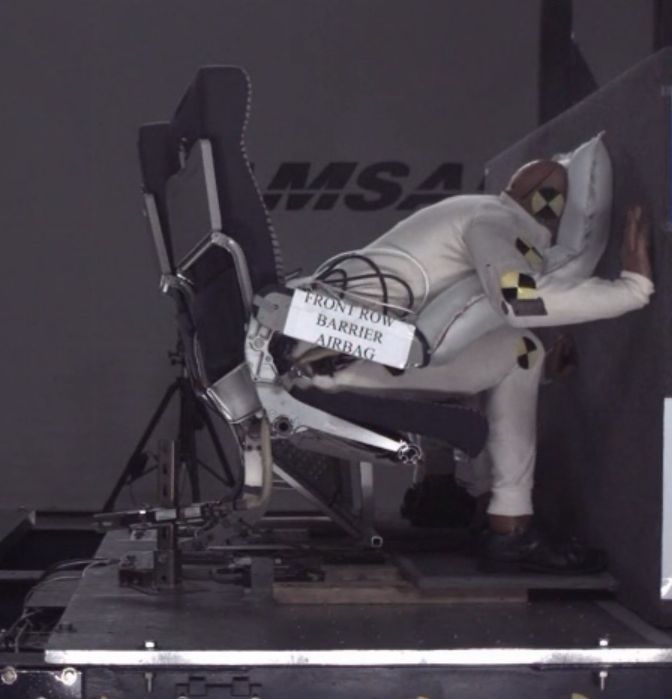 The dynamics of testing for these systems is complex and ongoing. While certain airbag restraint systems produced by AmSafe have been used in general aviation and limited commercial aircraft applications for over a decade (some 30 airlines have them installed), each use is approved individually via 'Special Conditions' requests to the FAA for the specific aircraft configuration and the specific model of seat on which the device will be installed. Special Conditions requests consider, among various safety factors, the 16G dynamic testing requirements under regulation '14 CFR §23.562′ (with the exception of the seat warp and vertical load provisions of this code of federal regulations).
While AmSafe declined our invitation to contribute to this article, the company did put us in touch with an expert source who has extensive knowledge of the development and testing of airbags for aviation applications and of aircraft crash dynamics. This source preferred to remain anonymous, but pointed us to test results and Special Conditions documentation in the public domain, specifically to a 2007 White Paper on dynamic testing of this equipment that looks at how survivability of an aircraft crash is enhanced when using an inflatable restrain system.
In this paper, AmSafe provides important details about how and why airbags are being used by operators. "In the AmSafe Aviation Airbag configuration, the airbag is mounted onto the restraint and has modular components with highly adaptable attachments. This configuration meets the requirements of both design and market acceptance. Aircraft that use this configuration can greatly expand the flexibility of the interior design. Many new premium-class interiors are possible only because the airbag mitigates occupant flailing and because it passes injury prevention requirements."
Explaining the benefits of airbags in seat restraints, AmSafe says: "The occupant hitting the bag is resisted by increasing air pressure, essentially creating a pneumatic spring. The maximum compression of the bag occurs before the occupant's head hits the interior structure. The venting of the bag acts as a damper, reducing the rebound and dissipating the energy through the air flowing out of the bag. Other applications use the bag differently. The bag can distribute restraint loads to the occupant early in the event, reducing the momentum caused by the occupant articulating forward. This reduces the peak seatbelt forces, spreading them over a longer time interval."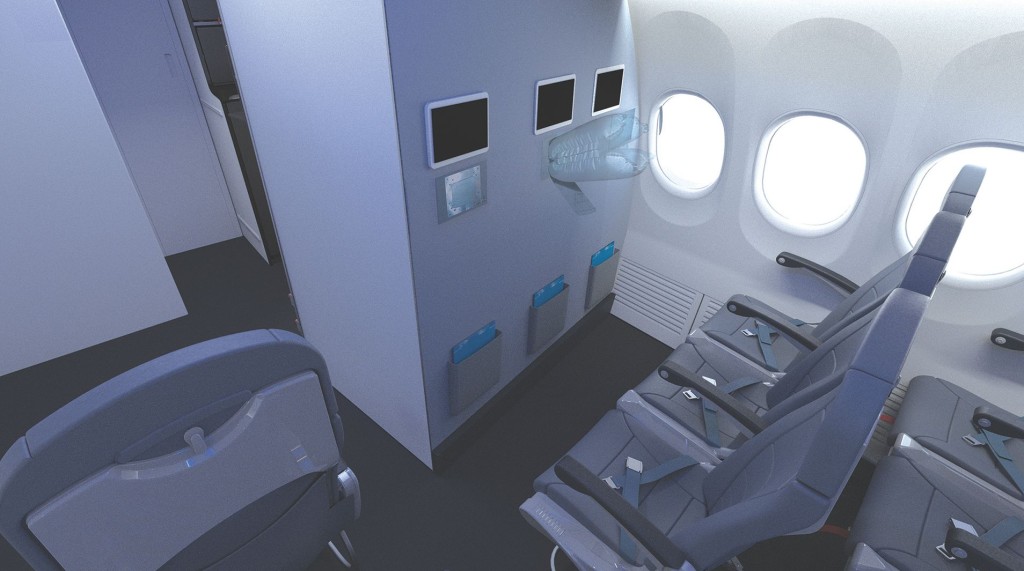 If airlines want to offer bulkhead airbags in order to add more economy class seats to aircraft (as shown in Zodiac's bulkhead airbag concept here), a separate series of Special Conditions will have to be met in addition to the HIC requirement.
While authorities acknowledge receipt of applications of bulkhead mounted airbags, our research found that documentation for these Special Conditions is still listed as "proposed" by regulatory authorities. Protection of proprietary information prohibits the authorities from revealing progress on the submission details of any particular aircraft component, but based on standard development and approval timelines for new aircraft equipment, it will be some time before we see these bulkhead-mounted airbags on aircraft.
To learn about some little known intelligence about airbags and lap extender belts, listen to this week's #PaxEx Podcast.